Featured Reviews of Beds and Headboards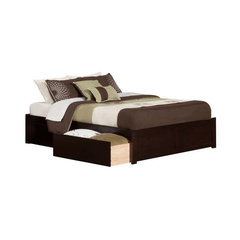 Concord Flat Panel Footboard With 2 Urban Bed Drawers, Espresso, Queen
Beds and Headboards
Nice bed: This bed is nice looking, sturdy and EASY to put together. I like the way the drawers are on rollers and slide out easily but I don't like that there are only two which leaves one side of the bed open. I am ordering 2 more for that side.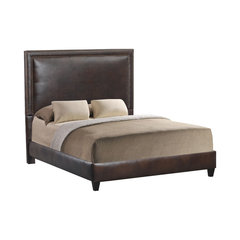 Brookside Queen Upholstered Bed with Nail Heads, Royalty Bi Cast Espresso
Beds and Headboards
Darker and lower than expected: The bed came quickly in two boxes. I assembled the bed in the bedroom by myself. It took about 2 hours. We have been sleeping on it for two days, and I feel that the middle is sagging so I will buy more slats for supports. There are only three crossbars (wood 2x4s) included. The color is much darker than expected, but it is still a beautiful color -- more of a brown bag color rather than a sand color.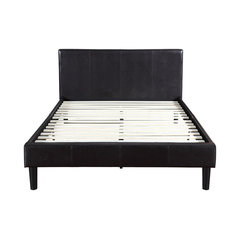 Deluxe Espresso Brown Bonded Leather Platform Bed with Wooden Slats, Full
Beds and Headboards
Bed Frame: I have admired this bed frame for many months and was set to get. Now that it is finally here I totally love it all but that it is tooooooo high from the floor for me. But other than that I love it . It took and hour and half to put together for one person.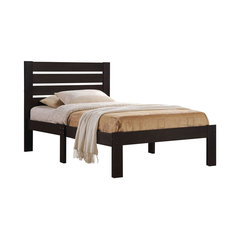 Kenney Bed, Espresso, Queen
Beds and Headboards
Just what I needed.: Buying furniture online is sometimes an uncertain thing. Product descriptions are not always accurate and the potential is there for disappointment upon arrival. However, the Kenney Bed, Espresso Full is accurately described and well built. After an hour of assembly, I have no negative comments regarding the product. Highly recommend this if you are looking for an affordable, quality solid wood bed.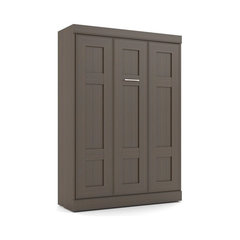 Bestar Edge Full Wall Bed, Dark Chocolate
Beds and Headboards
Nice set up, hard to anchor: Bed is nice, it was very challenging to safely anchor to the wall as the bed was about 2" away from the wall when pushed up against the base trim. I think the product could be improved by adding multiple ways to anchor. Otherwise, happy with it!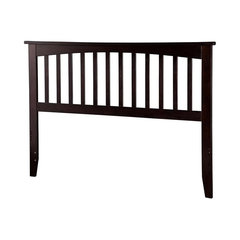 Atlantic Furniture Mission King Spindle Headboard, Espresso
Beds and Headboards
Great headboard!: The headboard was our first purchase. It arrived quickly, assembly was easy and it looked better than I thought it would. It has a beautiful finish. I can't wait to order more products!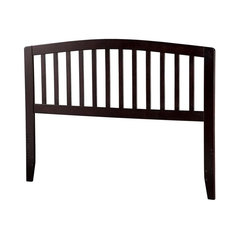 Atlantic Furniture Richmond Queen Spindle Headboard, Espresso
Beds and Headboards
My finished bedroom: I am very pleased with the headboard. It has been settled between the bed and wall, and not connected to either. I think that this will have been a very good decision on my part to order it I would recommend this product to others, too..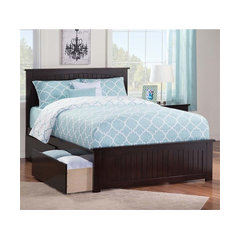 Atlantic Furniture Nantucket Full Storage Platform Bed, Espresso
Beds and Headboards
Good bed for price: I purchased one full and one queen for a beach house. The beds are made of wood except for the bottom of the drawers which are particle board type material. The rest of be is solid. The headboard cannot touch the wall due to baseboard heating. The headboard is a bit flimsy so we are adding blocks of wood on the headboard in several places to you can lean on the headboard without feeling like you will break it. The drawers are good but a bit of a problem because they are on wheels. I knew this buying it, and will add sliding brackets and will attach to the bed. Funny thing is, the wheels are working very well, so if I don't get around to this fix, it could stay that way. Was pleasantly surprised the wheels work so well. The color is a true white. One problem is, I purchased two different sizes and the beds are truly different in construction. Look closely and you will see the headboards are not the same height, the bead board is different on the two beds. I am annoyed at this as they should be the same. I order the same bed just different sizes on the same order. That said, it will be difficult to see once the room is fully decorated. Assembly was very easy and my 16 year old and I put the first bed together quickly. Shipping was so fast....it literally came in about 2 days. I was very surprised and happy. Overall for the price, this is an awesome bed and I am very happy.