Featured Reviews of Beds and Headboards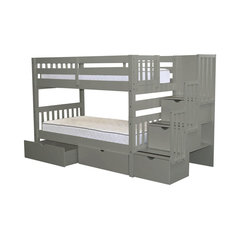 Bedz King Bunk Beds Twin Over Twin Stairway, 3 Step and 2 Bed Drawers, Gray
Beds and Headboards
Great quality for a reasonable price: Compared to ikea, it's higher quality, solid wood and sturdier. Similar beds were more than double the price we paid for this one. I'd highly recommend this bed, looks good, feels solid and adds a ton of storage with the 5 v. Large drawers that come with. It is a time consuming build though, lots of parts, but not much harder to do than an ikea purchase.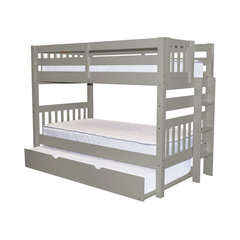 Bedz King Bunk Beds Twin Over Twin, End Ladder and Twin Trundle, Gray
Beds and Headboards
I was nervous ordering this bunkbed online, but I'm so happy I did!: I was nervous ordering this bunkbed online, but I'm so happy I did! They quality is great and it's very sturdy My husband put it together in a few hours so there is work involved but for the price and quality that was okay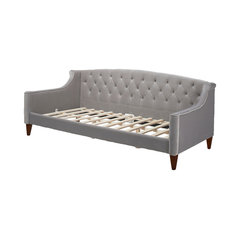 Beds and Headboards
A sofa and a bed!: I love my daybed! I've been looking for over a year for just the right daybed for my all purple bedroom. This fits right in... its a roomy twin size bed and a sturdy, comfy sofa when I want to sit up and watch TV or read. It simple but elegant, timeless!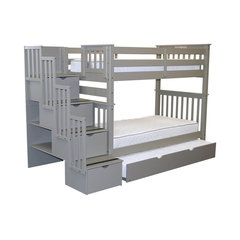 Bedz King Bunk Beds Twin Over Twin Stairway, 4 Step Drawers, Twin Trundle, Gray
Beds and Headboards
beautiful bunk: If you have a handy person in the house who knows how to assemble a bunk bed that comes to you in literally more than 100 pieces of wood, then go for this bunk bed! its beautiful and spacious! Best deal for the price!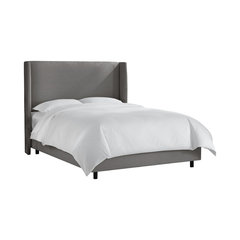 Wingback Bed in Linen Gray, Queen
Beds and Headboards
The bed is fine but unpack, moving it around and installation is a pain. Easy assembly is a understatement.: The assembly instruction was not included in the shipment, glad the lady answer the phone was very helpful and email the instruction over to me at no time. It took me over three hours to put it together alone.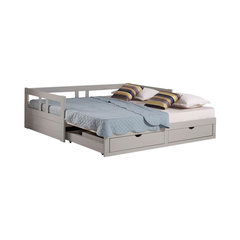 Melody Twin to King Trundle Daybed with Storage Drawers, Dove Gray
Beds and Headboards
Daybed for my office/guest room: I put this all together by myself (no help from the hubs)! It took me almost all day, but I got it done. The hardest part is lining up the bed slats on each piece so the trundle will pull out without jamming. I bought 4-5" foam mattresses, and they both sit on the daybed top and fit great. I look forward to having a guest so I can see how the king bed works for them. Great price too - I have seen this same model on other sites for much more.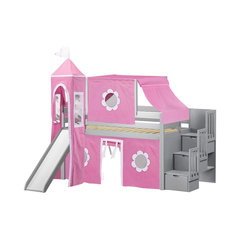 Jackpot Princess Twin Low Loft Gray Stairway Bed, Pink and White Tent and Slide
Beds and Headboards
Love it: The bed came quickly and is adorable. Our daughter loves it. Definitely need two people and an afternoon to put it together. The bed was easy and straightforward to put together but the stair case was mis labeled so that took a little longer, but all in all great buy.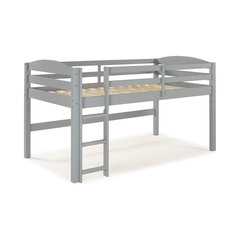 Solid Wood Low Loft Twin Bed - Grey
Beds and Headboards
The perfect loft bed: We received the bed only three days after ordering it. The bed was easy to put together and the design is not bulky looking for a small room. It sturdy and a great low height. Our daughter could not be happier.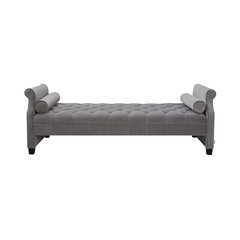 Eliza Bench Bed, Twin, Opal Gray
Beds and Headboards
Exactly as described..: Purchased this taking a chance on actual shade of purple; it's more dark than light and quite luxurious looking for price. Assembly only required to attach sides of bench; easy. The length of it runs the width of a king size bed and could easily be slept on. It's solid with significant weight and is totally a great yet functional accent to bedroom or any room really! It was in stock and shipped as stated at checkout which was pleasant surprise! I would definitely recommend this piece for someone looking mid modern or contemporary.