Sponsored Products
Featured Reviews of Beds and Headboards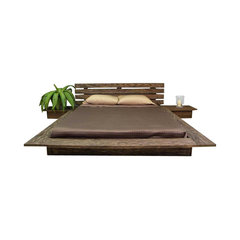 Delta Distressed Finish Platform Bed, King
Beds and Headboards
Proud: i am a proud owner of this bed. pictures dont truly show the expert craftsmanship that went into this product. its easy to assemble, and will last for years to come. thank you so much for this beautiful product!!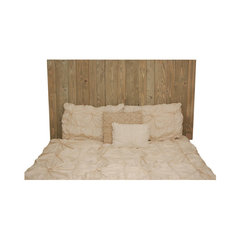 Mounts on Wall Handcrafted Hanger Style Headboard, Driftwood, King
Beds and Headboards
Looks good, price is right: While I was a little surprised when this headboard arrived as 4 individual (I purchased a king size) boards that you hang from 2 hooks on each board to the wall behind your bed, I can say that it's an inexpensive way to achieve the distressed panel look that's popular today. The wood color (dark walnut) is exactly as it appears in the photo, rich and dark. The boards are sturdy and even when either my husband or I knock the boards at night, or while making the bed, they do not rock or shift, which I was concerned about. Overall I am pleased with the look and with this purchase.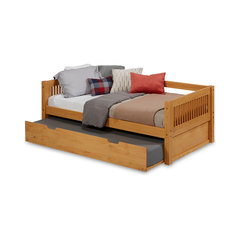 Camaflexi Twin Day Bed With Twin Trundle, Mission Headboard, Natural Finish
Beds and Headboards
A very attractive product as pictured on site.: A very attractive product as pictured on site. Wood and finish are quite hard and very smooth. There are lots of pieces to assemble. Instructions with pictures are adequate but not great for a novice. Allow a couple hours to assemble or pay for the pro assembling option. Fits nicely under a window with no protrusions into window space, yet has a high enough back to be useful as a backrest. Seems very sturdy but not too heavy to move. 8 or 9, possibly 10 inch mattress will fit in drawer.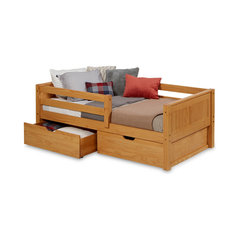 Twin Day Bed With Front Guard Rail and Drawers, Panel Headboard, Natural Finish
Beds and Headboards
Great quality: Loved the finished product. Good quality and solid wood. Only downside is putting it together, but very happy with how it looked. We bought this as a first big boy bed for our son.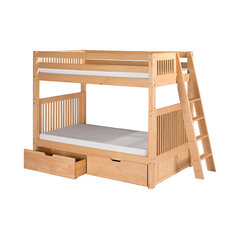 Camaflexi Twin Bunk Bed With Drawers, Mission Headboard, Lateral Angle Ladder
Beds and Headboards
Love it!: The instructions were a little overwhelming at first, but I was pleasantly surprised that we had received all the parts and none of them were damaged. It took a few hours to put everything together, but it's well worth it. The bed is very sturdy and I'm confident that it will last for years.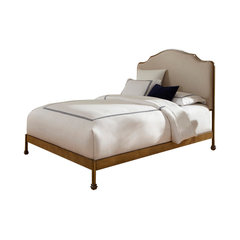 Calvados Bed With Metal Headboard and Sand Upholstery, Natural Oak, King
Beds and Headboards
Beautiful bed: We have't put it up yet. We're preparing and painting the room and waiting for the mattress to arrive next week. But it is a beautiful headboard and the simplicity will be perfect for our guest room. Arrived timely, great buy, worth the purchase. Can hardly wait for the room to come together. Update: Just put the bed together. Easy!!!! Tomorrow mattress and box spring arrive for final touch. Perfect fit in room.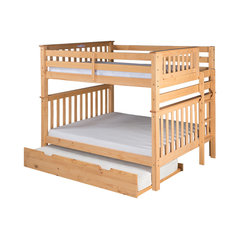 Santa Fe Mission Bunk Bed Full Over Full, Bed End Ladder, Twin Trundle, Natural
Beds and Headboards
So far excellent: Purchased for grandkids bunk room. It does take about 4 hours to assemble, but pleasantly surprised that it was actually wood. Feels solid and looks wonderful! The grandkids have seen it (via face time) and so excited. The true test will be when are here, but confident there will be no issues. For the price, this bunk bed cannot be beat!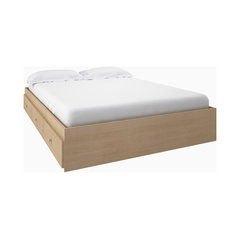 Alegria Full Size Storage Bed, Natural Maple
Beds and Headboards
Pretty nice!: So I was expecting a huge box and everything to be headache inducing, but everything was relatively easy! I put together the whole thing by myself. It says you need a hammer but that's a lie all you need is a screw driver and an hour of your time and you've got a nice comfy platform bed!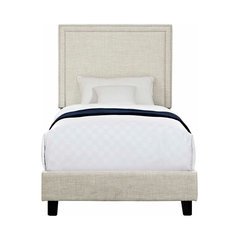 Adrano Upholstered Platform Bed, Natural, Twin
Beds and Headboards
Excellent bed: I purchased this bed for my 8 year and he is in love with his new bed. It took my husband and I less than 45 minutes to put it together. All parts came in perfect conditions. It has a beautiful color. You cant get better than this for the price . The light in the room doesn't do justice to the navy blue color of the bed plus it was night time and I was running out of battery.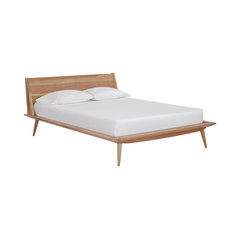 Bolig Bed, Natural Driftwood, Cal King
Beds and Headboards
Nice bed!: I am very pleased with this bed frame so far. It was nicely packaged for shipping and the clear instructions made assembly easy for 2 people. One of the legs had a faulty thread on the socket, so it is attached somewhat tentatively. The leg is in the corner and all is well for now.