Sponsored Products
Featured Reviews of Beds and Headboards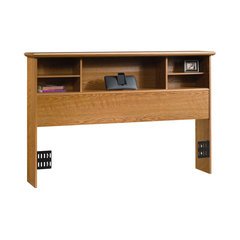 Orchard Hills Full/Queen Bookcase Hdbd, Carolina Oak
Beds and Headboards
This Queen headboard is very well designed and easy to put together following the enclosed instructions.: This Queen headboard is very well designed and easy to put together following the enclosed instructions. I had absolutely "zero" issues with this product from start to finish and enjoy the wooden beauty along with it's style having places for my alarm clock, heating blanket controls, etc....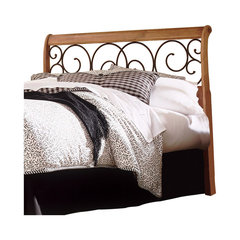 Dunhill Sleigh Headboard With Autumn Brown Swirling Scrolls, Honey Oak, King
Beds and Headboards
EDITED Love this, a few small dings that I was able to fix: I do love the design, though at first was disappointed that there were some noticeable "dings" to the finish on the front side. I touched those spots up with a brown furniture crayon and that helps, though the areas are still visible when you are close up to the headboard. But we decided that we'd keep it since we do love the look and it fits the decor of the room beautifully, and the marks are not noticeable from a distance. I just edited this review to say that after a few weeks, I no longer even think about the little dings that are somewhere on there and I love the look of this headboard in the room. I saw the same headboard at local store for much more money so should definitely consider that this was a lower cost item.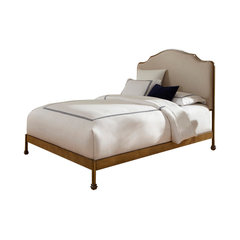 Calvados Bed With Metal Headboard and Sand Upholstery, Natural Oak, Queen
Beds and Headboards
Beautiful bed: We have't put it up yet. We're preparing and painting the room and waiting for the mattress to arrive next week. But it is a beautiful headboard and the simplicity will be perfect for our guest room. Arrived timely, great buy, worth the purchase. Can hardly wait for the room to come together. Update: Just put the bed together. Easy!!!! Tomorrow mattress and box spring arrive for final touch. Perfect fit in room.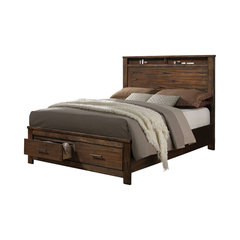 Merrilee Storage Bed, Oak, Eastern King
Beds and Headboards
Beautiful Bed: The bed is absolutely beautiful. Love that there is no bed spring required as well. The only complaint I would have is that there were some chips and broken wood parts upon opening the packaging and setting the bed up for assembly. The order arrived pretty quickly and my overall experience was very satisfied.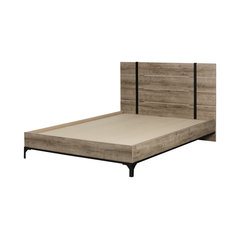 South Shore Valet Queen Platform Bed With Headboard 60", Weathered Oak
Beds and Headboards
OH THIS BED!: It is SOO what I wanted. It was put together by a friend but is SOLID and so elegant looking in my new space. When my mattress arrived and I had tears in my eyes....(sniff) and sleeping on it was perfect and ...(shhhhhh) silent. I'm over the moon with how it looks, and I expect it to hold up well.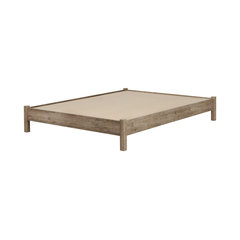 South Shore Munich Queen Platform Bed, 60'' on Legs, Weathered Oak
Beds and Headboards
Simple, Clean, Gorgeous: Incredibly easy to assemble. Sturdy, quality bed frame. It's fairly low, but if you don't mind that, it is quite perfect. Still plenty of room to put a few things underneath. Holds up to some raucous loving as well.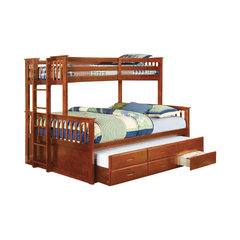 Shelton Extra Long Twin Over Queen Combo Bunk Bed, Warm Oak
Beds and Headboards
This was the only twin over QUEEN i could find with a trundle.: It's not that easy to find a queen sized bed with a trundle OR a bunk so I was happy to find this which has both. It is great for a guest room or a cabin/lake house/ski house. That said, there is one possibly fixable issue you want to look at. The bunk is VERY low to the lower queen bed. You cannot sit up fully under the bunk. The picture is a little deceptive; it looks as if there is far more room than there is. I recommend getting a 6-7 inch mattress (which will probably not last as long as a bigger one, but might be better than the lack of space with a bigger mattress. I got 6 inch memory foam mattresses for the trundle and bunk and they are great. If I had to do it over, I would still get the bed, but I would get a 6 in mattress for the queen.
Diana Queen Bed, White/Oak Structure
Beds and Headboards
Wonderful: I love this bed!! Initially I was afraid that the bed wasn't going to be what I ordered but it was EXACTLY what I ordered! And even came a day earlier! It's very heavy and that's a plus! I'm really excited for this bed! Very satisfied!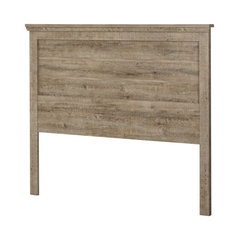 South Shore Lionel Full/Queen Headboard, Weathered Oak
Beds and Headboards
Looks great.: This piece is a gorgeous addition to our guest room. It has a light and airy vibe. For us, it was very heavy to move around and we had a problem with a screw that ultimately broke the fiberboard. We will attempt to superglue the pieces together and we're sure it will work. User error? Likely. We are overall pleased with the look and would order this item again, only being more careful not to tight the screws too tight.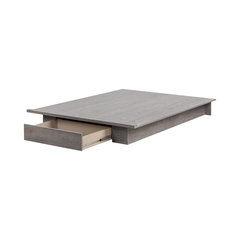 South Shore Holland Full/Queen Platform Bed, 54"-60" With Drawer, Sand Oak
Beds and Headboards
Does the job: Although some of the pieces were slightly damaged, for example the corners of the particle board were chipped in some areas and the liner of the drawer definitely had some better days, but the installation was pretty easy. Took a little time but everything was coded and the instruction manual was super detailed.