Sponsored Products
Featured Reviews of Beds and Headboards
Mounts on Wall Handcrafted Hanger Style Headboard, Charcoal Gray, King
Beds and Headboards
Looks good, price is right: While I was a little surprised when this headboard arrived as 4 individual (I purchased a king size) boards that you hang from 2 hooks on each board to the wall behind your bed, I can say that it's an inexpensive way to achieve the distressed panel look that's popular today. The wood color (dark walnut) is exactly as it appears in the photo, rich and dark. The boards are sturdy and even when either my husband or I knock the boards at night, or while making the bed, they do not rock or shift, which I was concerned about. Overall I am pleased with the look and with this purchase.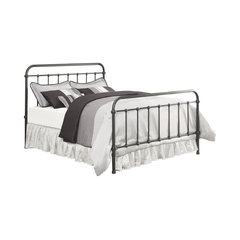 Livingston Transitional Metal Bed, Twin
Beds and Headboards
Great bed: Love this bed! Good quality and easy to put together. I love the look of this bed, it was exactly what I was looking for and for a good price. It took a long time for them to ship or else I would have given 5 stars.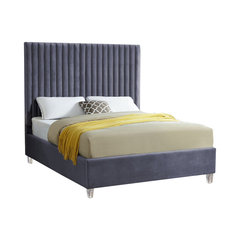 Candace Velvet Bed, Gray, Queen
Beds and Headboards
Stunning and unique!: My husband and I are renovators and we are currently staging a house for sale in one of the most coveted neighborhood in Albuquerque. To emphasize how big the guest bedroom is, I decided to stage it with 2 twin beds. This bed is perfect! The beds are absolutely gorgeous and unique and I think would impress even the most persnickety buyer. The grey velvet has the right amount of sheen and the legs are beautiful. The bed is well crafted and very, very sturdy. To top it all, assembly was a breeze. It took my husband less than an hour to assemble both beds, believe it or not. Shipping was fast and easy. I highly recommend both product and seller.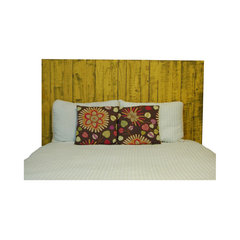 Leaner Headboard, Weathered Look, Yellow, California King
Beds and Headboards
Pretty: The color is more creamy/natural than white, which is good for me. The guest bed has an average thickness mattress and box spring. With pillows, a fair amount of the headboard still shows. Well packed, came early. I needed to drill 10 pilot holes for the assembly which was easy. There are 3 panels for this size, held together by two 2x4s across the panels, in back. The finish is smooth. It comes with Velcro bumpers to protect the wall. If you wanted to eventually attach to a frame, it should be possible - by marking the attachment points, drilling through the wood, and using purchased bolts to secure it. It would probably be wobbly due to the low attachment point and overall height.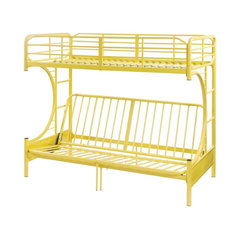 Acme Eclipse Twin Over Full Futon Bunk Bed, Yellow
Beds and Headboards
Great for Childrens Room: This is a great bed for a child's room. The red was the perfect color. One bed leg was g=damaged in transit and I had to have my handyman fix it. Be warned though it is not a fast assembly.