Sponsored Products
Featured Reviews of Beds and Headboards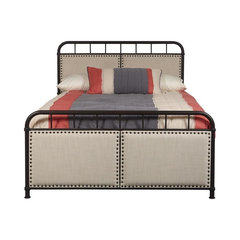 Linen Upholstered Metal Bed, Queen
Beds and Headboards
Appears as it does in picture: This bed arrived quicker than I had expected. It was relatively easy to put together. I put it together in just a little over an hour by myself. It looks just like the picture when assembled. The only challenge I have with the bed is the side rails do not match up well. There appears to be a small tilt of some kind. Also, some of the supporting legs appeared to be a little bent. Overall, I am pleased with the purchase, but would feel more comfortable with side rails that mesh flush together.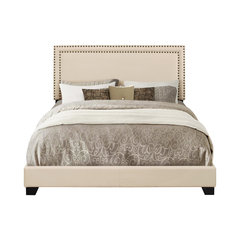 Bandera Upholstered Nailhead Bed, Cream, Queen
Beds and Headboards
Beautiful Bed: I love my new king size nail head bed frame. Great quality and pulls the entire room together giving it a very mature look. Can mix with any color area rugs, bedding and accessories.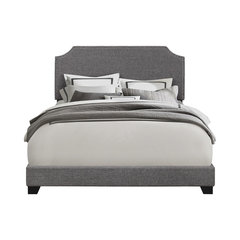 Clip Upholstered Bed, Stone, King
Beds and Headboards
upholstered bed: The bed came neatly packaged all pieces zipped into the back of the headboard. Assembly was easy. I has 2 settings I guess for the use with or without boxspring? Looks like a quality bed.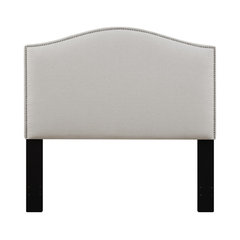 Camel Back Upholstered Full/Queen Headboard Linen
Beds and Headboards
Nice looking!: I was debating between this and another headboard for over a week and I'm glad this is the one I bought. The fabric quality is good and overall, it's definitely worth the money and deserves 4.5 stars. I will have to drill holes to attach it to my bed frame though because the holes on the frame don't line up. A minor inconvenience for sure but maybe my frame is not a standard one.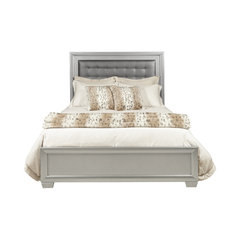 Celestial Upholstered Bed, Queen
Beds and Headboards
Lisa B-Florida: The bed is just stunning. It is very good quality with great detail from the headboard to foot-board. Its very sturdy and secure when sleeping on it. The buttons are plastic and appear somewhat different in the picture, but is very pretty!I would highly recommend this bed!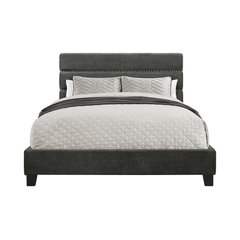 Wilson Upholstered Bed, Rave Thunder, Queen
Beds and Headboards
nice bed: One of the holes in the metal frame came with no threads so we couldn't insert that bolt. It was a nuisance to go find a drill and drill a new hole through the metal in order to secure the bolt. Otherwise, the bed seems solid and is nice-looking. I also had to go out and buy a box spring, both for added support and to raise up the mattress to height of the head board.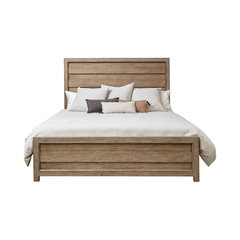 Flatbush Panel Bed, King/California King
Beds and Headboards
Great bed, but too tall: We loved this bed frame, but the headboard is over 5 feet tall, which is just too much vertical/visual space in our room. If you have lofted ceilings or a very large bedroom, this would work, but otherwise, it might overwhelm the space. Sadly I have to send this back, and since it's very heavy, it's super expensive to return, so order carefully!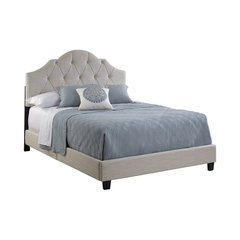 Tuft Saddle Upholstered Bed, Queen
Beds and Headboards
Does it's job!: The price of the bed is economical compared to other beds I had originally wanted. BUT, it looks great! I was hesitant about the sturdiness of this bed when I received the package to put it together. I have to say I really liked the look of it when it was put together. When my box spring, mattress and beddings was placed, I loved it! It went well with all the expensive pieces of furniture I bought in my bedroom! So far it's holding up, even with a 7 year old child who keeps jumping on the bed when he is not suppose to.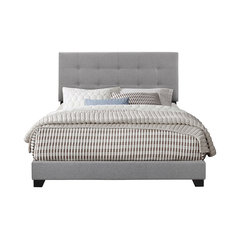 Zamparippa Button-Tufted All-In-One Upholstered Bed, Glacier Linen, King
Beds and Headboards
Beautiful bed: I love this bed, the linen upholstery is finished very well and the color is a medium grey. The bed was very easy to put together and the instructions were very clear. I made the mistake of thinking I did not receive all the parts, but the panels and screws are zipped into the back of the headboard. The bed is designed to hold a box spring and mattress which I really like because the mattress is high enough that it is easy to change the sheets. i also found the price outstanding, even when we converted to the us dollar and paid duties to ship to Canada. I am very happy with the overall purchase.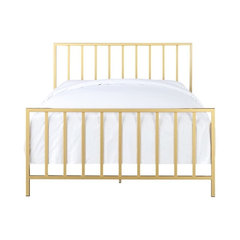 Beds and Headboards
Bed: The bed arrived damaged & the color was a bit more fake yellow/gold than I thought it seemed in the pictures. But the Houzz customer service team gets 5 stars for their help in correcting the issue of the damaged bed! I will definitely purchase more from Houzz in the future.