Featured Reviews of Beds and Headboards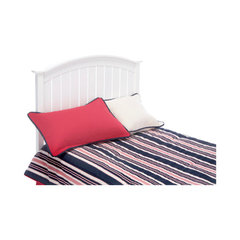 Finley Curved Wooden Headboard Panel, White, Twin
Beds and Headboards
Great Headboard!: This headboard was super easy to assemble and is a great value. It is exactly what is shown in the picture and description. It is made very well and feels very strong. I love my new headboard.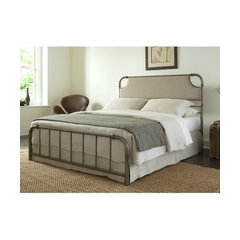 Dahlia Snap Bed With Upholstered Headboard, Aged Iron, Queen
Beds and Headboards
Easy assembly and sturdy: Nice looking, high quality furniture that was easy to assemble. I have no complaints. One note: our mattress and box spring are too tall so the metalwork under the upholstered part of the headboard isn't visible. We have a pretty standard to thick mattress, so bear that in mind when considering how his purchase. I would still buy it again, but when we get a new mattress, we will get something slimmer so that the bed's aesthetic isn't compromised.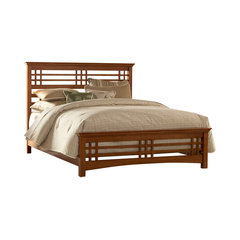 Avery Mission-Style Bed With Wood Frame, Oak, Queen
Beds and Headboards
Nice mission styling: A very solid bed when put together, lots of large bolt fasteners keep it from creaking or moving. The actual color is lighter than all of the pictures would imply, but it was a perfect shade to match the medium oak in the room. Not difficult to put together, but it takes some time and patience. A few flaws in the finish (small spots where the finish had been scuffed and lighter wood shows), but not too numerous or serious. The components were well protected for shipping. I would give 5 stars had footboard been a bit higher and fit and finish been closer to perfect.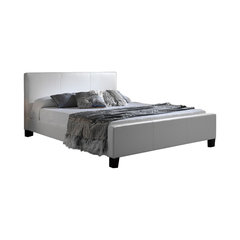 Euro Upholstered Platform Bed With Side Rails, White, King
Beds and Headboards
Lovely: This Bed is super gorgeous. I am picky and always worried about details and this the overall look is fabulous. The internal frame for the platform is a bit weird with plastic pieces but I will admit the bed is strong, gives a strong luxury feel and certainly when made can give the vibe is super modern luxury. Do not hesitate to purchase this bed if you think the pictures are beautiful. Super easy to assemble (2 ladies did it in about 30 mins). Color is White not cream and not a hint of yellow (great for me!)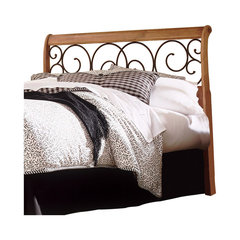 Dunhill Sleigh Headboard With Autumn Brown Swirling Scrolls, Honey Oak, King
Beds and Headboards
EDITED Love this, a few small dings that I was able to fix: I do love the design, though at first was disappointed that there were some noticeable "dings" to the finish on the front side. I touched those spots up with a brown furniture crayon and that helps, though the areas are still visible when you are close up to the headboard. But we decided that we'd keep it since we do love the look and it fits the decor of the room beautifully, and the marks are not noticeable from a distance. I just edited this review to say that after a few weeks, I no longer even think about the little dings that are somewhere on there and I love the look of this headboard in the room. I saw the same headboard at local store for much more money so should definitely consider that this was a lower cost item.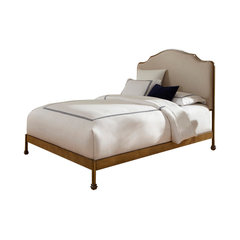 Calvados Bed With Metal Headboard and Sand Upholstery, Natural Oak, Queen
Beds and Headboards
Beautiful bed: We have't put it up yet. We're preparing and painting the room and waiting for the mattress to arrive next week. But it is a beautiful headboard and the simplicity will be perfect for our guest room. Arrived timely, great buy, worth the purchase. Can hardly wait for the room to come together. Update: Just put the bed together. Easy!!!! Tomorrow mattress and box spring arrive for final touch. Perfect fit in room.