Sponsored Products
Featured Reviews of Beds and Headboards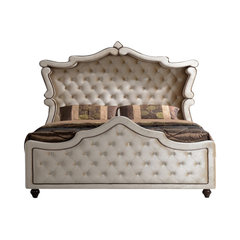 Beds and Headboards
Heavenly: This bed was everything that I envisaged it to be. Not only is the description of this item on point- it is sturdier and heavier than I thought- which is great! If you've got a couple of people to help assemble- then your set. Going to sleep and waking up in this bed is like a heavenly dream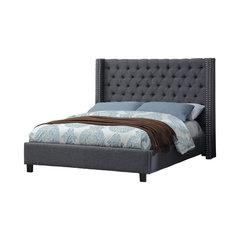 Ashton Linen Bed, Gray, King
Beds and Headboards
Great Bed!: I received the bed in two boxes. Overall, it was easy for me to put it together by myself. The only issue I had was with the left wing, it wasn't sliding in as easily as the right one. It took me a while to see that it was a screw on the main frame that was stopping it. Once, I screwed it all the way the wing slide in easily. The bed looks awesome, better than the picture. Great construction also. Highly recommend it.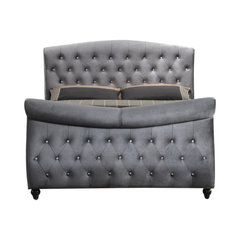 Hudson Velvet Sleigh Bed, Queen
Beds and Headboards
I am in LOVE: This bed was very easy to put together all by myself. It's just as large as I thought & hoped for. When my mattress & box were put on the bed I truly feel like a queen! I only wish I had some matching bling steps for it because I'm so short. The way it feels and looks is a work of art. I have not seen anything like it before & love the unique style. Delivery was early, easy, and very polite. I had to call to set up my appointment since the app would not link in my time, but the lady on the phone was also very nice and took care of it. My overall experience was amazing!!!❤️ Now I can work on finishing decorating my room.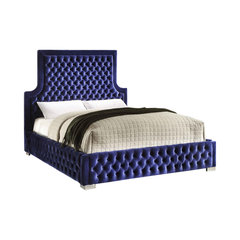 Sedona Navy Velvet Queen Bed
Beds and Headboards
4 stars: The item looks bigger online than it actually is. The headboard is a little smaller in person. Also the color is a dark gray rather than the light gray pictured. Overall the bed looks good.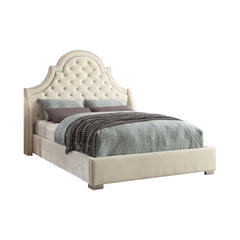 Madison Cream Velvet King Bed
Beds and Headboards
Absolutely gorgeous!!!!: I am so in love with this bed!!! Assembly was fairly easy and straightforward. Took me a little over an hour to put together (that was with a toddler "helping" me). No issues at all with holes not matching up or missing parts (having put together countless pieces of furniture, that is always a concern). The finished product is just stunning!! The velvet is a beautiful shade of grey, and has such a luxurious feel to it. So very pleased with this purchase!!!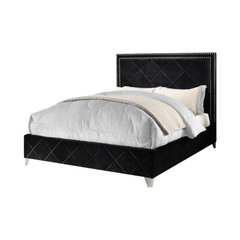 Hampton Black Velvet Queen Bed
Beds and Headboards
Beautiful bed!: I am extremely pleased with the purchase. I haven't been home long enough to test out mattresses so it's not put together yet. But I took the headboard out of the box and it looks gorgeous. Can't wait to put it up and sleep in the luxury of it!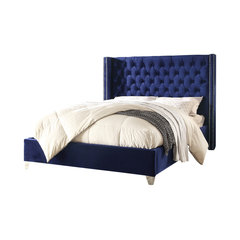 Ames Velvet Bed, Navy, King
Beds and Headboards
Beautiful Bed!: My order arrived on time and the delivery people brought the 2 very large and heavy boxes into the house while I was undergoing major renovations. I had my contractors put the bed together for me and it's absolutely stunning! The pictures don't do it justice and it's well made, sturdy and exactly what I wanted.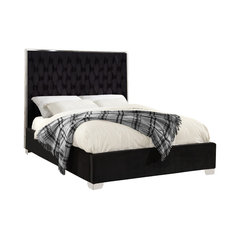 Lexi Velvet Bed, Black, King
Beds and Headboards
Great Quality Easy Setup: Delivery was with no issues at all. The Lexi velvet queen is very luxurious, great quality in velvet material and sturdy brass, steel, chrome, wood and plastic hardware. Better than what expected. The simple instructional manual seems too basic at first, but it's simply that easy of a setup. All the hardware pieces came in two separate boxes. Now let me end this review and enjoy tonight's slumber on my Lexi.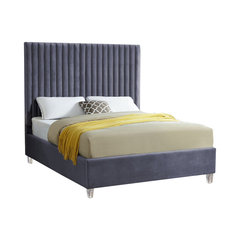 Candace Velvet Bed, Gray, Queen
Beds and Headboards
Stunning and unique!: My husband and I are renovators and we are currently staging a house for sale in one of the most coveted neighborhood in Albuquerque. To emphasize how big the guest bedroom is, I decided to stage it with 2 twin beds. This bed is perfect! The beds are absolutely gorgeous and unique and I think would impress even the most persnickety buyer. The grey velvet has the right amount of sheen and the legs are beautiful. The bed is well crafted and very, very sturdy. To top it all, assembly was a breeze. It took my husband less than an hour to assemble both beds, believe it or not. Shipping was fast and easy. I highly recommend both product and seller.