Featured Reviews of Beds and Headboards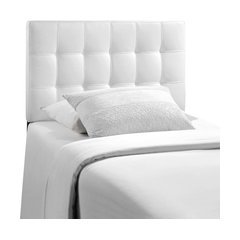 Lily Twin Tufted Faux Leather Headboard, White
Beds and Headboards
Love this headboard!: Really happy with this purchase! I bought two for my daughters bedroom. They arrived quickly. The headboards were packed perfectly and sooo easy to put together. They are stark white which is what we were looking for.
Furinno Nightland Mattress, Twin
Beds and Headboards
Great Mattress: I was a little skeptical when I bought this product because I wasn't sure how firm a mattress would be if it was delivered rolled up. When I opened the package I thought to myself Oh No, this thing is so thin. But as soon as I unwrapped it, it sprung up. It only took less than 24 hours for it to become ready to sleep on, even though the web site said to wait 48 hours until sleeping on it. I find it extremely comfortable and works great on my nieces bunk bed. I am planning on purchasing one for the top bunk. I didn't but them at the same time due to the fact I was unsure. But it works great so I will be buying another one.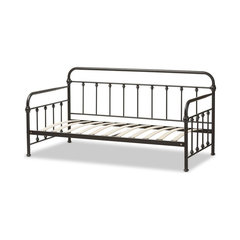 Elsie Antique Dark Bronze Metal Daybed
Beds and Headboards
Daybed: We received our Daybed within a week and it looked the same as the picture on the web. We found it was very easy to put together and took less than an hour to complete. It's sturdy and a good value for the price. We are very satisfied with this Daybed.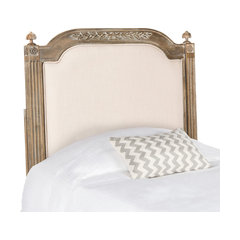 Safavieh Rustic Wood Linen Headboard, Beige, Twin
Beds and Headboards
Very good quality: Arrived in good shape. Very pleased with the quality - made of solid wood, everything as pictured. Instructions and all hardware for assembly included. Overall, very pleased with this purchase and would highly recommend.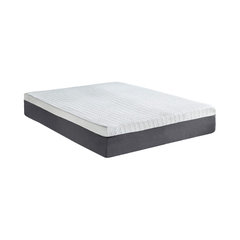 Classic Brands Cool Gel 12" Ventilated Gel Memory Foam Mattress, Twin
Beds and Headboards
This was to be for the guest room . . .: My error was my bonus this time! I forgot to buy a bed frame for this mattress, I decided to unroll it and try it on my electric bed. WOW!!! Incredible support and comfort! My mattress, which I paid quite a bit more for just last year is now in the guest bedroom! Happy dancing!!!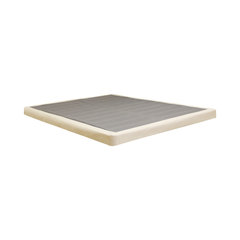 Classic Brands Instant Foundation 4" Twin Foundation, Twin
Beds and Headboards
Just what I have been looking for!: With "box Springs" and mattresses getting higher and higher, I have been looking for a simple platform with slats to lower the bed for a long time. I am short and don't like to have to climb a ladder to get to bed! I wanted my husband to make one -- now he is off the hook and I have a much better solution! So glad to have found this! (Many available are higher than 4"). Very easy to put together too.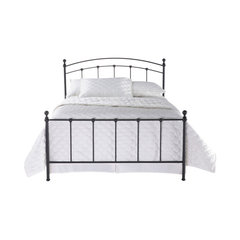 Sanford Bed With Metal Duo Panels and Round Finial Posts, Matte Black, Twin
Beds and Headboards
Simple & Gorgeous: Husband and I bought this for our first home together and we love it! Easy assembly and looks great with whatever "style" we are into this month lol works with everything from farmhouse to eclectic.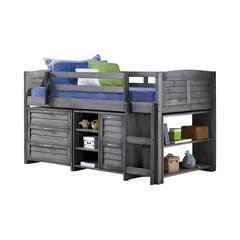 Donco Kids Moddy Low-Loft Bed, Antique Gray, Twin
Beds and Headboards
Excellent Design.: Our order arrived in perfect shape and within 4 days of the order date. They were very quick. This was a transition "bribe" to move two boys to beds that they would stay in all night. So far this worked liked a charm. Slept in their own rooms every night for the first two weeks after assembly. I think we have hit a charmed night! Good quality, and efficient use of floor space. Assembly was a little longer than anticipated, but we did get it done by downloading all the directions from a vendor website. Helped immensely to have the extra details. I would recommend this ensemble and this supplier.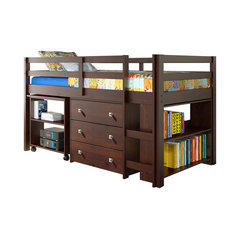 Donco Kids Studying Student Low-Loft Bed, Cappuccino, Twin
Beds and Headboards
My kiddo loves this: This is a very nice bedroom set. It feels sturdy when put together. Although the English in the instructions isn't perfect, it was surprisingly easy to put together and I was able to do it in an afternoon while entertaining my three-year-old.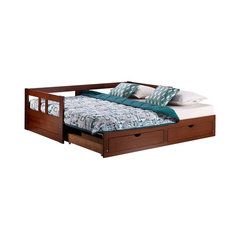 Melody Twin to King Trundle Daybed with Storage Drawers, Chestnut
Beds and Headboards
Daybed for my office/guest room: I put this all together by myself (no help from the hubs)! It took me almost all day, but I got it done. The hardest part is lining up the bed slats on each piece so the trundle will pull out without jamming. I bought 4-5" foam mattresses, and they both sit on the daybed top and fit great. I look forward to having a guest so I can see how the king bed works for them. Great price too - I have seen this same model on other sites for much more.