Sponsored Products
Featured Reviews of Bookcases with Doors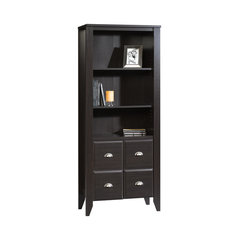 Shoal Creek Library With Doors, Jamocha Wood
Bookcases with Doors
Great as usual, Sauder product: Arrived ahead of schedule and in great shape. No damage from Fed. Exp. at all. They look really nice in our living room. Just follow the directions, step by step, and there is no problem putting together. Have used Sauder for 25+ years without issue.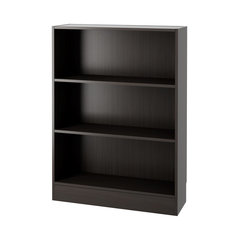 Tvilum Element Short Wide 3-Shelf Bookcase
Bookcases with Doors
Beautiful shelf, perfect size, gorgeous color: Needed a shelf for children's books and this was exactly the size I was looking for. Arrived packaged like nothing I'd ever seen before - boxed, with additional cardboard bumpers on the corners to protect from shipping damage, then wrapped entirely in heavy plastic and sealed from the weather. Unfortunately my item was cracked through every board - working on a resolution with the company. But, other than that, it's perfect!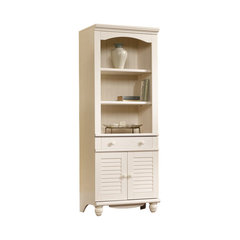 Sauder Harbor View Library With Doors in Antiqued Paint, Antiqued White
Bookcases with Doors
Wonderful!!!: For quite a while I have been trying to match a piece of furniture to my antique white bedroom suite. I looked at this several times and decided to try it. Just love it perfect.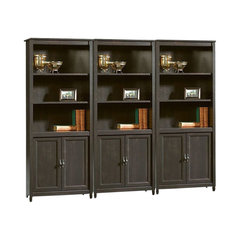 Sauder Edge Water Library Wall Bookcase in Estate Black
Bookcases with Doors
Great for the price: It takes a very long time to put this together. I wouldn't say it was fun. I would say it was interesting to see it come together. There were no missing or damaged parts. The instructions were easy to follow. The end product is worth what I paid. For me, to have paid much more for better quality would not have been worth the price difference. I'm happy w my purchase.