Sponsored Products
Featured Reviews of Chandeliers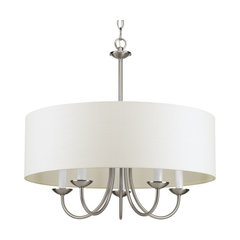 5-Light Chain Hung Fixture, Brushed Nickel
Chandeliers
Love it!: I love this light. It looks exactly as described and fits perfectly in our dining space. It was surprisingly easy to install as well. The shade was a little crooked, but with some modifying it looks great! Our kitchen has a modern farmhouse theme and this fits very well.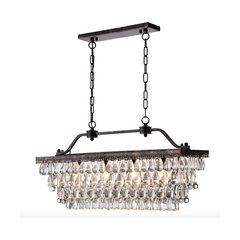 Monika Antique Bronze Chandelier
Chandeliers
looks amazing but built by purchaser: This is a beautiful piece and will look amazing over our extra-long rectangular dining room table. My only gripe- which could have been my oversight- is that I didn't realize it would need to be assembled. Other than that I love it!!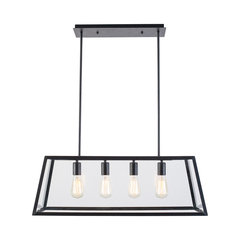 Morley 4-Light Glass Island Fixture, Matte Black
Chandeliers
Love it!: I had exactly in mind the light I wanted in my dining room.....and this was not it! But when I saw this I immediately liked it more than what I originally picked out. I'm so glad I got this one instead! It looks amazing in my dining room. It's simple yet makes a statement.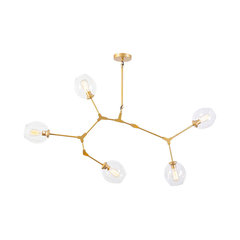 Thurston 5-Light Chandelier
Chandeliers
crazy, cool, well made light - tricky to get just right....: this light is definitely the focal point of our front sitting room. wow. It almost didn't work out for us because we have 9' ceilings, which are too low for this fixture without having the rod shortened by someone. But, after hours of fiddling with the arms/balance/etc and exhausting all ways to adjust it, we got it to hang with enough clearance to work for our room's set up. We have this light hanging over a coffee table, so no one will pass underneath it (anyone over 5'6" would bump into it). It wouldn't work for a more 'functional' room with 9' ceilings or lower, but we have this in a place where it is the center of a conversational area with a couch and chairs. It's a very cool, well made light. We have a traditional home, but we add a few quirky/modern/industrial touches here and there, so this piece works for us. I do recommend getting the arms the way that you want them BEFORE putting on the glass shades - it's too hard to balance with the weight of the glass . It's a two person job. Adjusting this fixture brought back physics class nightmares, that's for sure. But it was worth it in the end.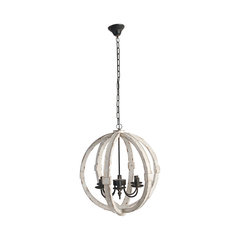 Wood-Metal Globe Chandelier, 22.5", Cream
Chandeliers
Just as pretty in person: We bought this for our house we are buying in Florida and can't wait to hang this beauty over our dining room table! Worth every penny and was a much better deal than similar ones I saw.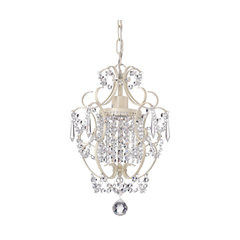 Amorette Mini Chandelier Wrought Iron Ceiling Light Fixture, Ivory White
Chandeliers
Love it: It wasn't so hard to put together, line up what you have and look at the instructions. Once you get the hang of what they are telling you it is easy. Took about an hour. The electricians were happy I did it for them!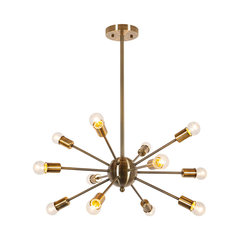 Apriori Chandelier, Brass
Chandeliers
Awesome Mid Century Modern light for a steal: This was a great price. Can't find anything close to the price and design at a big box store. Chose the chrome to match the existing other light fixtures for an affordable update to a rental property dining area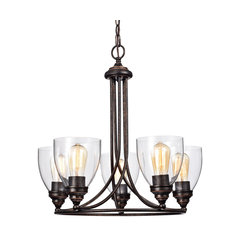 5-Light Chandelier With Glass Shade, Antique Copper
Chandeliers
Very nice fixture: This fixture is nicer than I expected based on the price. I wanted something that would look nice in a farmhouse/rustic kitchen but not too primitive or industrial looking. It's the perfect blend for the look I was going for (I used edison bulbs). The price was less than the other chandeliers I was looking at which makes the quality an even more pleasant surprise. I also ordered the matching pendants.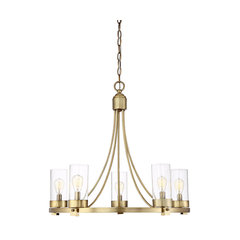 5-Light Chandelier, Natural Brass
Chandeliers
Stunning Piece!: We bought this for our newly remodeling home. We have vaulted ceilings and this Chandelier is stunning! We get so many complements! Love Love Love. The product was delivered fast and on time.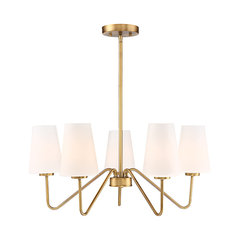 5-Light Chandelier, Natural Brass
Chandeliers
Simple, modern, perfect: It's so hard to find a modern brushed brass chandelier that's not crazy out there or old fashioned looking. I almost bought a similar chandelier for 4x more before I found this! So happy!