Sponsored Products
Featured Reviews of Contemporary Armchairs and Accent Chairs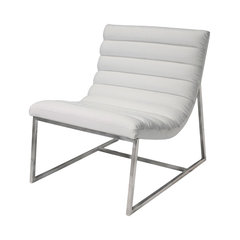 Kingsbury White Leather Lounge Accent Chair
Contemporary Armchairs and Accent Chairs
Fabulous chair: This chair arrived quickly and was very well packaged so it arrived in perfect condition. It is very comfortable and quite sturdy. The leather is more of a light cream color - not pure white ... but it works fine with my other décor in newly remodeled, contemporary family room. I liked this chair so much, that I ordered a second one for my office. Very pleased with my Houzz purchase!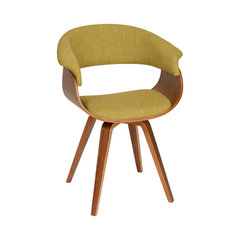 Summer Modern Chair, Green Fabric And Walnut Wood
Contemporary Armchairs and Accent Chairs
VERY NICE FOR THE PRICE: I'm very pleased with this purchase overall. Would have given 5 stars except for one detail of the chairs. The piece of wood on the bottom of the seat, to which you attach the legs, is UNFINISHED wood. While standing this does not show, but if you are in a low chair somewhere else in the room and look toward these chairs the unfinished wood stands out like a sore thumb. I spent $15 for a small can of walnut stair and a brush and about 30 minutes staining these unfinished pieces. Now you don't notice. THE MANUFACTURER SHOULD DO THIS TO BEGIN WITH. All that aside I'm happy I bought these chairs. They look great with my Tulip Table.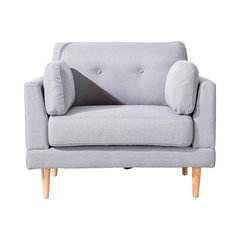 Mid Century Modern Ultra Plush Linen Fabric Accent Chair, Light Gray
Contemporary Armchairs and Accent Chairs
Stylish and comfortable: This chair looks great in our living room and the fact it is wide makes it very comfortable. The cushions are a bit stiff but I imagine it will break in with time. It was easy to install the legs, no issues at all and you can't beat the price.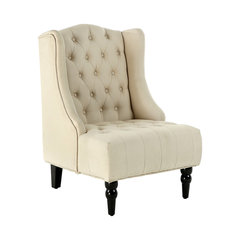 Tall Wingback Tufted Fabric Accent Chair With Nail Head, Beige
Contemporary Armchairs and Accent Chairs
Great chair for the money: My wife loves the chair. It is an accent piece in our LR. Shipping was pretty fast given it was around Christmas. It was easy to put together. The only non-positive comment I have is that the size is smaller than I expected. It sits low and is most definitely an accent chair. Even with that we still really like it. It is also comfortable to sit in.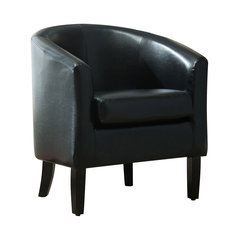 Modern Club Chair Barrel Design, Faux Leather, Black
Contemporary Armchairs and Accent Chairs
Pleasant Surprise: Ordered this item to fill a vacant space in the family room with the likelihood that it would receive little or no use. The quality of workmanship and materials far exceeds our expectations. We have changed the location for this chair and now anticipate significant use for this outstanding chair. GREAT VALUE!!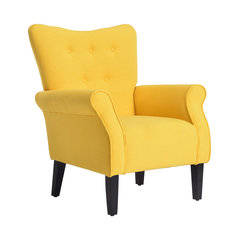 High Wingback Linen Armchair, Citrine Yellow
Contemporary Armchairs and Accent Chairs
Go big or go home: Bring some flair into any room with this beauty. It is gorgeous and well made. I paired with a gray sofa and contrasting throw pillows to tie everything together. Live a little!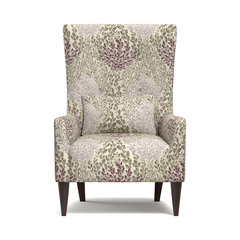 Orilla Shelter High Back Wing Chair, Purple Multi Floral
Contemporary Armchairs and Accent Chairs
Nice for the price.: I like everything except the seat needs more cushioning. It's too hard. But for the money, it looks good and seems solid. It doesn't look cheap and works well in it's corner of the living room.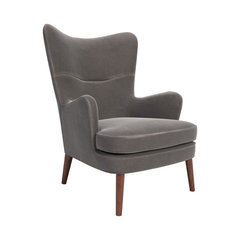 Colm Wingback Accent Chair, Mid-Gray Velvet
Contemporary Armchairs and Accent Chairs
Colm Wingback Accent Chair, Stone Beige Fabric: This wingback chair is clean and contemporary, while still giving a nod to the vintage style. I like the stone beige color of the upholstery and the walnut wood legs look great. This chair could go anywhere – living room, bedroom, entryway, reading nook, you name it!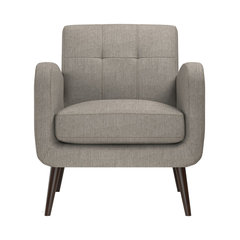 Observatory Armchair, Heather Gray
Contemporary Armchairs and Accent Chairs
Beautiful color!: This chair is such a nice addition to my small living room. I have lots of dark and other shades of grey. This mustard yellow color brightens the space and gives my living room a fun and elegant look. The fabric is beautiful and the style is sleek and comfortable. All I had to do was screw the legs in. I love my mustard yellow chair and I didn't have to break the bank to acquire this beautiful piece of furniture.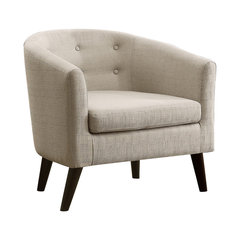 Phipps Barrel Chair, Biege
Contemporary Armchairs and Accent Chairs
This is a pretty nice chair: My husband wanted it for reading and relaxing. The chairs appear to be of good quality and we're happy with them. Purchased in Grey color and goes well with our decor. Love these chairs. Just wanted them for extra seating in my living room. The color is great. I Scotchguarded them and I think they'll be just fine. They actually brighten up the space, being lighter. They are comfortable and as stated they're good for extra seating! Houzz, you came through again. Excellent customer service and quick shipping!