Featured Reviews of Contemporary Bath Towels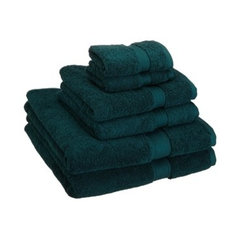 Egyptian Cotton 6-Piece Towel Set, Teal
Contemporary Bath Towels
Absolutely the best!: Who would have thought a good quality towel could made such a difference? These towels are a rich light blue color, true to the picture. The price is excellent for a towel set of this quality. But, the biggest 'surprise' to me was how luxurious the feel of thick absorbent cotton is after an invigorating morning shower. I'll never again purchase a thin, low-quality towel. And with these towels, I'll never have to! Highly recommended.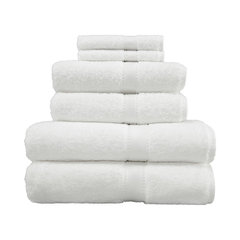 Dobby Terry 6-Piece Cotton Towel Set
Contemporary Bath Towels
Wonderful towels: I bought these for my home and actually bought more for my 2 daughters as party of my Holiday theme of "daily luxuries" because I just love these towels. They get better with each washing.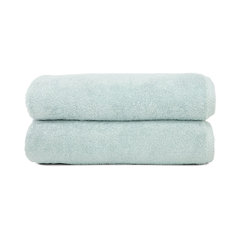 Linum Home Soft Twist Bath Towels, Set of 2, Aqua Blue
Contemporary Bath Towels
Overall a Nice Set: I was really delighted with this set when it arrived. The towels are a nice weight and I could tell they would be absorbent. When I washed and dried them the first time (cold water, medium, with medium dryer heat), they shed much more than I'm used to, more like a medium-quality/Restoration Hardware would. They also immediately had a few minor pulls and picks even though there was nothing in the dryer with them. Overall, for the price, I think it's a nice set. Soft, with a nice weight, definitely nice enough that guests would be happy to use them.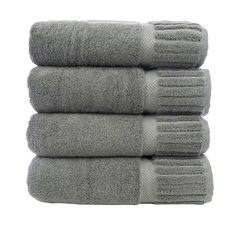 Piano Luxury Hotel and Spa Bath Towels, Set of 4, Gray
Contemporary Bath Towels
Very nice. I would order them again.: I ordered these towels from houzz. Never ordered from them before. Was questionable, but they came and they are beautiful, fluffy, absorbable, and the colfor is beautiful. I would order from them again in a heartbeat. I highly recommend them.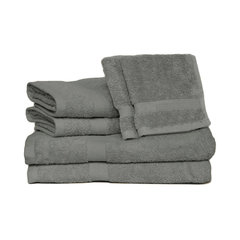 Deluxe 6-Piece Cotton Terry Bath Towel Set, Pearl Gray
Contemporary Bath Towels
Nearly Perfect: The towels have now been washed and hung. Unfortunately, the bands shrunk a little and there were some unexplainable loose threads but the color is stunning and they are nice and soft. For some strange reason, the package they arrived in was covered in dirt and mud and dust...like it had been buried?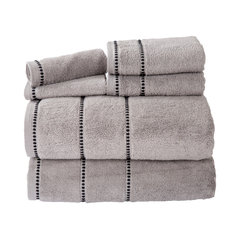 Lavish Home Quick Dry 100% Cotton Zero Twist 6 Piece Towel Set, Silver
Contemporary Bath Towels
Exactly what I hoped for: Redecorating our bathroom meant new towels. We wanted towels that would dry fast and were soft. I wanted to avoid the deep woven area near the ends of most towels. I liked the pin stripe on this towel. They washed up beautifully, drying quickly and coming out soft and flully. They feel different when drying because there are not loops, but has a velour feel. Over all I am very happy with these towels.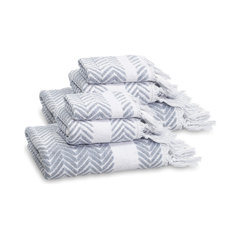 Linum Home Textiles Assos 6-Piece Towel Set, Dusty Blue
Contemporary Bath Towels
Soft and textured!: This order came faster than I expected, and the towels are lovelier than pictured. The towels don't have a bad side, instead a first side has a dominant white pattern and the second side has a dominant gray/blue side. They did arrive with a weird smell, but the smell went away in the wash. I followed the cleaning instructions, and they came out soft and without any noticeable change in size or quality. I was surprised that the pattern creates a texture in the towel, but I don't mind at all.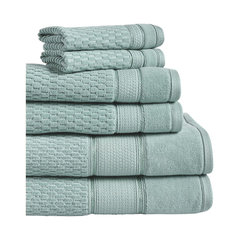 Royale 6-Piece 100% Turkish Cotton Bath Towel Set, Spa Blue
Contemporary Bath Towels
Good quality towel set.: A wonderful quality towel set, that includes many pieces. The only problem is the color of the towels. The description says "spa" blue. In reality they are a very pale color that does not match my decor. Therefore, I am returning.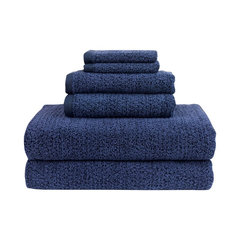 Everplush Diamond Jacquard Bath Sheet 6-Piece Value Pack, Navy
Contemporary Bath Towels
Everplush Towel: The bath towel is bigger than most, the towels absorb water and dry surfaces well. The color is "as described" and the towels do dry themselves quickly after use. The towels are soft but seem a little thinner than I would prefer. My husband loves these towels, primarily for the bath towel size and the softness. I would buy these again if they offered this towel with a higher GSM, the material composition is great.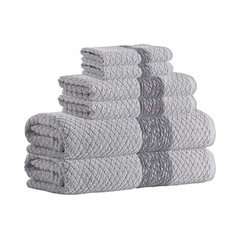 Anton Towel Set, Set of 6, Silver
Contemporary Bath Towels
RATED FOR BEING WHAT WAS ADVERTISED. Hooray!: *Light weight towels" that was what I read in the reviews. It was mean as a disappointment. I however, was looking for this very quality, because I want a towel that is fast drying. It is better for the environment (thinking of dryer time); and air drying ease without creating a musty smell that signals a bacteria breading environment by using slow drying, heavy dense bath towels. Hope more people begin to use thinner bath towels. And the heavy towels use already have, hang them to dry in the open air and sun to avoid bacteria growth.