Sponsored Products
Featured Reviews of Contemporary Closet Organizers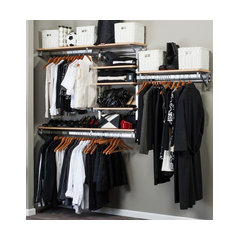 Closet System in Maple Finish, 80 in. W x 11.75 in. D x 84 in. H, 93 lbs.
Contemporary Closet Organizers
Excellent modern closet: Hung this in my second bedroom as an exterior closet when updating my home we changed the layout and forgot about the downstairs bedroom closet and it is just fantastic. Plenty of room and sturdy. Makes getting dressed a breeze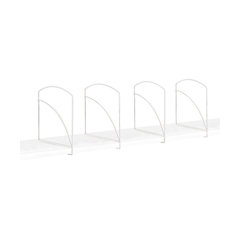 Lynk Shelf Dividers, Closet Shelf Organizer, Set of 4- White
Contemporary Closet Organizers
Not suited for my shelves: I gave a 5 star rating because they are very well made, sturdy. However, most of my shelves are heavy wire shelves with spaces and lips on the front, over which these shelves do not fit. They fit well on wood shelves; I'm keeping them, hoping to find a use for them in the future.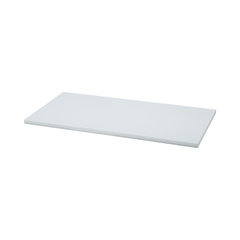 Organized Living freedomRail 48"x12" Wood Shelf, White
Contemporary Closet Organizers
Good quality and fit: I needed a couple extra shelves for my closet and had a difficult time finding the correct size. These fit perfectly and seem to be well made. They're heavier than my existing shelves.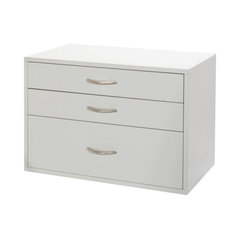 Organized Living freedomRail O-Box 3 Drawer, White
Contemporary Closet Organizers
Well built product, drawers open smoothly: Product arrived in very good condition and on time. Be aware that the box is extremely heavy requiring my husband and I to carry it inside. Assembly went smoothly with good instructions. Gave it 3 stars because when assembled it wobbles a bit but we are using it as a stand alone item and this could be the reason for the wobbling. Could not use the Freedom Rail closet system as we are renting a townhouse, but plan to put up the closet system in our retirement home and include this drawer when we customize our closet. However we put it on top of the Organized LivingCubby and it works fine. These products are of excellent quality and I would recommend it.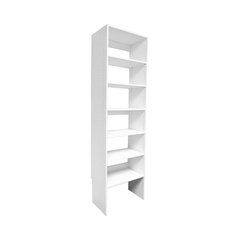 Modular Closets Wood Shelf Tower Closet Organizer Section, White, 24"
Contemporary Closet Organizers
Great Wood Shelves: My husband and I decided to redo our bedroom closets and prefer to use wood for our home projects. We purchased 2 of these units and could not be happier with them. They are solid wood, already finished in white, and relatively easy to assemble. One suggestion for the manufacturer would be to label the parts. Otherwise, they are quality shelves and we are very pleased with the outcome.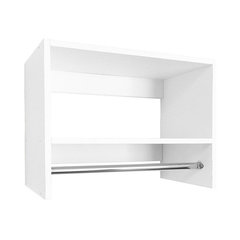 Modular Closets Wood Tall Hanging Closet Organizer Section, White, 24"
Contemporary Closet Organizers
Quality Shelves: These shelves are heavy, well made, easy to assemble & hang. The only complaint I have are the multiple holes that show on the outside of the units, especially noticeable on the taller ones. They don't provide finishing covers with the shelves but charge quite a bit extra if you want them. Otherwise they really are quite sturdy and as nice as any I've seen. Pricing is competitive also. I've attached photos from the cedar closet we're finishing in the basement.