Shop All Contemporary Desks
Sponsored Products
Featured Reviews of Contemporary Desks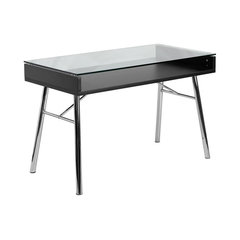 Flash Furniture Brettford Desk With Tempered Glass Top [NAN-JN-2966-GG]
Contemporary Desks
Great sturdy Desk: I'm using this desk as a dressing table to store all my makeup. The desk is very sturdy and looks very modern. The only downside is that there were 4 small dents on each leg and the diagramed instruction were a bit small.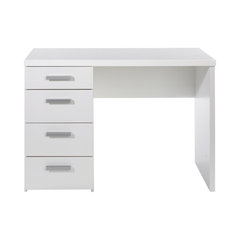 Contemporary Desks
Great value: It was much heavier than I anticipated. The top of the desk was 3x thicker than I was expecting. The overall quality for what we paid was great. No missing parts. I did find it odd that I would need to label the parts but I didn't bother to do so. The pictures provided in the instructions (no written directions) were spot on and assembly was easy. I would definitely recommend this product.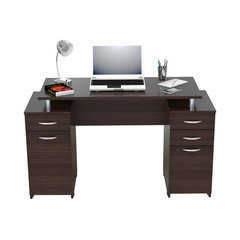 Inval Computer Desk With 4-Drawers, Espresso Wengue
Contemporary Desks
Inval Computer Desk: This desk perfectly fit the description. It was fairly easy to assemble, I did it without help although two are recommended. All pieces set perfectly much better than other user assembly-required pieces. Take your time, read the instructions and don't get ahead of yourself and you will be satisfied with this piece of furniture. P.S. My wife keeps seeking into my man-cave and admiring it.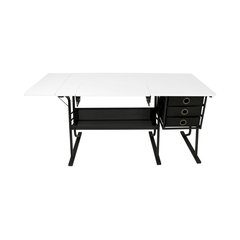 Eclipse Hobby Sewing Table, Black and White
Contemporary Desks
Sewing table: Product arrived quickly and was undamaged upon arrival. Assembly was straight forward with minimal difficulty. Only part of the design I didn't particularly like was the adjustable sewing machine shelf, for some reason the shelf wobbled and wasn't level when engaged. I remedied the problem permanently by tightening the shelf adjusters so that the shelf neither wobbled or was unlevel.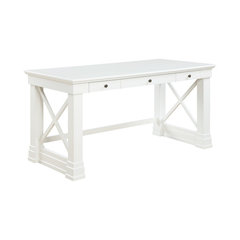 Antique White Home Office Writing Desk With X-Shaped Braces and 3-Drawers
Contemporary Desks
Accurate, Well-Made: The picture accurately depicted the product I received. Further, the wood is solid and heavy and I expect this piece to last for a long-time. Also, the assembly is probably the easiest I've ever encountered for a piece of furniture. The whole thing is like 6 bolts and you are done.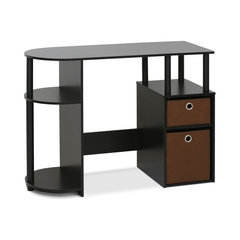 Furinno 15111 JAYA Simplistic Computer Study Desk with Bin Drawers, Espresso
Contemporary Desks
Good for the price: It wasn't difficult to assemble. The directions said two people are needed to assemble it, but I had no problems doing it myself. Took about an hour to put it together. It probably won't last a long time, but at this price, who cares?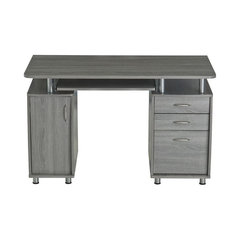 Contemporary Desks
Complete Techni Mobili Workstation Computer Desk, Gray: I ordered the techni mobili workstation computer desk in gray, as I do alot of work for my company from home. My tower is in a cabinet I have a keyboard tray that pulls out, and plenty of drawers for my paperwork. The desk matches my home office perfectly and I love it. The price was fantastic. I love it. Noreen Havrilla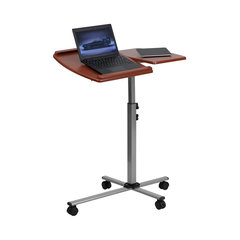 Angle and Height Adjustable Mobile Laptop Computer Table With Cherry Top
Contemporary Desks
Sturdy adjustable desk: Because of the extremely reasonable price, I was afraid this piece would be too flimsy to be useful. But it's not - I'm very happy with it so far. Assembly is not hard if you pay attention to the plans, which I apparently didn't so had to re-do several times. Still not difficult. The pieces all fit and no additional tools are needed.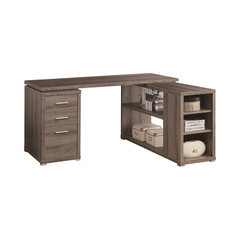 Left or Right Facing Corner Computer Desk, Dark Taupe
Contemporary Desks
Good desk with plenty of desktop space: This desk is for my craft room. It has ample desktop space but needs larger desk drawer width, depth for craft tool storage and front shelves are just large enough for small bins. Overall I like the color, desktop space, sturdiness, and ease of access from center sitting position.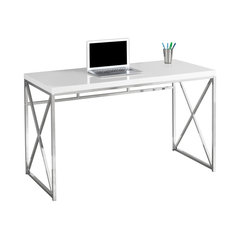 Exacto Chrome Base Computer Desk, Glossy White
Contemporary Desks
Love it!: The desk works perfectly in my office/guest room. It's sleek and clean and it was easy to put together. I hate putting furniture together, but this was very simple and worth the effort.