Shop All Contemporary Kitchen Sinks
Sponsored Products
Featured Reviews of Contemporary Kitchen Sinks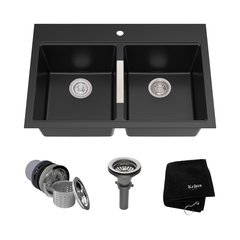 KRAUS 33" Dual Mount 50/50 Granite Kitchen Sink, Black Onyx With Strainers
Contemporary Kitchen Sinks
Shop O Holic: The ordering process was very easy. This sink is very contemporary. Its is also very heavy duty quality. It looked just how it was described online. Would definitely recommend.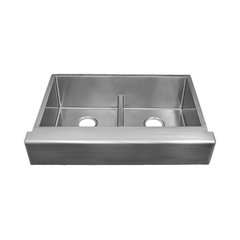 Unique-Fit Apron Sinks Radial Low Divide 50-50 Double Bowl Apron Sink, 33"
Contemporary Kitchen Sinks
Love it!: Sink arrived as promised. Is well made with smooth interior corners. Love the comfort edge on the front. I do wish her apron was a tad shallower. I know this is a retrofit i believe it would improve the sinks usability. I purchased wire racks from amazon to prevent scratching and they fit beautifully. I will be buying another in a few weeks for our next project so I'm definitely a fan!!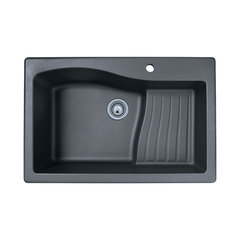 Swan Granite Ascend Bowl Kitchen Sink 33"x22", Nero
Contemporary Kitchen Sinks
How to go big and black in a tiny kitchen: I have an open concept layout and my kitchen island is smack dab in the middle of the room - with the best views in the house. So I moved this big, black sink to a butcher-block island counter and added a brushed bronze faucet. It looks bold and beautiful... and I'm so happy I found it! I even gave the delivery guy a high-five after checked the box! Happy, Happy, Joy, Joy!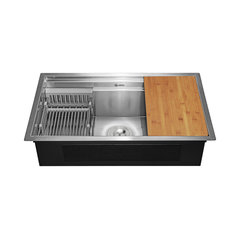 AKDY 30"x18"x9" Undermount Handmade Stainless Steel Kitchen Sink
Contemporary Kitchen Sinks
Sink is beautiful but damaged so had to send back. : (: Sink is beautiful and exactly what I was looking for. Clean, modern, and actually looks handmade. Seems to be very good quality and came very well packaged, but surprisingly, the sink I received had a damaged corner and I have to return it. But I love it so much I'm ordering a replacement and hope that the next one will come un-damaged because it's perfect for my space, top mounting it on butcher block island.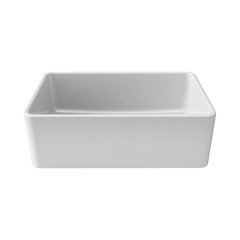 Contemporary Kitchen Sinks
Beautiful: We just purchased the 36" Fireclay Latoscana sink for the home we are currently building. It is beautiful, and I love that it is "reversible" - though I had planned on showing the plain side I have totally changed my mind! Absolutely lovely and much less pricey than the Rohl.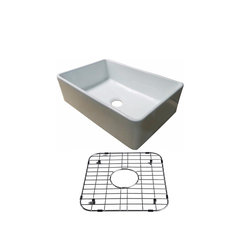 Fireclay Glossy White Farmhouse Kitchen Sink With Stainless Sink Protective Grid
Contemporary Kitchen Sinks
Even better than expected!: I researched this company a little bit and discovered that it was a family owned business (which is why I bought it over the competitors.) it came very well protected/packaged, and had the presidents business card right on top! It was easy for our friend to install and support and is my favorite part of our new kitchen!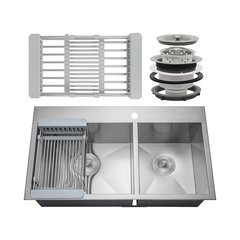 AKDY 33"x22"x9" Handmade Stainless Steel Top Mount Kitchen Sink Dual Basin
Contemporary Kitchen Sinks
Beautiful!!: In the process of getting new countertops and this sink will be installed at that time. I opened the box and was amazed how beautiful it is! I don't know that I ever called a sink beautiful before but this one absolutely is! I pulled out the sink stoppers and rack accessories and was very pleased with them as well! The price here was also the lowest online for this particular sink and shipping was very fast. Highly recommend!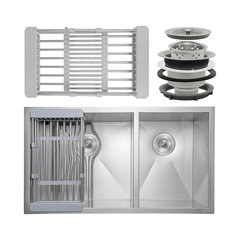 AKDY 32"x18"x9" Undermount Handmade Stainless Steel Double Bowl Kitchen Sink
Contemporary Kitchen Sinks
Seems sturdy: Just received the sink haven't installed yet, But sink feels very sturdy and looks great. It has some weight to it. Can not feel any soft spots on the sink walls or basin. All in all feels like a solid product that looks good.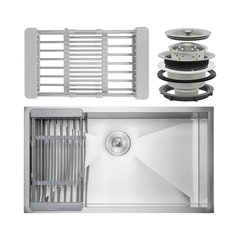 AKDY 30"x18"x9" Under Mount Stainless Steel Single Bowl Kitchen Sink
Contemporary Kitchen Sinks
Great Product: I was pleased upon opening box containing my new sink. I've been searching for just the right sink design for my kitchen remodel for almost six months. I researched products both online as well as endless visits to box stores. Design was important as well as price. This product fit both my needs.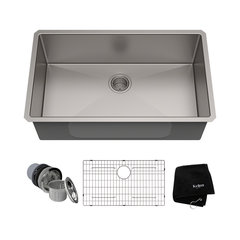 KRAUS Standart PRO 32" 16 Gauge Undermount Single Bowl Stainless Steel Sink
Contemporary Kitchen Sinks
Work of Art: Love, love, love this sink. It's deep and a perfect size. It's so beautiful, I don't want to use it. Sometimes, it's the little things in life that make a difference. It even comes with its own monogrammed towel, with a hook, for drying the sink, as recommended, after use. It's all in the details, folks, and Kraus hasn't forgotten any.