1 - 36 of 104,530 products
Featured Reviews of Contemporary Outdoor Products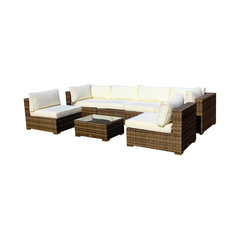 Outdoor Patio Furniture Sofa All-Weather Wicker Sectional 7-Piece Couch Set
Contemporary Outdoor Products
Recommended: The quality of the wicker is very good and comes readily assembled; low backs make it great in the garden Cushion material is not the best and the colour attracts dirt so think about how to store those cushions when not in use.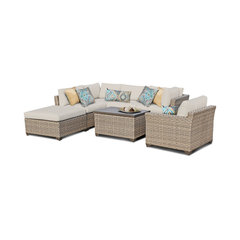 Hampton Outdoor Wicker 7-Piece Patio Set
Contemporary Outdoor Products
Great value: I've been pricing patio sets for over a year & couldn't bring myself to spend thousands. I was skeptical because this seemed too good to be true. The quality seems good and it looks great. Very comfortable. It's no Brown Jordan but I'm sure we'll get a couple of years out of it. Can't beat the free shipping, but it took over a month to get.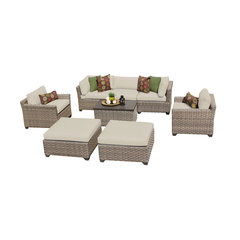 Hampton Outdoor Wicker 8-Piece Patio Set
Contemporary Outdoor Products
Highly recommend!!: Definitely recommend this set to everyone. The next door neighbors placed an order for the same set after seeing ours. It came undamaged, excellent quality, arrived without delays and with no assembly required!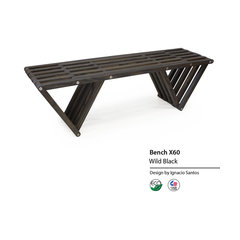 GloDea Garden Bench, 54", Wild Black
Contemporary Outdoor Products
Cool bench, decent price: Hello, this showed up about a week after ordering it. It was east to put together and looks nice. It does feel a little wobbly even though I have tightened the allen bolts super tight. Doesn't seem like a big deal for now but, heavy summer use coming soon! I'm happy with it overall.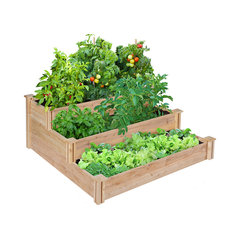 3-Tiered Cedar Raised Garden Bed
Contemporary Outdoor Products
Easy assembly: Arrived quickly and undamaged. Assembly was easy. I stapled a double layer of weed cloth to the bottom rung because I was putting it in a corner of my patio and didn't want the dirt escaping easily. Two hard rains since and no muddy drainage. Haven't planted yet, but seems to be worth the money.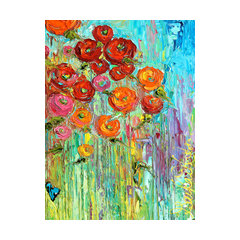 West of the Wind Outdoor Canvas Wall Art, Poppies
Contemporary Outdoor Products
Hangs on my outdoor patio over summers.: Beautiful picture, just as vivid colors as on the image here. Very light weight frame and easy to hang. This has been hanging outside in the sun for two summers and has not faded at all. Brilliant. My only warning is that the canvas is rather fragile to being dented (not puctured) by anything sitting or leaning against it at an angle. It will dent and can be seen at certain angles. Be careful when storing.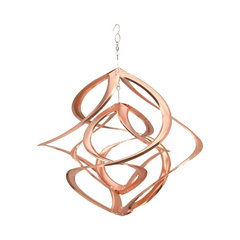 Contemporary Outdoor Products
beautiful spinner: This was just what I had ordered. so pretty, shiny and spins in my window. It came in a short time and in perfect condition. I want to get another one. Louise J. Mineola, NY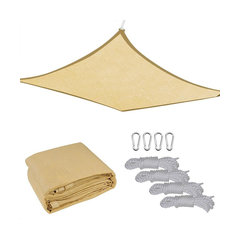 13x10' Outdoor Patio Rectangle Sun Sail Shade Cover Canopy Top Shelter With Rope
Contemporary Outdoor Products
Great product - Great price: Living in AZ (summer temps 100+ consistently) requires 'shade'. Topped our pergola w this awning and ..... works great! Immediately extended the use of our patio/protects our furniture from the intense sun/'finishes' off the area nicely. Highly recommend - great product for a great price.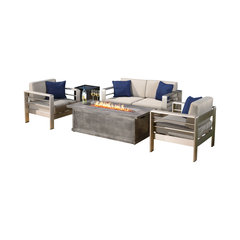 4-Piece Outdoor Aluminum Fire Table Sofa 4 Set
Contemporary Outdoor Products
Enjoy: We are enjoying this sofa set with fire table. Easy to assamble, although takes a little time. Sitting by the fire table with coffee on a chilly morning is a great way to start your day!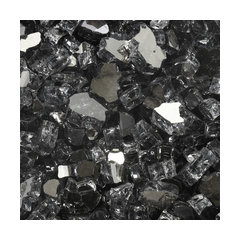 1/2" Reflective Tempered Fire Glass, Interstellar Gray, 10 lb. Jar
Contemporary Outdoor Products
Good look!: This glass has good sparkle but is low key in color, a nice balance for a fire pit. The pieces are quite uniform in size and didn't have small pieces that might slip through to the patio below it. Am very satisfied and looking forward to our first cozy fire.