1 - 36 of 240,539 products
Featured Reviews of Contemporary Rugs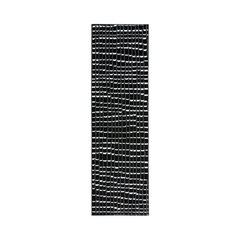 Studio Stu06 Area Rug, Black, 2'2"x7'3"
Contemporary Rugs
Just love this rug!: I am using in a hallway over gray wood floors. It carries out the them of the art walls perfectly! Thank you so much for carrying such high-quality merchandise. Oh yes, fast shipping too.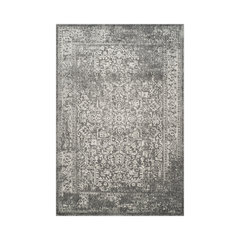 Samanna Area Rug, Gray/Ivory, 6'7"x9'
Contemporary Rugs
The rug came super fast!: The rug came super fast! It was a little thinner than I expected and I had to let it sit so it would flatten out. I'm happy with the pattern and how it fits in my space though!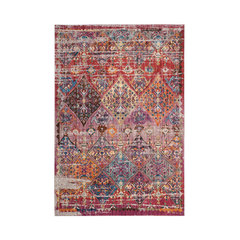 Safavieh Bristol Woven Rug, Rose/Multi, 8'x10'
Contemporary Rugs
So soft and good quality for price: This rug is great deal! Soft, more colorful (pink/rose) than it looks in the picture, but really lovely and really brightens the room. So many colors that you can pick any pillows and they will match.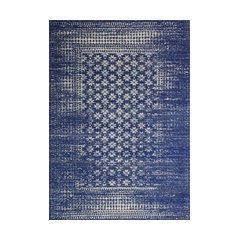 Bashian Audrey Dark Blue Area Rug, 5'x7'6"
Contemporary Rugs
Unusual blue: I have always been a big fan of wool rugs. But due to heavy dog traffic from inside/outside dogs , I finally accepted that a synthetic was the way to go. But all synthetic rugs are not created equal . I have learned to zero in on those that are on the heavier size, and have some sort of pattern. This rug did not disappoint . I was replacing another area rug that had to much ability to hide miscellaneous items ! LOL Though I expected the rug to be more towards navy in coloring, the bright rich blue was a pleasant surprise. The distressed look was just enough but not to abstracted. So in summation ..... this rug is a winner for rooms that get lots of activity, reasonable price for the large size and is quite attractive despite it not being wool !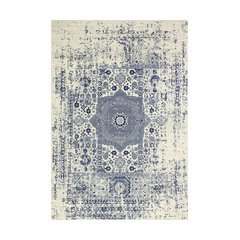 Bashian Fanny Ivory/Blue Area Rug, 5'x7'6"
Contemporary Rugs
Gorgeous Rug: I wasn't expecting much when I ordered this rug. I just needed something with navy blue in it. Its WAY better than the picture. You can't beat the price. Exceeded my expectations.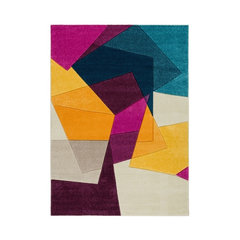 Well Woven Ruby Bombay Modern Geometric Violet RU-28 Area Rug, 5'3"x7'3"
Contemporary Rugs
Great Carpet for the Geometric Design Fan!: Having just moved into a new apartment, I was looking for an area rug in a section of my living room that was empty. As I'm not planning to fill that space up with furniture, I thought the best way to enhance that space is to add an area rug. Also, I wanted to add some color to a room that has a wood-hued theme to it. When I looked at the various area rugs for sale, there was such a great selection on Houzz, that I couldn't make up my mind!! Eventually, I settled on the Well Woven Ruby Bombay Modern Geometric. And you know what? I couldn't have made a better choice! It's absolutely beautiful! The colors are vivid, and there are clear divisions between each geometric shape and color. The rug appears to be of very good quality. All I had to do was take it out of the heavy-duty plastic packaging, roll it flat, and place it where I wanted. And my living room was instantly transformed! If you are into geometric design, and want to add some color to your room, this rug should be at the top of your list of choice. Come on...what are you waiting for? Get it - you won't regret it!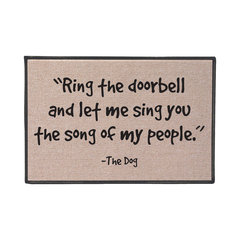 Ring The Doorbell and Let Me Sing The Song of My People Doormat
Contemporary Rugs
cute but not practical: Love the doormat but it's not very thick and practical to scrap off dirt before coming in the house, BUT it was bought for the saying on the doormat. So true at our house, if you ring the doorbell the dog will sing to you!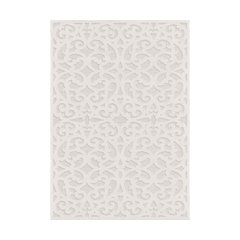 Indoor/Outdoor Sculpted Seaborn High-Low Area Rug, Ivory, 5'2"x7'6"
Contemporary Rugs
BEST RUG EVER!!!!: I buy this rug and the runner and I love it SO much that I'm gonna buy another for my room too. Only one question, hopefully someone help me or this company see my question... about clean it , how do I clean it? Can someone give me suggestions or should I just hired a cleaning carpet person? Not sure how do I suppose to clean it. I love it so much that I don't want to messed up. I will appreciate your help please!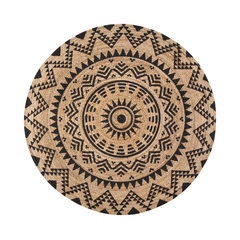 Jute Round Tribal Circle Black Print, 6' Round
Contemporary Rugs
Love the Print Pattern: The print pattern is just lovely in the upstairs foyer of our log home. Jute is the material of choice; however, the raw edges of where some of the strands end poke out and look frayed. I don't want to return it because I think I can glue the ends and blend the fibers in. I shouldn't have to do that if "quality control" was checking the product before shipping.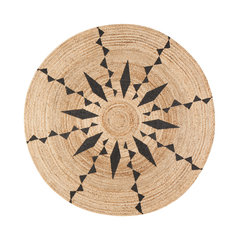 Jute Round Tribal Line Black Print, 6' Round
Contemporary Rugs
Great Casual Summertime Area Carpet: I am always nervous ordering products online, more often than not the colour is different than the online photo or the quality is not what you expected. The jute Tribal carpet did not disappoint. Nice golden tone to the jute, no hints of green or grey, perfect for my colour scheme. The jute is soft under foot. I ordered the 6 foot round and the shape is good, no wonky edges. Only a slight curl in the edges due to the tight wrapping, nothing that a day or top right side down won't correct. The black pattern is black not grey and there are no bleeding edges. No odour. Quickly delivery and nothing damaged. Good price, very decent quality, very pleased with the purchase. Now lets see how my cat likes it ;)