Shop All Contemporary Storage Cabinets
Featured Reviews of Contemporary Storage Cabinets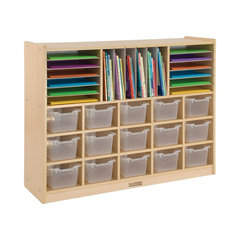 Multi, Section Storage Cabinet With 15 Bins, CL
Contemporary Storage Cabinets
Hunk of organization perfection: The only thing that would make this cabinet better is if it came in other wood finishes or paint colors. Other then than it is perfection- easy to put together and sturdy. The clear bins allow my kids to see their toys. A great addition to our playroom.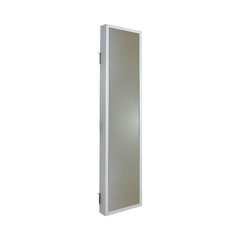 Cabidor Mirrored Cabidor Classic Storage Cabinet
Contemporary Storage Cabinets
A Well-Made Product: This is my second Cabidor purchase. I purchased one a few years ago from Costco. I'm happy with the product. The 2016 version has a few additional support beams that run inside the cabinet, which should make it sturdier. (Even though the previous product seemed sturdy enough.) The unit is easy to install--took about an hour for my wife and me to do it. Just follow the instructions! The Cabidor is great because it instantly adds a lot more storage space. Our bathrooms are small, so we need the space. Hint: I recommend using some sealant/caulk (the kind you'd use to caulk around a shower) along the bottom edge of the mirror. We have one Cabidor in the bathroom, and the wet shower curtain butts up against the Cabidor. Naturally, water drips from the curtain and onto the mirror, which drips down on that edge. A little caulk (either white or clear) seals it up. This prevents warping of the wood/fiberboard.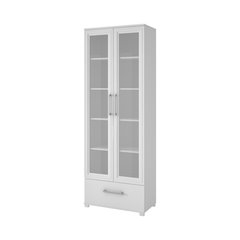 71.85" Storage Unit, White
Contemporary Storage Cabinets
COMPLETE Building Supplies: I am so happy to have received this bookcase as expected and came with all the supplies that was listed. I even got a lot of extra screws and stuff for future use just in case. It is so beautiful and sturdier than my Walmart purchases. I will add LED lights to it to enhance its beauty! So happy!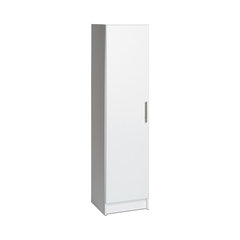 16" Elite Broom Cabinet, White
Contemporary Storage Cabinets
Broom closet or pantry: I am using this cabinet as a broom closet without the shelves, but it could also be a nice pantry for a small space. It was easy to assemble and looks very nice in my laundry room. I attached it to one wall to give it extra stability. I would recommend it.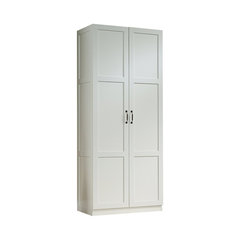 Contemporary Storage Cabinets
Good value, nice looking: I bought three of these and installed side by side. The parts are made of thin particle board as would be expected for the price, however I bought an 8' chunk of 2" MDF board from Lowes for $5 and used this to anchor them to the wall (see the board along the top of the cabinet in the second picture) and they are very sturdy afterward. Will see how they hold up under use but for now I'm impressed with the look and value. Shipping was also fast and items were well packed. Instructions were fine. Assembly took me ~1.5 hours per cabinet. I cheated and used power tools even though the instructions said it was a no-no - would have taken at least double that amount of time without power tools.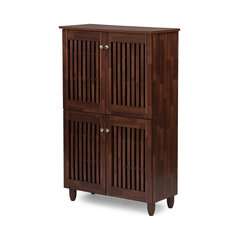 Fernanda and 4-Door Oak Brown Wooden Entryway Shoes Storage Tall Cabinet
Contemporary Storage Cabinets
Looks nice but feels a little cheap: Really like this cabinet! Shipping was super fast! Came within 2 days & Houzz had the best deal on it! It took awhile to put together with the 1 terrible page of instructions. The covers for the nail holes would not fit but other than that it turned out great. It's not a heavy piece of furniture but it looks like it from a distance. Overall I'm happy with it since it's serving it's purpose holding our shoes and diaper bags.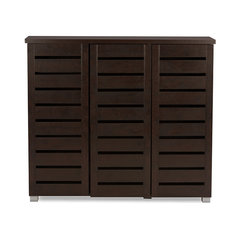 3-Door Wooden Entryway Storage Cabinet, Dark Brown
Contemporary Storage Cabinets
Good quality, assembling took a little time: The shoe cabinet looks great, good quality too (made of particle boards, similar to ikea furniture). The instruction can use some improvement though, out of all the furnitures I bought, this one was the most complicated and took the longest time, but it's still doable with some patience. You will need hammer and a drill may be helpful too, coz the holes for the feet are not predrilled, so if you don't have a drill, it can take hours to try to screw them into the wood base. Also I would recommend to do the backboards last, we did them first and after we assembled everything, found the sides of the cabinet bulking out, if you do the backboards last you can adjust it by pushing the sides in a little make sure everything is square then use the backboards to hold everything in place. Overall 5 stars for the product, but 3 for the instructions.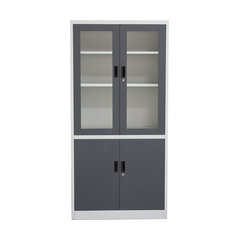 Bookcase With Tempered Glass Door Front and Key Lock Entry, Dark Gray, Off White
Contemporary Storage Cabinets
Nice sturdy storage: I bought two of these and just purchased four more. The directions to put them together are awful however. You definitely need two people to assemble. One has to hold the heavy front piece with the doors locked into the two sides with notches only (no screws) while the other screws the back in. Stability not reached until you snap the bottom piece in place. Make sure you are prepared. I would give fewer than five stars based on directions but the quality is good for the price. Using for basement storage for holiday items and other things.