Sponsored Products
Featured Reviews of Contemporary Wall and Floor Tile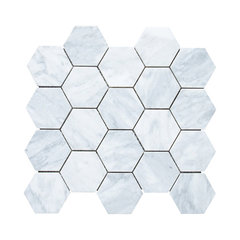 12.25"x10.75" Carrara White Hexagon Mosaic Tile Honed, Chip Size 3"
Contemporary Wall and Floor Tile
Stunning and quality!: We are in the mist of a total home renovation. I have ordered nearly a dozen tile samples and I am completely impressed with this one, I can't wait to install it in my master bathroom! The quality and color are superb!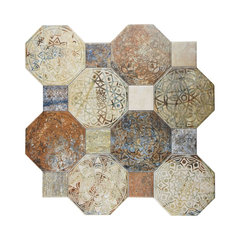 17.75"x17.75" Tallinn Ceramic Floor and Wall Tiles, Set of 10, Multicolor
Contemporary Wall and Floor Tile
Awesome!: originally purchased for bathroom floor but loved it so much we ended up tiling our entire kitchen and back hallway with this tile. I was worried it would be too busy but the colors are washed so it just looks amazing. Additionally, there are so many different hues, it matches any decor of your choice.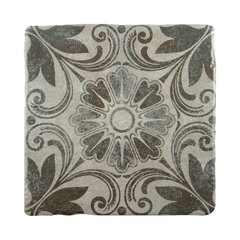 7.75"x7.75" Seville Ceramic Floor/Wall Tiles, Set of 25, Anemone
Contemporary Wall and Floor Tile
We love them: We ordered this tile for our master bathroom, it says it is a floor tile but we thought it looked thin for a floor rating so we tried laying a bunch out on a mat and spent some time walking on them. They are stronger than they look so far not a crack so we're going ahead with them.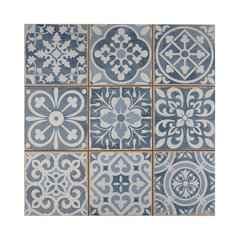 13"x13" Isla Floor/Wall Tiles, Set of 10, Blue
Contemporary Wall and Floor Tile
Beautiful blue tiles: I am really happy with these tiles, the quality was excellent and there was no problem with chippage or breakage of the tiles. I used antique white grout to tie it all together. I had painted my cupboards with chalk paint, and the slightly weathered tiles fit in well.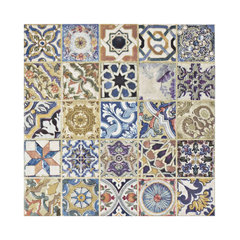 12.5"x12.5" Fez Ceramic Tile, Multicolor, Single Sheet
Contemporary Wall and Floor Tile
Beautiful!: Gorgeous big tiles. I am going to use them to cover the top of a large kitchen island in a Spanish Colonial. They do have some texture but not enough to alter the use of the surface. The actually tiles are more muted than the photo ( as another reviewer pointed out) which is why I selected them. Not being as bright as in the photo makes them even more beautiful and sophisticated, creating a more aged and weathered appearance. All arrived safely and on time.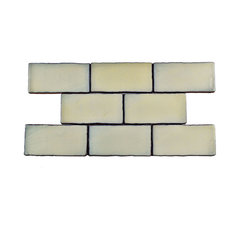 3"x6" Ealing Ceramic Wall Tiles, Set of 8, Sahara
Contemporary Wall and Floor Tile
WONDERFUL, BEAUTIFUL, STUNNING, ON AND ON........: The tiles are absolutely incredible and seem to be handmade, the glaze is unusual and this color is so unique, I highly recommend for anybody looking for a tile a bit out of the ordinary, yet classic. Goes with contemporary, rustic, traditional - anything. No regrets here. Ship very fast, carefully packaged and customer support is readily available to answer any questions about installation.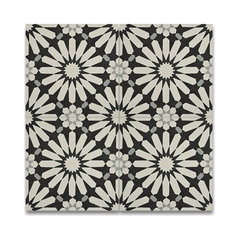 8"x8" Black and White Cement Algar Handmade Tiles, Set of 12
Contemporary Wall and Floor Tile
Moroccan tiles are beautiful: These tiles are sturdy with a soft black and medium grey pattern that will be a gorgeous floor for my tiny bathroom. They are being installed this week so I can't wait. I will use a concrete sealer on them which may darken the pattern a bit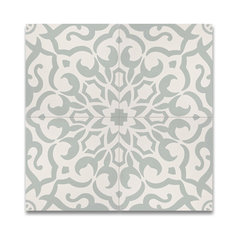 8"x8" Atlas Handmade Cement Tile, Green and White, Set of 12
Contemporary Wall and Floor Tile
Beautiful color, beautiful tile!: I ordered the sealants from the manufacturer, needs to be sealed before installed. Once installed and grouted, need to seal again twice and then finish with a topical coat. Little bit of prep with this type of tile, but will be worth it. I can't wait to see the finished result. Putting it on my tiled shower floor and as a small feature on shower wall. Having a professional installer doing this.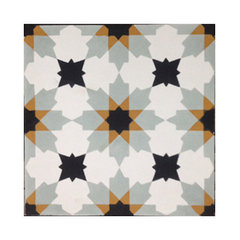 Contemporary Wall and Floor Tile
Awesome: I really like this cement tile. Just concerned that it is 4 lbs each and very thick. Will have to talk to contractor first on how it will lay and butt up against other flooring. Quality is excellent. Matte finish!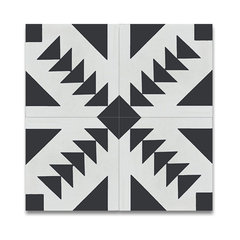 8"x8" Monet Handcrafted Geometric Cement Tiles, Set of 12, Black and White
Contemporary Wall and Floor Tile
Wonderfull Fireplace!!: Used this on my fireplace and it looks great and is good quality. Colours are for sure a more greyed out black and warm white. I did however mark some of the tiles and Im a little bit afraid of what will happen when I try to clean them (suggestions welcome)