Sponsored Products
Featured Reviews of Craftsman Home Decor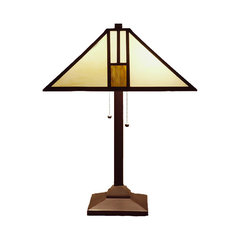 Tiffany-Style White Mission-Style Table Lamp
Craftsman Home Decor
Reminiscent of Frank Lloyd Wright: Bought this for my husband's office. It looks great. The only thing I would change is to have a black washer included to keep the shade from spinning. Overall, I would recommend this to anyone who wants this style of lamp without the huge price of real art glass.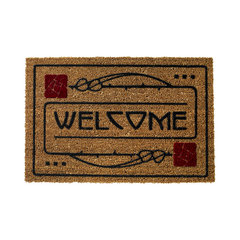 Arts and Crafts Dard Hunter Design Rose Motif 29 x 19 Door Mat
Craftsman Home Decor
Perfect for our Sunny Bungalow: We bought this door mat almost 5 years ago when we first bought our Craftsman Bungalow. It held up AMAZING well, but it was time to replace as it was greatly faded in the California sun. So we were thrilled to find the same mat here and hope it lasts just as long!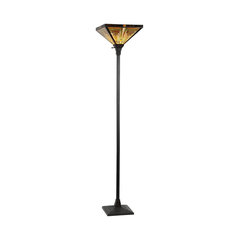 Innes 1-Light Mission Torchiere Floor Lamp
Craftsman Home Decor
OMG...I see the light!: Arrived a couple of days ahead of ETA; very well packaged; even a Congressperson could at least screw the three poles, base, and lamp together! Great selection of muted, but vibrant colors! A perfect match for my table lamps purchased in Tijuana and Hobby Lobby with that Frank Lloyd Wright-Indian motif. I walk into my abobe casita with its thick walls and feel snug and secure...almost time travel back into a more mellow era of our USofA with such lighting. While the 'ribbed' effect of the pole with some "tiers" on the base is also appreciated, if pressed for a recommendation, t'would be "simply" for a 3-way bulb socket. Otherwise, it is a gr8 "Buy" recommendation.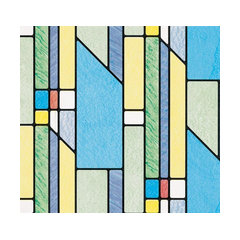 Wallpops Busko Ps Film, Set of 2
Craftsman Home Decor
Excellent Product, Price & Vendor: Using this film to line the inside of two Ballard black double file drawers. Use the top drawer for supplies. Black? You can't find a thing! Maple interior is perfect :) This product goes on very smoothly & if there's a bubble or wrinkle? Credit card or something similar will work it out.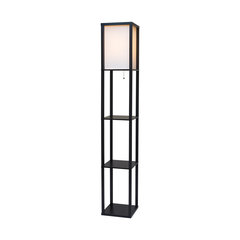 Revel Toro 62.5" Wood Floor Lamp With Shelves and Off-White Shade and 100W Bulb
Craftsman Home Decor
Love It!: I was looking for months for the right lamp at the right price and I finally found it. I purchased on sale and it brought a great ambiance to my family living room. It shipped fast, was packaged well, and easy to assemble. I have nothing but great things to say. I recommend this product.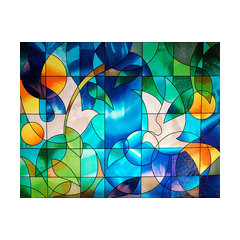 Dove Stained Glass Window Film
Craftsman Home Decor
Looks like real stained glass: Good quality film, colors are bright. Order filled quickly. Doesn't let in as much light as I would like but needed it to block the view since in the bathroom. I had a very large window, floor to ceiling. Unfortunately it does not come in custom sizes but if you order multiples it comes in a role with a continuous vertical repeat. I ordered 2 orders of 3 and they did match up on the horizontal run and then just cut off the extra width. Looks great! Would definitely recommend.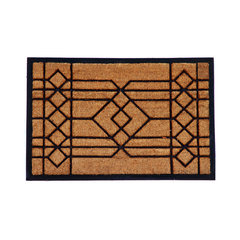 Home & More Windgate Doormat
Craftsman Home Decor
Good so far: Product is as described. The light brown is raised a fair amount, but not enough to trip. The perimeter rubber is stiff and remains in contact with the underlying material. Looks great!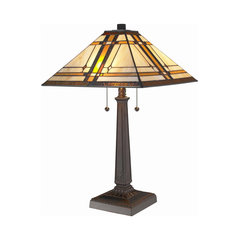 Amora Lighting Home Decorative Am1053Tl14 Tiffany Style Mission Table Lamp
Craftsman Home Decor
Beautiful light: We love the Tiffany Style lamp. It looks great on the desk in our living room - both stylish and functional! Oddly, there were incomplete instructions included. It would have been easier with no instructions at all. The incomplete instructions made me think there was more to the assembly than common sense and had me searching for the rest of the instructions. I finally gave up and just did it. Sandy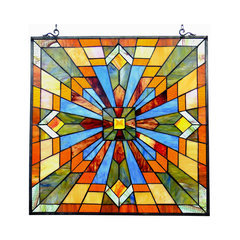 EMMA, Tiffany-glass Window Panel, 24"
Craftsman Home Decor
This is a lovely piece with some real heft to it.: This is a lovely piece with some real heft to it. Is seems very well-made and the chain for hanging is certainly up to the job. My only disappointment is that the colors in the one I received are not quite true to the picture. The greens are not as dominate as I hoped. It will still be great in my kitchen. I also bought one for my sister, and she absolutely loves hers.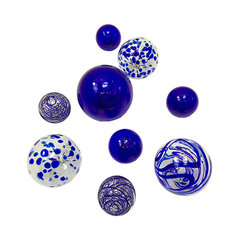 Wall Spheres, Cobalt, 9-Piece Set
Craftsman Home Decor
I love these spheres!: I love these spheres! I will be purchasing more before I put them on a rather large wall behind my sectional. I would. not put them on a wall where someone might brush against them. That is why they are going above a couch. I can't wait to see them up!