Sponsored Products
Featured Reviews of Craftsman Outdoor Products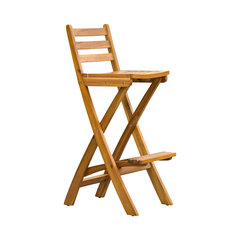 Atlantic Foldable Outdoor Wood Bar Stool
Craftsman Outdoor Products
Excellent value: We ordered two of these chairs. They required no assembly (bonus!) as they are folding chairs (oddly, they still come with Allen wrenches). They are comfortable, with the foot rest in a good place, attractive, and appropriate height for a bar table. We are very happy with the purchase.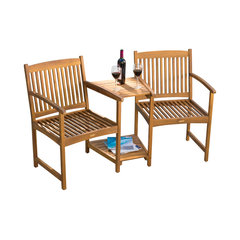 Virginia Outdoor Wood Adjoining Chairs
Craftsman Outdoor Products
Looks great on my Patio: So far I would give these adjoining chairs a 5-star. They were fairly easy to put together and came in good condition. The width of the chairs are large enough for comfort and seem very sturdy. My husband said the size is comfortable for him and that is what I desired when I ordered them. Thanks!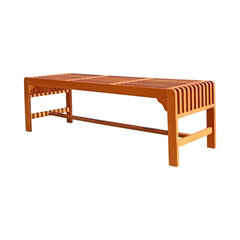 Backless Three Seater Bench
Craftsman Outdoor Products
Bench for Condo restroom: I'm putting this bench in our restroom, near the men's shower. Was very easy to assemble. The surface is a bit rough and it seems a bit cheap but It will serve our purpose as it is not a high traffic area....and the price was right. There is a strong "stain oder" but I'm sure that will pass with time.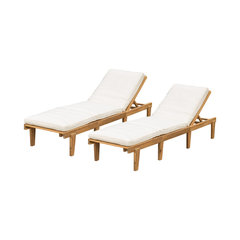 Paolo Outdoor Teak Brown Wood Chaise Lounge With Cushions, Set of 2
Craftsman Outdoor Products
Perfect! .... if you like white ....: Well designed, easy to assemble and very attractive lounge chairs. They even might hold up for a while. Not crazy about the white cushion, but that is easy to change. I am very pleased with my purchase.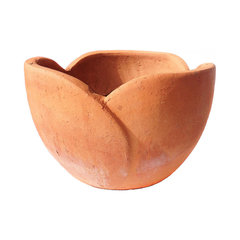 Hand-Pressed Ancient Stressed Terra-Cotta Petal Flower Pot, Large
Craftsman Outdoor Products
These pots are gorgeous!: These pots are gorgeous! They have a kind of organic "texture" at some places to them, so the surface is not completely smooth. Since I like old and shabby chic stuff I absolutely love these.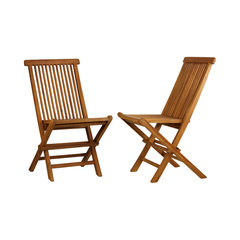 Tanzer Teak Outdoor Folding Chairs, Set of 2
Craftsman Outdoor Products
Great chairs plenty of Seat room: Great chairs plenty of seat room especially for a single folding chair at the price of these I was really impressed I wish the word list of little darker and not so reddish but I know it will age well and we ended up with the eucalyptus table which is like a dark brown and beautiful and even though they don't match perfectly I'm very happy this table was purchased separately from a different seller -in fact I am going to order more of these chairs I just want to compare of my friends cannot beat this price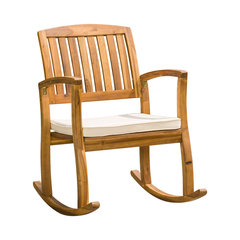 Sadie Outdoor Acacia Wood Rocking Chair with Cushion
Craftsman Outdoor Products
Sadie outdoor rocking chair: Ordered 4 received on time color as seen on pic The color, low back , and slight curve on upright arm is why i choose this rocker. So easy to put together they came with v tool, screws and directions and eating pad, which velco's to the chair on all 4 corners. The pad is also made of material for being outside. The rocker also has small rocking stopper on the back rocker legs for extra assurance one one rocks too far back. The rocker rocks very smoothly. A comfortable sit or rock you can rest your feet one either side of the rocker in the front and barely have to move to has ve thed rocker rock Everyone loves them Great price thinking about getting more and giving as gift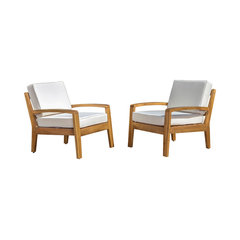 Outdoor Wood Club Chairs, Water Resistant Cushions, Set of 2, Beige
Craftsman Outdoor Products
Great conversation set: Easy to put together. Cushions are great. Thick and durable feeling. Nice height and great look. Happy with purchase. We ordered covers so hoping they will withstand the weather.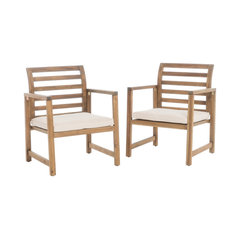 Eveleigh Coastal Outdoor Natural Stained Acacia Wood Club Chairs, Set of 2
Craftsman Outdoor Products
Love these!: Beautiful in person and easy and fast assembly. They work perfectly on the patio and they are very comfortable. I love the clean lines and cream cushions. Easy wipe/rinse off to clean. I'd highly recommend.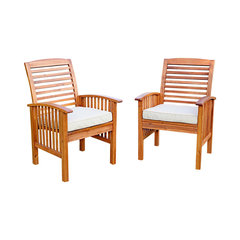 Herman Chairs, Brown, Set of 2
Craftsman Outdoor Products
Great for Around the Firepit: We bought these to place around our new fire pit . We could not be more pleased. They are comfortable and look so classy. We have had lots of compliments. Easy to assemble, well made, what more could we ask. We purchased two sets and they came promptly with no problems. Also they were priced very reasonably. Highly recommend these patio chairs.