1 - 36 of 20,621 products
Sponsored Products
Featured Reviews of Queen Size Duvet Covers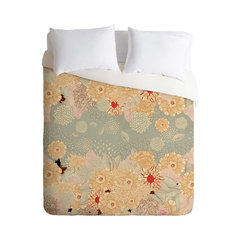 Queen Size Duvet Covers
Beautifully made.: Beautifully made. Unfortunately, the colors on any monitor I checked them on were muted, which I loved, but in reality, there is a lot of bright orange to the flowers. Just won't work for me. If you're looking for something bright and still classy, this is it.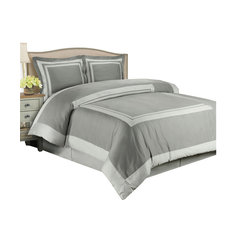 Hotel 100% Cotton Duvet Cover Set, Gray and Light Gray, Full/Queen
Queen Size Duvet Covers
Esquisite Set: Bought this set to complete the master bedroom; it's beautiful and really gives an elegant, tailored look to the room. I cannot believe the price or the quality. I am very pleased with this product.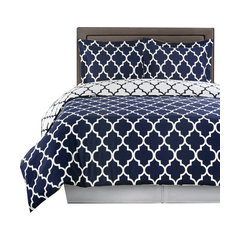 Meridian 100% Cotton Printed Duvet Cover Set, Navy and White, Full/Queen
Queen Size Duvet Covers
Soft, Pretty: The duvet cover is exactly as pictured - colors are spot on. The fabric feels wonderful! Enclosure is via white buttons, spaced every 6-in, with a 6-in sewn back corner on each side. I mistakenly ordered a King when I wanted a Queen. When I checked back and noticed that the Queen size costs $6 more, I just sewed up one side and fixed it! Now I have coordinating fabric for something else in the room! Yay.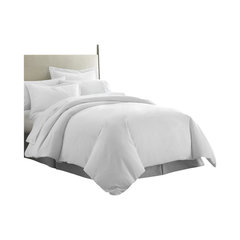 Becky Cameron Premium Ultra Soft Luxury Duvet Set, Full/Queen, White
Queen Size Duvet Covers
king sized Duvet Set.: The cases for the pillows fit great, however the size of the Duvet cover is quite a bit bigger than my Duvet. So now am going to save up to order a duvet from this company. The cover is soft and almost wrinkle free.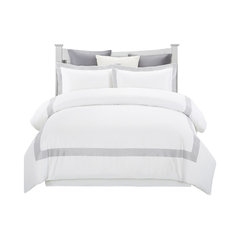 Superior 200 Thread Count Cotton Duvet Cover Set Glenmont, Full/Queen
Queen Size Duvet Covers
Great, but wish it came with more pieces: I love this duvet cover, but wish it came with gray Euro shams and a bed skirt. I tried matching the gray with Euro shams but had to give up. I also wish it were a bit bigger since it is on my Queen sized bed.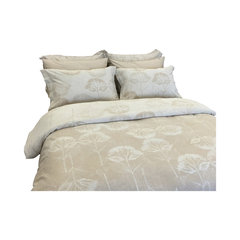 Devonshire Linen Duvet Cover Set, Dune, Queen
Queen Size Duvet Covers
Worth the money: The material on this cover and sham is very tightly woven. The pattern is not printed, so it will last a very long time. It's soft to the touch and feels like very fine shirt cloth. It looks exactly as in the photo, the color is true. With thousands of products out there, it was a concern not to actually see and touch this first before buying but I would highly recommend this product.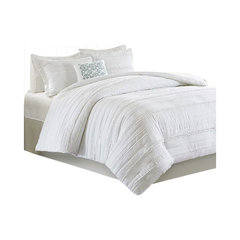 2 In 1 Duvet, White, Full/Queen
Queen Size Duvet Covers
The Bee's Knees: I was worried when I ordered this product that it would be itchy, tacky, and small. FEAR NOT, PEOPLE. This duvet is SOFT and WARM and looks incredible on my bed. I would have taken a photo but I have a lot go thinks on my bed right now but I PROMISE that this duvet looks great in person. I have it paired with a wooden headboard, and that made it look even better.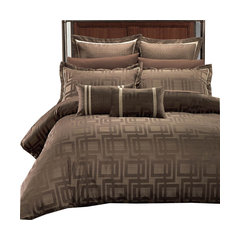 Janet Super-Soft and Cozy Cotton Blend Bed Set, King/Cal King
Queen Size Duvet Covers
Good design, material can snag if not careful: We really like the design in our room. The colors are close to the colors portrayed on the website. We did get one snag in the duvet, not sure what caused it. Shipping was timely, a good purchasing experience overall.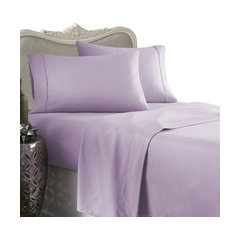 1200 Thread Count Egyptian Cotton Solid Duvet Cover Set, King, Lavender
Queen Size Duvet Covers
ALMOST Perfect!: I absolutely love this duvet. It has a true hotel feel. Some people may not like that it's heavier, but I like it. Gives it a "hugging" feel. I will say that some of the seams are frayed, which was bothersome. If they continue to fray, I'll be notifying the company. Other than that, this is a great duvet cover at the price.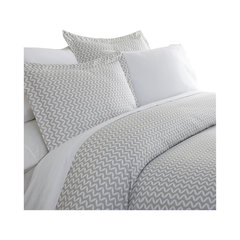 Becky Cameron 3 Piece Puffed Chevron Print Duvet Cover Set, Light Gray, Queen/Fu
Queen Size Duvet Covers
Fits our needs: This duvet arrived nice and clean, and well wrapped. I wanted a lightweight California King duvet that would wash and dry well. It wasn't fancy as we have a golden retriever who likes to jump on the bed with us, and this duvet is perfect for that.