Featured Reviews of Eclectic Furniture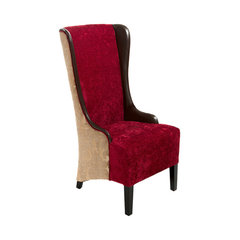 Grant Tall Chocolate Brown Ruby Fabric Leather Wingback Chair
Eclectic Furniture
Love the character!: Very fun chair! I love to sit up straight! Ottoman was also purchased on Houzz! I love the ease of moving this chair! The Christmas tree will be in this corner when the season arrives! The chair lacks a bit in construction quality. Some batting showing around front legs and the rolled edge around fabric where it meets the leather in one small area.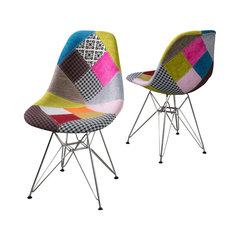 Cassius Multi-Color Patchwork Fabric Chairs, Set of 2
Eclectic Furniture
Funky addition to your space: These chairs were a great purchase- A set of 2 for under $200. They are very simple to assemble, you just have to screw on the metal legs. All guests who have visited have commented on them since they are such a simply. Dutiful and funky addition to any space in your home. They are also sturdy chairs. The colors are pretty true to the picture online, except that the blue is slighter darker, and not as vibrant.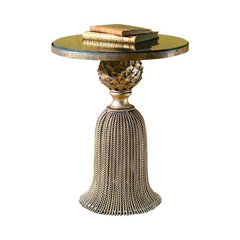 Twisted Iron Tassel Side Table
Eclectic Furniture
Great table; elegant: This table is actually quite lovely, and looks even better in person. It has a stunning design, and is heavy for its size. I smile every time I see it, which lets me know I made a wise purchase. It arrived in a timely manner and was well packaged.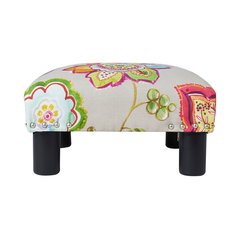 Eclectic Furniture
I love my ottoman. Very easy to put on the legs, although I had trouble finding them at first.: I love my ottoman. Ordered for my bedroom but it is so charming I had to put in the my living room. Very easy to put on the legs, although I had trouble finding them at first.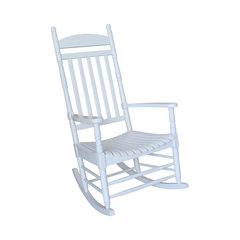 Oldham Porch Rocker With Turned Post, White
Eclectic Furniture
Very nice got 2 of them directions were difficult directions were difficult: I got 2 of the rocking chairs really nice Directions were a little difficult to put togather One of them had a bad place on the bottom I was out of town do to work e mail them and they fix the problem very nice people love love them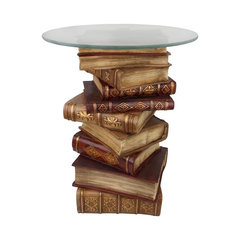 Power of Books Sculptural Glass-Topped Side Table
Eclectic Furniture
Fun table!: Table is great! Same as shown on the website. Please note that it is only three suction cups holding the glass top on so not really good if you have little ones around. Other than that I am happy with it.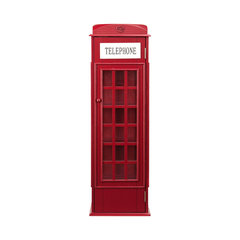 Thames Phone Booth Storage Cabinet
Eclectic Furniture
Excellent!: I'm super impressed by the paint job! The pre-drill holes all lined up properly and squared. Fantastic! I wish it was taller and bigger. The font for "TELEPHONE" is not even close to original but I think I'll have to remedy this later. Despite size and font, I still give it 5 stars as it's a great reproduction and gives it the "feel".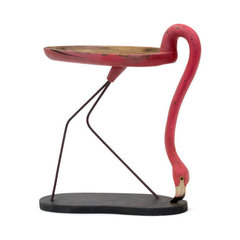 Eclectic Furniture
Adorable: If you want a whimsical accent piece for inside or out, this is it! The perfect piece (almost artwork) for a sunroom, porch or sitting area. Now the only question is, "where do I put it? "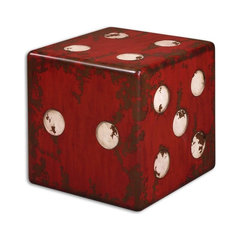 Eclectic Furniture
nice dice: A perfect accent furniture for our family game room. We are using it as a end table. It is of exactly what we were looking for. Nice quality too. My sister getting one too after she saw ours.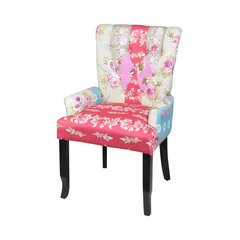 Patchwork Armchair Fabric Upholstery
Eclectic Furniture
Very Cute Chair: I love this chair's colors and it's very cute. The assembly took way too much time due to the alignment of the holes. Also, was unsure of which direction the front legs were supposed to go. The directions (if you could call them that) were not very well explained. It's a very cute chair but it' not meant for large people to sit in.