Shop All Farmhouse Armchairs and Accent Chairs
Sponsored Products
Featured Reviews of Farmhouse Armchairs and Accent Chairs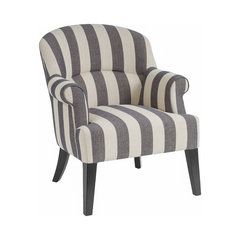 Drew Club Chair, Gray/Beige Stripe
Farmhouse Armchairs and Accent Chairs
Very cute chair!: I loved it so much I bought 2! It is a bit firm to sit on but is comfortable. These are not lazy boys-they're accent chairs. I love the look, they really add to the charm of my beach cottage theme! They arrive completely assembled. I'm very happy with my purchase!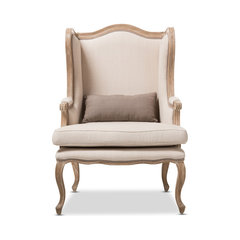 Auvergne Wood Traditional French Accent Chair
Farmhouse Armchairs and Accent Chairs
Braxton studio Auvergne wood traditional chairs: It was good looking, And elegant color. But somehow it's smaller then what I saw in the pictures. For this more expensive chairs, they came without a dusting prevention cover like every other less expensive chairs I ordered. So it was a bit disappointing.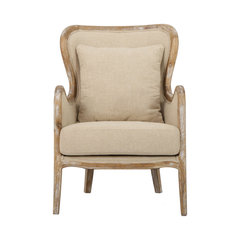 Milton Beige Fabric Wing Chair
Farmhouse Armchairs and Accent Chairs
Wow!: LOVE these chairs. Looked for a long time to find 2 chairs that were tall enough, fit my "western" decor without being cheesey. Found these at an excellent price, extremely comfortable, well built and the perfect blend of wood and texture. LOVE these chairs!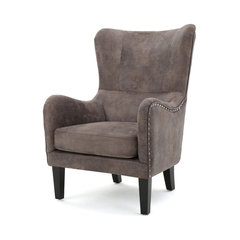 Sheffield Charcoal Fabric Hi-Back Studded Club Chair, Dark Brown
Farmhouse Armchairs and Accent Chairs
Gorgeous: This chair is gorgeous, well made, firm but comfy and stylish. My only complaint is that I had no idea which way the front legs were supposed to face when attaching them. There weren't detailed explanations/pictures on the instructions so they looked a little wonky but I eyeballed it and think I have them straight this time. The speckled parts look more black than grey to me but still beautiful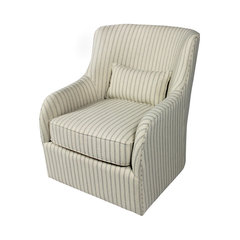 Tate Arm Chair With Kidney Pillow And Swivel Base
Farmhouse Armchairs and Accent Chairs
Perfect Accent Chair: This chair is delightful - ideal for providing additional seating in the living room or, perhaps, a bedroom chair. It's a little firm, so it may not be the place you would choose to hang out for a day with your book, but it's cushy enough. We chose this because of the higher back than most barrel/tub chairs; a little more comfortable for the back/neck and it is a better balance to the sofa in the same room (doesn't look like kids furniture like many of the other ones we found). Both the bolster cushion and the seat cushion are removeable (seat cushion held in place by velcro so it doesn't shift). Fabric is a coarse "linen" feel - true to colour in the picture, a creamy shade with a grey ticking stripe pattern. Swivel function is smooth. It actually arrived almost a week earlier than the predicted delivery date range! Altogether, seems to be very good value!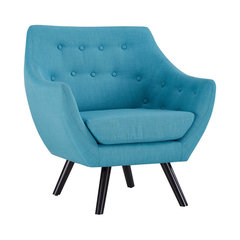 Allegory Armchair, Pure Water
Farmhouse Armchairs and Accent Chairs
Sharp chairs: Really nice looking, we got two to go in front of a big bookcase we have and they look great. Love the color too. They are not the comfiest chairs ever, but I think with time they will break in more. Also ours had several dark stain/smudges on them, but we were able to get them scrubbed out.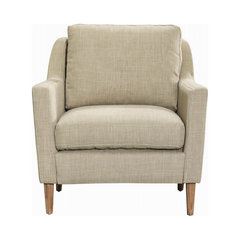 Elton Arm Chair, State Cream
Farmhouse Armchairs and Accent Chairs
As described: My only complaint, is that I didn't really realize how small the chair would be. I measured, but it was difficult to judge without seeing it in the space. I would have liked something that I could easily lounge with a book. But, this is more of a sitting chair for guests. I'm keeping it for now, but will upgrade eventually.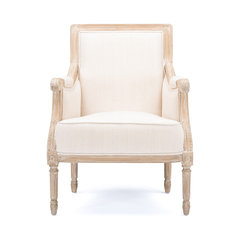 Chavanon Traditional French Accent Chair
Farmhouse Armchairs and Accent Chairs
Much darker than the picture: I knew from reading other reviews that this chair was on the small side, which it what I wanted for my bedroom; however, I'm disappointed in the how dark the fabric is. I was hoping it would be as light as it appears on my monitor, but I expected it to be a tad darker; however, it's much darker than I anticipated. The cushion is very stiff, but I already expected that from other reviews. I will keep it since it's for a corner of the master bedroom and I can make it work, but I would not use this as an every day chair.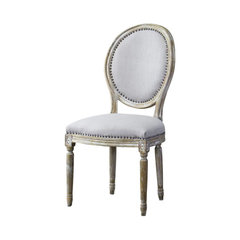 Clairette Wood Traditional Round French Accent Chair, Beige
Farmhouse Armchairs and Accent Chairs
Perfect for make up vanity: The chair is a perfect compliment to the Baxton Studio Anjou Writing Desk I purchased to use as a make up vanity. The chair is well made and sturdy and much more comfortable than a stool or bench, which most vanities have. The chair is very elegant and modern and arrived in perfect condition.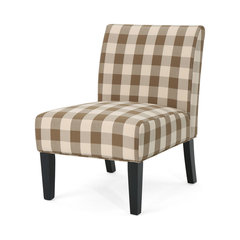 Kendal Traditional Upholstered Farmhouse Accent Chair
Farmhouse Armchairs and Accent Chairs
Looks great: Looks great! Beautiful accent chair and timely delivery. Only two negatives was that the color was more green instead of blue than I would have liked but still ended up looking good in my living room. Also seats are not as comfortable as I would have liked but it's acceptable and expected for the price. Adding a small accent pillow will complete the look.