Games
Rainy days, holiday gatherings and family vacations are all perfect times to break out the board games and playing cards. They allow you to challenge your mind and spend time with loved ones simultaneously. Chances are, you've got a few classic tabletop games stashed somewhere, presumably gathering dust. Take them out and put them on display, or at least in a more visible spot. It might prompt you to play a game of chess or checkers and have a conversation, instead of repeating a mundane after-dinner TV routine. Check out the following suggestions to ensure you are never without ample board and card game options.


Build your tabletop and board game collection.

You never know when you might need some entertainment, and what's better than a good old-fashioned tabletop game to liven things up? Most people will have a preference when it comes to board games (usually the ones they're best at), so cover all the bases by having a full selection of all the classics: checkers, chess, backgammon, Scrabble, Monopoly and, of course, dominoes. If you've got all of these on hand, there's bound to be at least one everyone can agree on. If you grow bored of the classics, branch out into specialized strategy games for more of a challenge. You can never have too many options!


Always have a deck of playing cards handy.

There are hundreds, if not thousands, of games you can play with a full deck of cards. Gin rummy, Go Fish and solitaire are just the tip of the iceberg. The best part is, if you ever run out of card games, just make up your own. Alternatively, you can take standard playing cards to the next level by adding a poker set with poker chips to the rotation. Who knows? Your house might even become the newest spot for monthly poker nights.

A word to the wise: Keep a backup deck close by; cards have a way of mysteriously going missing when you need them most.

Browse our games section to find products you'll love.
Sponsored Products
Featured Reviews of Games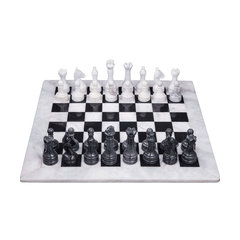 Games
A Must Have & Love: This is a top notch product. Arrived in one piece. Has a beautiful carrying case, pieces are well made and heavy with felt. Beautiful and classy marble board. Houzz- all your products are fabulous and love ordering from you.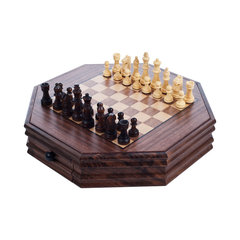 Octagonal Chess and Checkers Set by Trademark Games
Games
Chess set: The box looks nice but the squares are smaller than I expected making it look cheaper but for the price I can't complain. We will start with this set and maybe invest in a better one in the future.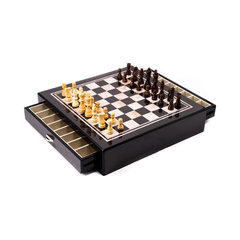 Games
Beautiful chess set: I've been looking for a high quality chess set that doesn't cost an arm and a leg and I'm glad I can across this one. It's beautifully crafted and the storage compartment is a great plus. The one thing I was not too crazy about was the knight piece. The face just looks awkward and falls short of expectations of the overall set. Nonetheless, I would highly recommend this chess set.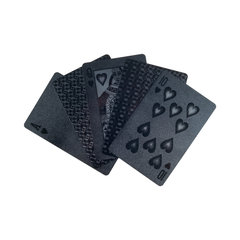 Trademark Poker Devil Black Embossed Playing Cards
Games
Super classy cards: Everything about these cards is sharp. The patterns on the card and box are nice, the inside of the box has a nice silver pattern. And the card faces are art. The card material is matt black, textured and feels solid. Only place I suggest not using these cards is in the dark for obvious reasons. But dim lighting from behind or above players works fine due to the shininess of the face printing. Love them.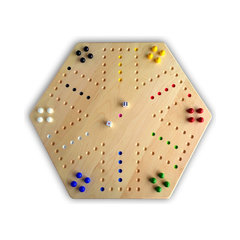 Hand-Painted Wooden Aggravation Game Board, Double-Sided, Large 24" Board Maple
Games
My Game board shipped the day after my order, and I received it before promised.: My Game board shipped the day after my order, and I received it before promised. The workmanship of the board, and the quality of its paint and finish, was well above my expectations. I know that I will get many years of enjoyment from my game board....as well as my kids and their kids!