Ice Makers
When planning your home bar or outdoor entertaining area, don't forget to make space for an ice maker. Without one, you might find yourself trucking ice from your kitchen refrigerator when it comes time to make a cool drink. Whether they're perched on your counter or mounted underneath, ice makers make it easy for you to grab a few ice cubes and plunk them into a glass of lemonade, an iced coffee or a scotch on the rocks.
Can my ice maker produce a certain kind of ice?
One of the first things you'll want to consider when choosing your ice machine is the type of ice cubes it produces. While some shapes are perfect for drinks, others are best for cooling food and other items. Here's a quick list of the most common shapes of ice:
• Cube:
A common shape, cubes offer maximum cooling and are typically dense and hard. They can also be found in miniature diced cubes.
• Tube:
A shape perfect for drinks, tube-shaped ice is typically soft and chewable. It melts more quickly than the cube style.
• Crushed:
Great for slushies and smoothies, crushed ice melts fairly quickly.
What types of ice makers are there?
Depending on your needs, you may decide you prefer a portable ice maker or one that is mounted under your counter. A portable style doesn't require a water line and can quickly make batches of ice, though they won't keep the ice frozen. Instead, when the ice inside melts the ice machine will recycle the water into more ice.
A built-in style requires a water line, so be sure you have one available or are ready to have one installed. Some built-in ice machines will also require a drain line. This style will produce more ice than a portable one, and will keep it frozen for much longer, too. If you're planning on installing a built-in ice maker outside, take a peek at our
ice machines
that are designed for outdoor use.
Featured Reviews of Ice Makers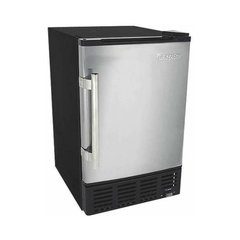 EdgeStar IB120 15" Wide 6 Lbs. Capacity Built-In Ice Maker
Ice Makers
Small & sturdy reliable ice maker: Professionally installed. Would have preferred a more robust water line (which I have replaced). Took a few days to get to being full, but hasn't disappointed since we got to capacity. Great addition to our new wet bar area!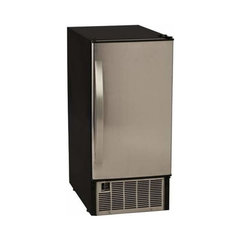 EdgeStar IB450 15" Wide 25 Lbs. Capacity Built-In Ice Maker
Ice Makers
Affordable but Noisy & Cheaply Made: We installed this in our home. The price is very good compared to other ice machines that we have purchased but the quality is not near as good as the higher end brands. It's very noisy. A pump must be bought in addition to the ice machine. It's best to have professionally installed. The bin that the ice falls in is very cheaply made. This in my opinion would be better used at an outside bar. If I️ had to do it all over again, I️ would have spent the money on the higher end model.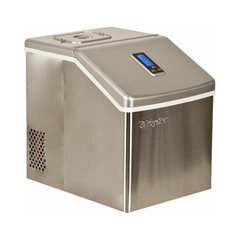 EdgeStar IP211 11" Wide 2.2 Lbs. Capacity Portable Ice Maker
Ice Makers
Matts review: The ice is ready when I need it, The only thing you need to worry about is putting the water in when it runs out. It shuts down automatically when it's full of ice. I put the ice in a ziplock bag and into the freezer. Awesome machine works as advertised. Clear ice on demand, only thing bad is the size of the ice cubes could be larger in my opinion.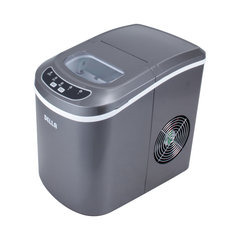 Portable Ice Maker Easy-Touch Buttons Digital, 2 Selectable Cube Sizes, Silver
Ice Makers
Yup. It makes ice: Seems to work well. A couple negatives... Lid opens up to hit bottom of the upper cabinet....Ice is not very cold, so it melts quickly diluting your drink OR when putting ice in freezer, it freezes into a clump. Still, it's much better than paying for ice, schlepping it home, then using an ice pick.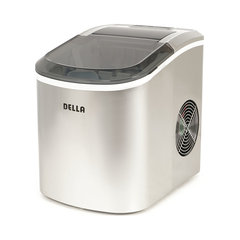 Portable Countertop Ice Maker, Tinted Clear Top Window, 26 lbs Per Day
Ice Makers
Love this hard working machine: Really love my portable ice machine the only complaint I have is the ice is kind of wet and melting when we put it in the ice tray with our freezer and they all stick together. It produces ice within 7 minutes and a tray in aa few minutes.