1 - 36 of 28,853 products
Sponsored Products
Featured Reviews of Industrial Bath Products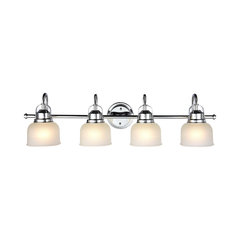 Ironclad 4-Light Chrome Vanity Fixture White Frosted Prismatic Glass
Industrial Bath Products
Perfect for our Bathroom: We ordered the vanity light online and it arrived quickly. We installed it easily, and it has been providing wonderful light to our bathroom since. We are very happy with the quality, design features, and overall function.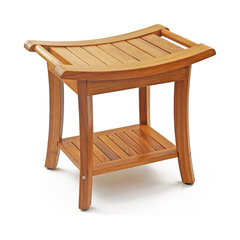 Deluxe Teak Shower Bench With Storage Shelf and Lift Handles, 19.5"
Industrial Bath Products
Nice Shower Bench: The shower bench arrived a day late but it had something to do with the carrier and not the shipper. It was easy enough that a 65 yo woman could easily assemble it, once I figured out that you had to install both leg screws at the same time, not one then the other. Bottom shelf installation did not present any problems. I am happy that it fits into my bathtub, I wasn't sure about that as the bottom leg dimensions were not given, which are approx 15" x 12". I use it every day both inside and outside the tub as I'm having fatigue issues which make getting ready for the day a challenge. I would highly recommend to others!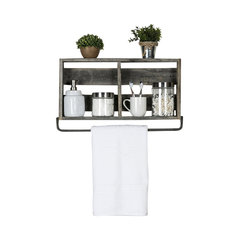 Barnwood Kitchen Shelf With Towel Holder
Industrial Bath Products
Works great in the bathroom: This shelf looks so good over the toilet in our master bathroom. I would say my only complaint is that the color in the product image doesn't match at all what I received. I was hoping for a dark grey barn wood, like the photo, and what I received almost didn't look stained at all. Thankfully it ended up matching great, but it was pretty disappointing when I first opened the box.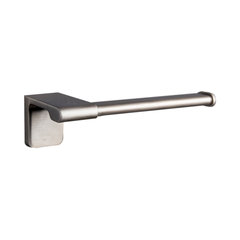 Dash Toilet Paper Holder, Brushed Nickel
Industrial Bath Products
The paper stays in place!: I was worried with the design that the paper would slide off and be annoying, but it matches some towel hooks in my bathroom so i bought it anyway. There is enough of a lip on the end to keep it in place, even at the angle of pulling toward the open end. Nice!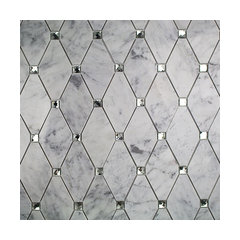 11.25"x10.5" Reflection Diamond Marble and Mirror Glass, Carrara, Single Sheet
Industrial Bath Products
Very pretty: I specified this tile for a client as an over-the-range accent used in conjunction with an oversized, textured subway. Beyond its elegance, it also brings in some metallic elements with the aesthetic of the mirrored gems, which help to tie in the bold appliances with a bit of subtle, soft sophistication. A very pretty piece.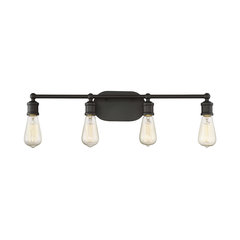 Vintage-Style 4-Light Industrial Bath Bar, Oil Rubbed Bronze
Industrial Bath Products
Arrived quickly: Wasn't able to keep them because they didn't fit right in the space I intended but they seemed nice, arrived quickly. Had to pay shipping to return. Hoping my refund comes quickly.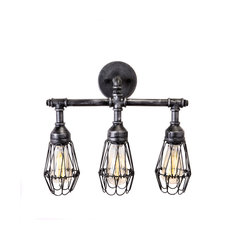 Admiral 3-Bulb Bathroom Fixture
Industrial Bath Products
Awesome Light: Quick arrival time on this wonderful galvanized black/gray distressed lighting. I really love it. We had a good buying experience with houzz and will be back to purchase more. Fixture is very sturdy and well put together. I would highly recommend it. We have rec'd lots of compliments on it!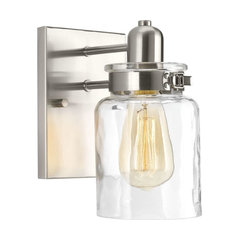 Progress Lighting Calhoun 1 Light 5" Bathroom Sconce, Brushed Nickel
Industrial Bath Products
Nice: I ordered 5 of these for our home. They look very nice and modern. The shadows they cast are a little weird but do provide good light. The only other thing that bothers me a bit is the seam in the glass. Nice lights for the price.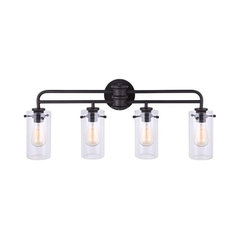 Canarm IVL679A04 Albany 4 Light 31-1/4" Bathroom Vanity Light, Oil Rubbed Bronze
Industrial Bath Products
Great quality: This arrived perfectly packaged and looked exactly as described. We were so happy with the quality we bought a two light version for the hallway bath. We used 60 watt bulbs and it turned out great!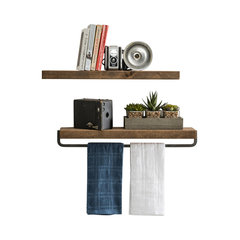 True Floating Wall Shelf and Towel Rack, Dark Walnut
Industrial Bath Products
Absolutely perfect!: I was looking for shelves with a touch of industrial for our remodeled bathroom. The color is beautiful and exactly what i wanted. real wood slabs. One of the other pictures that they have on the site show the real color. The main pictures is too light. It was perfect size for above the toilet! I just absolutely love it!