Sponsored Products
Featured Reviews of Industrial Dining Room Chairs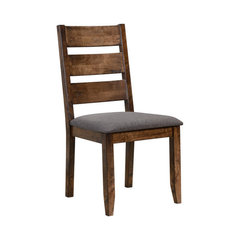 Denton Dining Chair, Nutmeg, Set of 2
Industrial Dining Room Chairs
Rustic chairs: I am thrilled to find chairs to match my dark brown floors and gray washed rustic dining table. The padded seats are a big bonus for long conversations and game nights. The wood has a beautiful stain and grain and seems to be very sturdy. The price is affordable. Putting the chairs together is fairly simple, but I don't enjoy using allen wrenches (provided) and I'm hoping the screws won't come loose. I added 2 coats of Scotch guard to the seats. Good product for the price.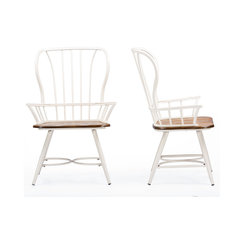 Longford Dining Arm Chairs, Set of 2, Dark Walnut/White
Industrial Dining Room Chairs
unique: Got these chairs as a new look for my dining room table. Really well made, super quality and the price was great. Houzz has such a wide selection, I was really happy to be able to choose different genres for my home. This site made my experience shopping and buying pleasant. Last, shipping was so flawless-I got my purchase before expected and packed really securely. You have to check it out!!!!!!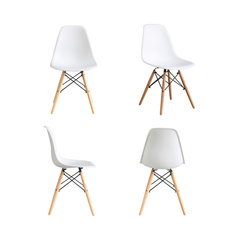 White Midcentury Natural Wood Metal Legs Dining Side Chairs White, Set of 4
Industrial Dining Room Chairs
great chairs: The chairs were delivered quickly and were super easy to assemble. I'm really happy with my purchase -- the pieces are inexpensive but feel sturdy and look great with my dining table. I highly recommend this seller!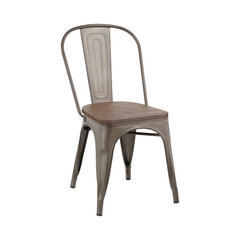 Industrial Wood Metal Antique-Style Rustic Distress Dining Chairs, Set of 4
Industrial Dining Room Chairs
Looks great!: I've only opened and put together one chair so far but it looks nice and feels solid. The backs are the lower version of these chairs. They come mid shoulder blades on me and I'm 5'6''. They seem perfect for our need.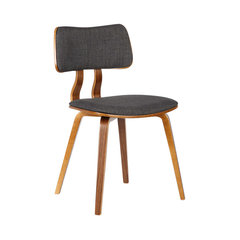 Lars Dining Chair, Charcoal
Industrial Dining Room Chairs
Nice chair, terrible customer service: The chairs are comfortable and look great. However, I had 2 problems. The assembly instructions were missing and one of the wooden back slats didn't have the drilled holes necessary to attach it. I contacted Houzz customer service twice and got no response. Luckily, Armen, the manufacturer has terrific customer service and resolved both issues immediately. If you like these chairs, buy them directly from Armen.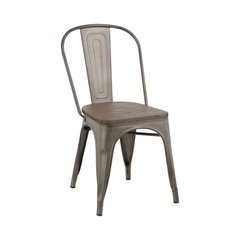 Industrial Metal Antique Bronze Rustic Distressed Side Dining Chair, Bistro Cafe
Industrial Dining Room Chairs
Great Sturdy accent chair: I bought this chair just to use for an accent piece but it's so solid I feel like I'm wasting it! Goes perfectly with my rustic farmhouse decor. The seat has a nice grooved wood grain to it that I couldn't see that well in the photos. It came in 2 pieces and wasn't too difficult to screw on the top. Overall I am very happy.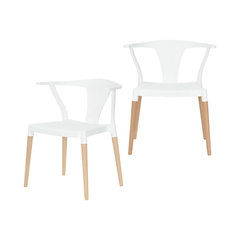 Icon Series Modern Dining Arm Chairs With Beech Wood Leg, Set of 2, White
Industrial Dining Room Chairs
Great Chairs: Great chairs. They look really nice, not the most comfortable ever for long dining sessions. One leg, on one chair (out of six) has a super short leg... needing to remedy that. Overall I'm really pleased though.