Featured Reviews of Biscuit Kitchen Fixtures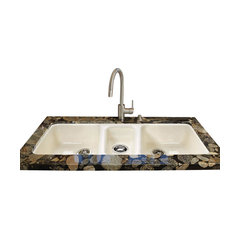 Triple Bowl - Easy installation No Hole Undermount, Biscuit
Biscuit Kitchen Fixtures
Statement Peice: Love this sink!!! Was exactly what I was looking for to make a statement in my new kitchen. My friends are loving the idea of three bowls...they tell me "It makes sooo much sense for the kitchen". I sooo agree. LOVE it!!!!!!!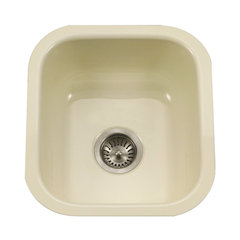 Houzer PCB-1750 BQ Porcela Porcelain Enamel Steel Undermount Bar Sink Biscuit
Biscuit Kitchen Fixtures
Good Sink - Can take sticker logo off :): The sink is great for the price (its more of a cool white colour. Came with the logo sticker on one side (it was a bit off center) but I was very happy to find that it easily peeled off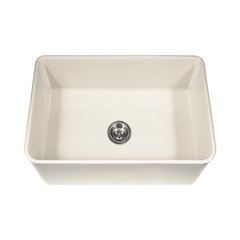 Houzer PTS-4100 BQ Platus 30" Apron-Front Fireclay Single Bowl Sink, Biscuit
Biscuit Kitchen Fixtures
Perfection: It's big, it's beautiful, it's everything I hoped for as a centerpiece for our new kitchen. I am protecting the bottom of the basin with a mat so I have not had any problems with staining. Contractor had a tough time installing because of the size but it fits a large soaking crockpot while allowing me to still work on the other half of the bowl.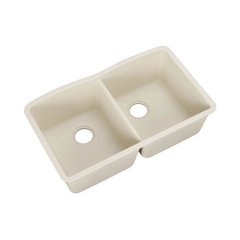 Diamond Undermount Composite 0-Hole Double Bowl Kitchen Sink, Biscuit
Biscuit Kitchen Fixtures
Beautiful sink: I love my Blanco sink. I ordered it and received it in three days as stated. I had it installed and love it . It looks beautiful and the quality is superb. My only mistake was I did not realize that I was suppose to order the stopper/ strainer as it was not included with the sink. I ordered my sink in the Black and it compliments my new granite.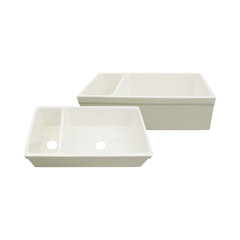 Large Quatro Alcove Reversible Fireclay Sink And Small Bowl, Biscuit
Biscuit Kitchen Fixtures
Grandma, what a gorgeous big sink you have!: This grandma is redoing her kitchen and this sink is perfect for the 1930s-1940s look I am after! I also love that there are 2 sinks and they are quite deep. I feel quite smug to have found this gem.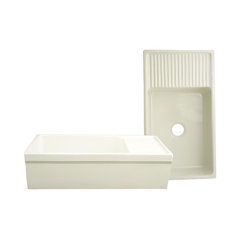 Whitehaus WHQD540-BISCUIT Fireclay 36'' Single Bowl Farmhouse Kitchen Sink In Bi
Biscuit Kitchen Fixtures
Spectacular, Timeless, Useful: Wow...this sink is beautiful. Arrived in perfect condition. Packaging was top notch & three days arrival! So excited! We are building a home & this will be the show piece of our kitchen!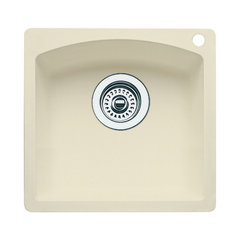 Blanco 440206 Granite Bar Kitchen Sink, Biscuit
Biscuit Kitchen Fixtures
Perfect, gorgeous, low maintenance: I can't say enough about the Blanco silgranit sinks—they are super-functional, easy to care for and just lovely. I have marble countertops and they look so beautiful with the gray veining. And they're super durable—all the functionality of granite.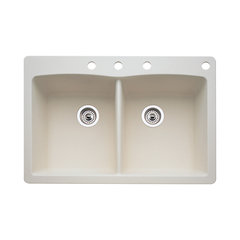 Blanco 440222-4 22"x33" Granite Double Dual-Mount Kitchen Sink, Biscuit
Biscuit Kitchen Fixtures
Beautiful Sink: I love the sink now that it is installed. The problem with installation: The sink we removed is 33 X 22 as is this Blanco sink. Guess what, it didn't fit. When dropped in it was not flush with the countertop. The countertop is granite so enlarging the opening wasn't an option. My husband had to grind down the brackets that hold the clips. It was better but still not flush. The reason it wasn't flush is underneath there is a 1/2in lip which is about a 1/16in. thick. We were at a impass. We chalked it really well and will keep our fingers crossed that it doesn't allow water underneath. Just an FYI, the sink we removed was also granite. You would think a 33 x 22 would have a standard fit no matter the manufacturer. If it weren't for the installation I would have given it 5 stars. It is a beautiful sink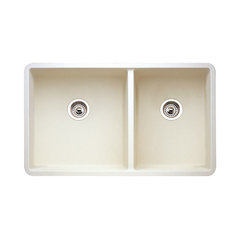 Blanco 441127 18"x33" Granite Double Undermount Kitchen Sink, Biscuit
Biscuit Kitchen Fixtures
Beautiful sink: We've had this sink for about a month now. It stands up to the hard use of our family - washing pots and pans without scratching, we even washed out our paintbrushes in this sink with no staining. The cinder color looks great next to our Thunder White granite. I only wish we could have gotten the larger sink to the right side.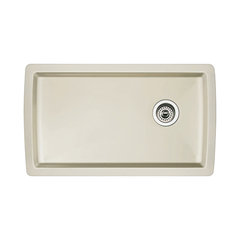 Blanco 441764 18.5"x33.5" Granite Single Undermount Kitchen Sink, Biscuit
Biscuit Kitchen Fixtures
Blanco Silgranit Sink: This sink is wonderfully sized and very handsome. The first one arrived with a crack in it so we had to order a replacement. We love Blanco products. They have numerous unique technologically advanced drains so be sure to speak with customer service for guidance as to which drain would best suit your needs and style.