Featured Reviews of Bisque Kitchen Fixtures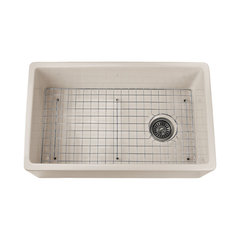 Nantucket Sinks 30" Fireclay Farmhouse Kitchen Sink, Bisque
Bisque Kitchen Fixtures
Just as expected: The sink came in early and packed so well. It is SUPER heavy and looks great. We have yet to install it, as we are in the middle of a remodel. THe only thing i wish was that the sink was finished further on the underside, you will not see it unless your crawling on the floor but none the less our design has the sink sticking out of the cabinet an inch or two and the bottom is not finished. I also love the idea of the drain pan. Once it is installed, I will repost as we will also have added a garbage disposal. Which btw my plumber said would not be a problem at all. All in all, I would order the sink again, the space is great and the finish is nice, can't wait to actually put water in it!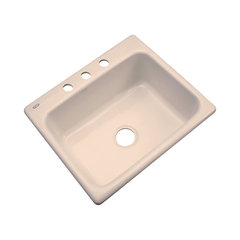 Madison 3-Hole Kitchen Sink, Peach Bisque
Bisque Kitchen Fixtures
Excellent value: This sink looks great. Yes, you have to be a little more careful with hot objects but unlike our porcelain coated sink, scratches are not as easy to see and I would imagine with a little creative work using something like a rubbing compound, you can hide them even better since the sink is one solid color.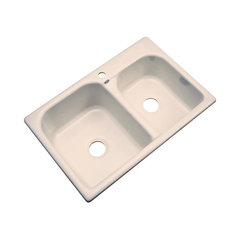 Augusta 1-Hole Kitchen Sink, Peach Bisque
Bisque Kitchen Fixtures
Love it!: I'm crazy about our new sink, we were looking for something fun and different and this was it. It is exactly how it is pictured so more of a darker teal. It made for a beautiful update to our kitchen. It's nice and big too, perfect for bathing our babies!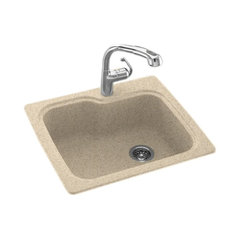 Swan 25x22x9 Solid Surface Kitchen Sink, 1-Hole, Bermuda Sand
Bisque Kitchen Fixtures
kitchen Sink: I love my new kitchen sink. The color was true to the picture. I love the depth of the sink. It accommodates large pans and baking sheets. With the drain located off to the side it has given me more room under the sink area for storage and it makes the drain area easier to locate when I have already placed dirty dishes in the sink like when I am baking. It is so lightweight that installation was easier. I was not struggling with a heave awkward metal sink. I did drill out the extra hole to add a soap dispenser to the right side of the sink. The underside markings made the placement of the soap dispenser very accurate. I chose a black faucet with a built in spray nozzle to eliminate adding another item to the sink design. That faucet just added to the look of the sink. I have already recommended this to my brother as he is updating his kitchen and a neighbor is wanting the same sink.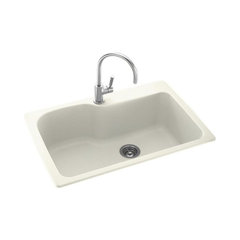 Swan 33x22x10 Solid Surface Kitchen Sink, 1-Hole, Bisque
Bisque Kitchen Fixtures
Nice looking sink: The sink was shipped promptly, and looks really nice. The price was great from comparison to other places. We have not installed it yet (still waiting to get new cabinets installed,) so I can't comment on how it holds up to use yet.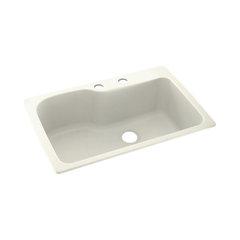 Swan 33x22x10 Solid Surface Kitchen Sink, 2-Hole, Bisque
Bisque Kitchen Fixtures
This Swan is no ugly duckling: Nice looking sink, and the extra depth is very handy. The odd offset of the sink has also proved to be convenient. The first one I ordered came with 2 corners broken off like from a cookie, due to poor packing. They replaced it promptly. However, be aware the material is some sort of fiberglass-like composite that isn't totally unbreakable. I have had mine installed for a few months now, and haven't seen any sort of scratches, nicks, or chips in normal daily use.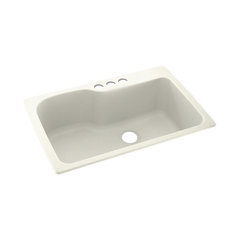 Swan 33x22x10 Solid Surface Kitchen Sink, 3-Hole, Bisque
Bisque Kitchen Fixtures
Swan Kitchen Sink: My order arrived on time. The instructions were at the bottom of the box. The sink is in good order and was delivered to my door. Houzz brought me what I wanted for my new sink, in an efficient manner and I look forward to using it soon.