Featured Reviews of Kitchen Fixtures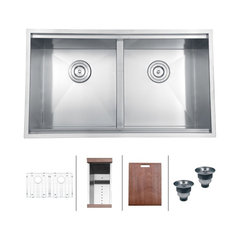 Ruvati RVH8350 Undermount 16 Gauge 33" Kitchen Sink Double Bowl
Kitchen Fixtures
Great Modern Sink: This is an amazing sink. High quality and because it is 16 gauge it is heavier than most of the sinks we looked at. A comparable sink by Kohler was around $2,000.00. It came ground about three to four days after I ordered it. Great product! Great Delivery! If this is any indication of purchasing a product on Houzz I will be ordering most of my products through this website! I am an Interior Designer.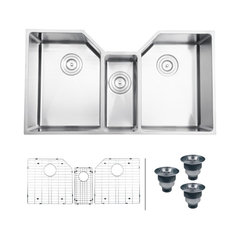 Ruvati RVH8500 Undermount 16 Gauge 35" Kitchen Sink Triple Bowl
Kitchen Fixtures
Love it!: Nice & deep. Keeps food waste for the garbage disposal separate, and keeps my handwash items in a separate sink to dry, off the counter. I love the little strainer baskets in the sinks... so easy to clean out. I've had it for almost a year now & still love it. Lots of compliments on a unique design.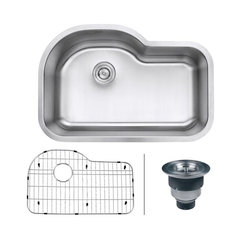 Undermount 16-Gauge 32" Kitchen Sink Single Bowl
Kitchen Fixtures
Great purchase: After much research I purchased this Ruvati stainless sink and could not be more pleased. Excellent quality, great sound proofing and was delivered in perfect condition in just a couple of days. Great buy for the price, beautiful shape and I have received many compliments on not only the aesthetics but also the quality.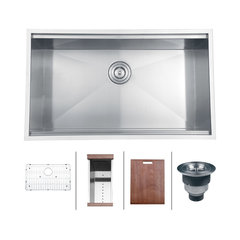 Ruvati RVH8300 Undermount 16 Gauge 32" Kitchen Sink Single Bowl
Kitchen Fixtures
Love this sink!: This was not a brand that I was familiar with but did the research and it was spot on! Heavy duty, beautifully made and I would put this up against the Kohler sink anyday...great bang for the buck!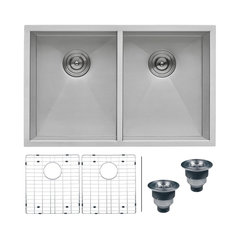 Ruvati RVH7350 Undermount 16 Gauge 30" Kitchen Sink Double Bowl
Kitchen Fixtures
Kitchen Sink: I love my Ruvati Undermount Sink. It has an expensive look and quality and it came with the rack that it so important at the bottom of the sink. Even the drain was special as it came with a cover. It does require some extra care where the use of cleaning materials are considered. Overall great purchase.