Featured Reviews of Kitchen Fixtures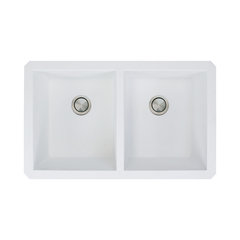 Radius 31.75"x19.125"x9.5" Granite Double Undermount Kitchen Sink, White
Kitchen Fixtures
Great sink: Been using the sink for about 2 months now and it's been great. The size is wonderful basically the largest we could fit into the cabinet base ( the guys did have to trim a little to make it fit ) . The deep basins are really great and it retains heat wonderfully . Love the look. We got it , a black faucet and white countertop . Looks so nice . Has a slight sparkle to it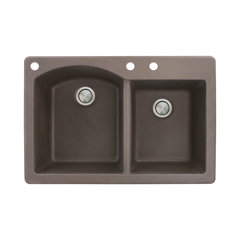 33-in x 22-in Drop-in Aversa Granite Kitchen Sink in Espresso
Kitchen Fixtures
Looks great!: We just had the sink installed and it looks great! The only downside is the faucet we picked out didn't work due to the hole configuration. It was a one-hole faucet for the center hole, but the soap dispenser didn't fit next to it because the faucet handle was on the right side blocking part of the other hole. In hindsight we should have chosen the sink with the holes in the corners and one in the center, but that's not the sink's fault! It does look really nice and like the larger side for drying dishes.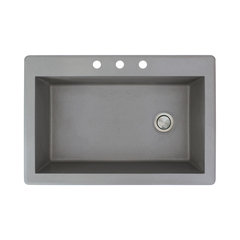 33-in x 22-in Drop-in Radius Granite Kitchen Sink, Grey
Kitchen Fixtures
Description not accurate.: This sink says non-porous. This is not the case. It is VERY POROUS!! The sink is very good quality huge and beautiful! But porous. If you're looking for something that's not porous don't buy this one.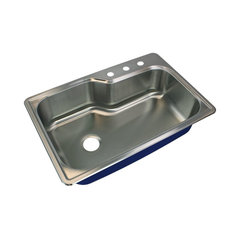 Transolid Meridian 33"x22 1/64"x9" Single Drop-in SS Kitchen Sink, 3 Holes
Kitchen Fixtures
Great for the price: The sink is well worth the price. Sound deadening is as promised, quality of stainless is as promised, and size and shape are exactly as advertised. Had I known it same with 1, 2, 3 or 4 hole options, I would have ordered two holes but the three is OK, I bought a stainless steel plug at the hardware store for $2, jury rigged a gasket underneath and voila! I do suggest checking the product carefully, ours was a bit buckled up on the side edge but we managed to flatten it out with a rubber mallet.