Featured Reviews of Kitchen Fixtures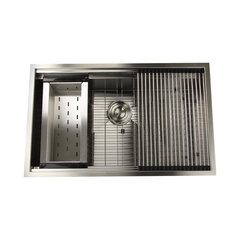 ZR-PS-3220-16 32" Pro Series Large Prep Station Kitchen Sink
Kitchen Fixtures
Beautiful addition to our new kitchen - update: Incredibly fast delivery: Ordered on 5/31 with expected delivery between 6/6 - 6/12. Delivered by UPS on 6/3. Packed extremely well, sink wrapped in heavy blue plastic, then in a muslin bag, with all edges protected with heavy cardboard/foam. Accessories individually packed in plastic bags in cardboard boxes, then all in a very sturdy box. This sink is, in a word:. BEAUTIFUL! Very heavy 16 ga stainless steel with brushed finish, outside has rubber-like coating all over, with isolation pads. Sounds very sturdy. The roll-up drain rack is heavy duty, as is the colander and the sink bottom rack (I noticed that a bottom rack is NOT included in many sinks; this one is custom sized for this sink.) And the drain is unusual, but very well designed. Instead of the typical drainer, this sink has a deep little "pot" to collect scraps before they go down the drain, and a flat cover with a silicone rim to block off the drain if you want to fill the sink with water. The installation instructions call for a 36" base cabinet, although I read elsewhere that it can fit in a 33" base with a bit of trimming inside the cabinet. I had seriously considered the Prolific sink by Kohler before finding the Nantucket 32" Pro Series, which I think are very comparable. The Kohler does not come with a sink rack, but one is available at extra cost. The Kohler was $368 more than the Nantucket, which I found on a great limited time sale on the Houzz website. I cannot wait for this sink to be installed in our new home, now under construction. The ample size and depth are exactly what I was looking for, and I am very happy with the price I paid for this beauty. UPDATE: We've had this sink installed for nearly one year and it continues to be a beautiful workhorse in our new house. The accessories are thoughtfully designed and work exactly as you'd expect. The roll up mat is perfect to dry a few dishes or to thaw out meats/poultry from the freezer - afterwards, the mat rinses off easily. The colander is perfect for rinsing fruits/vegetables or for draining washed silverware; I like to put dirty sharp knives in the colander before washing to prevent accidental cuts. And the bottom rack has kept my sink finish flawless. Still the best buy for my kitchen...highly recommend.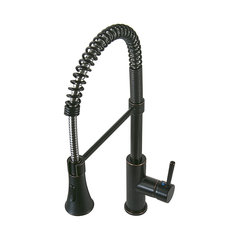 Contemporary 20" Pull Down Spray Kitchen Sink Faucet, Oil Rubbed Bronze
Kitchen Fixtures
Beautiful and reasonably priced!: I was concerned that this was going to be too large for our sink and kitchen, since we do not have a big kitchen. Our kitchen is modern, with stainless steel backsplash and appliance, granite marble top, and cool lighting, but needed to upgrade the faucet. It is a little big, but I still love it and it's a pretty focal point for our island sink. It completes the modern look and hopefully potential buyers will like it when we start showing our house for sale. The price was certainly ideal!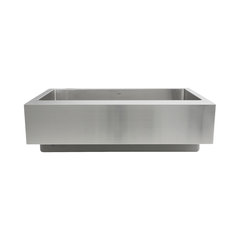 Nantucket Sinks EZApron33 Farmhouse Stainless Sink
Kitchen Fixtures
Gorgeous Sink!: Looks amazing. And our stone fabricator was amazed at how easy this sink was to work with. We used it in a semi-remodel, keeping existing cabinet. All we had to do was remove a tip out sink drawer - only needed a screwdriver. Love it.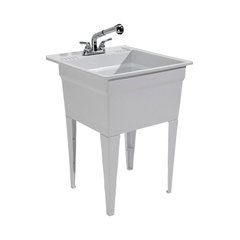 CASHEL Heavy Duty Sink – Fully Loaded Sink Kit, Granite
Kitchen Fixtures
Great Value: Everything about this sink was perfect. I was looking at utility sink from one of the bigger home improvement stores but found this one on line. It was less expensive, a few inches wider and seemingly more sturdier. We just installed it and we're very satisfied.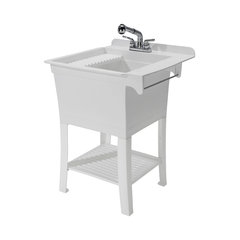 CASHEL The Maddox Workstation – Fully Loaded Sink Kit
Kitchen Fixtures
Great sink!: Much nicer and better made than those you see in the big box stores. This one actually looks very nice and is super well made. Great price too. Arrived on time and intact. Great deal.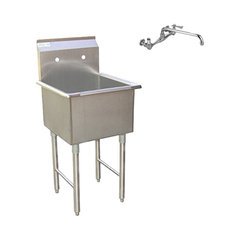 Commercial Grade Stainless Steel Laundry/Garage Sink, 18"x18", With Faucet + Kit
Kitchen Fixtures
Like the heavy duty sink.: I received the sink timely and installing the legs was a snap. It appears to be very stable. I ordered this to replace a locally purchased stainless steel sink that was cheaper and larger. However, i found the cheaper one to be unstable and returned it and ordered from houzz. I have not installed it yet as I am waiting on a plumber to run a hot water line to my outside room. This sink is quite heavy duty and will fill my needs nicely.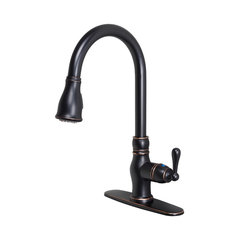 Ultra Faucets Oil Rubbed Bronze Single-Handle Kitchen Faucet, Pull-Down Spray
Kitchen Fixtures
Perefect: This was exactly as pictured and perfect with our hammered copper sink. We loved that the fact that it didn't have to be mounted with the long escutcheon since we were putting it on an antique wood top. The look is perfect in our rustic setting and the quality is outstanding!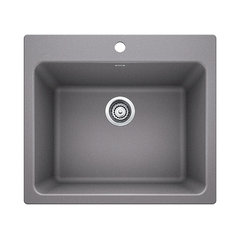 25"x22"x12" Blanco Liven Silgranit Laundry Sink, Metallic Gray
Kitchen Fixtures
GREAT SINK: This is an awesome and heavy sink. The first one they sent was cracked but requested a replacement and had it within a week. Very easy customer service. Would highly recommend this! We are using it for a laundry sink.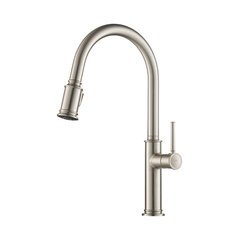 KRAUS Sellette Pull Down 2-Function Kitchen Faucet, Spot Free Stainless Steel
Kitchen Fixtures
Was a bit concerned about ordering a brand I wasn't familiar with, but this faucet is far and away better than our prior Delta and Moen that we're twuce the price!: Was a bit concerned about ordering a brand I wasn't familiar with, but this faucet is far and away better than our prior Delta and Moen that we're twuce the price! I highly recommend this faucet.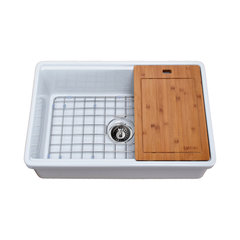 Tosca Farmhouse Fireclay 30" Single Bowl Kitchen Sink in White with Accessories
Kitchen Fixtures
I researched several sinks from many companies and this was a great deal at half the price as the sink I was planning to buy.: I researched several sinks from many companies and this was a great deal at half the price as the sink I was planning to buy. Includes the drain with stopper, grid and cutting board for one affordable price. Love the sink front options and the accessory edge.