Lamp Sets
If you're looking for moody lighting or perhaps only wish to illuminate one area of a room, table and floor lamps are an elegant solution. With the right lamp set, you can also reinforce a room's decor theme and add a sense of balance. A vintage-inspired table lamp can make a huge impact when paired with a matching floor lamp across the room, and the same rings true for modern and even novelty lamp sets as well.

If you're looking to update a room's theme, lamp sets are a valuable purchase. Since they already come with matching bases and shades, you won't be stuck trying to find the exact same base or a complementary base or shade on your own. While most sets come as either a pair of table lamps or a table and floor lamp, some lamps come in a set of three, which is perfect if you like to create a sense of balance and consistency across multiple rooms in your home.

Add some serenity, symmetry and style to your home interior with a modern, trendy or antique lamp set from Houzz.
Sponsored Products
Featured Reviews of Lamp Sets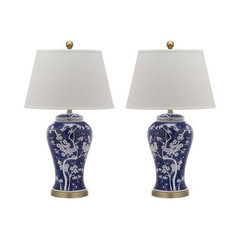 Spring Blossom Table Lamps, Set of 2, Blue
Lamp Sets
Very nice!: Color is bright and vivid, more of a royal blue. Packaging was custom for these lamps, they arrived in a few days in perfect condition. These are a very nice quality lamp and shade. They even came with 2 led bulbs!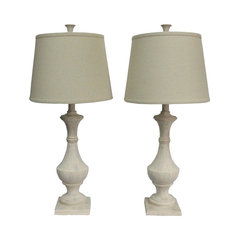 Marion Table Lamps, Set of 2, Weathered White
Lamp Sets
Best lamps I've ever purchased: These lamps are well made and sturdy. The style is so versatile that they could fit in a variety of decorating themes. The light that shines through the shade is warm and comforting.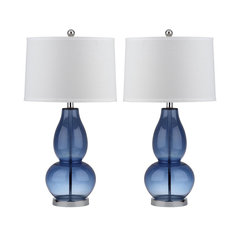 Safavieh Mercurio 28.5-Inch High Double Gourd Lamp
Lamp Sets
Fabulous Lamps: These deep navy lamps are just as pictured they look stunning in my room and every who sees them loves them. Them seem solid and like they won't tip easily unlike my pottery barn glass lamps that have tipped over countless times just when dusting and the table gets bumped. Thank you so much!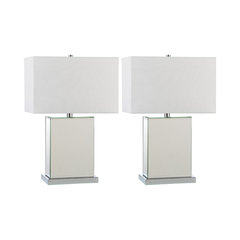 Safavieh Dana 23-Inch High Table Lamp
Lamp Sets
Groovy bedside tables: Groovy bedside tables that suit a slightly mod/contemporary style. Neutral color works with a variety of decors. Lamps are a bit shorter than anticipated and the clearance between the shade and the base is not substantial. Yet, lamp bases are stable, the look is lovely, and the price is great. Recommend!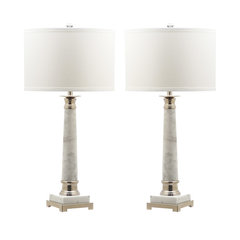 Safavieh Colleen 31" High Table Lamp, Set of 2
Lamp Sets
GORGEOUS LAMPS: I gave these to my daughter for her bed tables, and she says they are gorgeous, and make her old lamps look like trash. She's very happy with them--they put the icing on the cake for her lovely bedroom.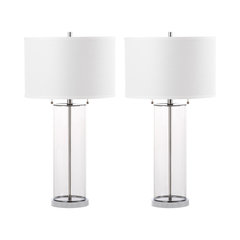 Safavieh Velma 31" High Table Lamp, Set of 2
Lamp Sets
Bold lamps, just what we wanted: We love our new, big lamps. They are exactly as described and arrived quickly. They are large so brought us the scale we were looking for, and they could be rotated to other larger areas like the living room or bonus room. Nice finishes and materials with no visible flaws. Two LED bulbs for each lamp came with them and was such a nice surprise. We're quite pleased.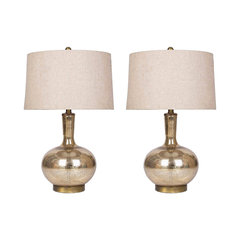 Gold Mercury Glass Table Lamps, Gold, Set of 2
Lamp Sets
Nice lamp set: These arrived very well packaged. They are actually can take a three way bulb. They are the size and look exactly like the description. They look great in my family room. An economical update for my traditional decor.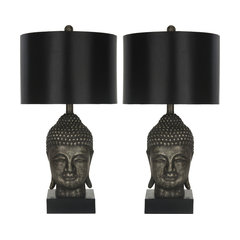 Golden Buddah Table Lamp, Set of 2, Gold
Lamp Sets
The most beautiful set of lamps I have ever set my eyes on!: Wow. The delivery was immediate, the quality of the lamps is extraordinary, and they came in without a single dent/scratch. They are absolutely flawless and I cannot wait to finish my bedroom redesign to upload a picture of them. I would recommend these to everyone!