Sponsored Products
Featured Reviews of Products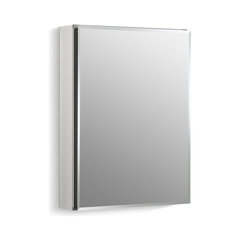 Kohler Aluminum Single-Door Cabinet Door, Beveled Edges, 20"x26"
Products
Worth buying: I have this, got it at the big box store and husband installed it. It wasn't difficult for him at all. I love all the mirrors, I can get a "back view" of hair in the big mirror over the sink vanity. It has a little invisible space below where I can put hooks to hang my blow dryer, hand mirror, etc. I've had it probably 8 years now and it's still looks new, except the top glass shelf fell (with everything on it), broke, and I'm having problems replacing it. Be sure the "shelf support thingies" are in tight. If you like lots of light and brightness in your bathroom, this is good because it reflects light and does make the space brighter due to mirrors. It's pretty big and holds a ton of items you don't want lying loose. I like it, I will eventually get a matching one for husband's vanity, as well.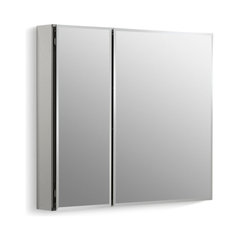 Kohler Aluminum 2-Door Medicine Cabinet Mirrored Doors, Beveled Edges, 30"x26"
Products
Beautiful mirrored cabinet.: So glad Kohler makes this aluminum mirrored medicine cabinet. Great storage, exceptionally beautiful mirrored medicine cabinet and what a great price. Can't beat it. Bought 2 and so glad I did. Thanks for a great product.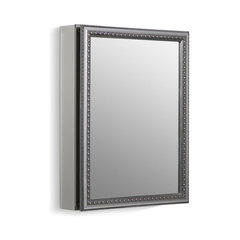 Kohler 1-Door Aluminum Cabinet/Decorative Silver Framed Door, 20"x26"x4.83"
Products
Beautiful cabinet: I have to say I was a bit surprised when I received this cabinet - it is really beautiful! I was so happy to put this in the new bathroom. We surface mounted it and it looks great. With glass shelves and a mirrored interior - this is a really good piece - very sturdy.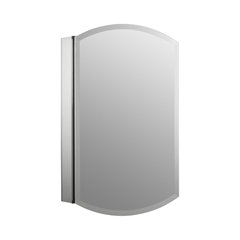 Kohler Archer Single-Door Aluminum Medicine Cabinet, 20"x31"
Products
Absolutely perfect!: I bought 2 of these for our new lake house - they will be installed against a wall of ledgestone - they are so well made and arrived well packaged and timely. Can't wait to see them installed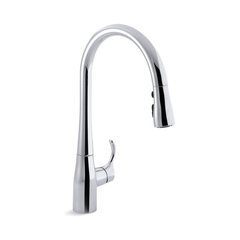 Kohler Simplice 1-Hole or 3-Hole Kitchen Sink Faucet, Polished Chrome
Products
EXCELLENT: LOVE this faucet! It looks great, works smoothly, the spray head is excellent – makes a wide/flat fan-shaped spray that you can pull down and really aim, then the spray head easily goes back up between a weight under the sink and a magnet at the top. The hot/cold work smoothly. My plumber said it is very well made... so there you go!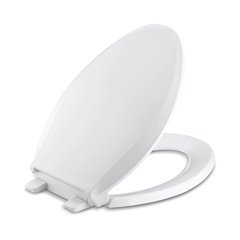 Kohler Cachet Quiet-Close With Grip-Tight Elongated Toilet Seat, White
Products
Houzz purchase.: We are very pleased with our purchase,what impressed us the most was the quick shipping we had contacted a local building supply business about the toilet and were told it would take 2 months to get it, that would not work for us since we were remodeling our bathroom. So we go online find Houzz site placed the order on Saturday, the following Wednesday our order arrived, will do business here again.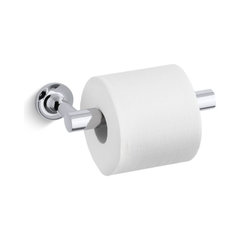 Kohler Purist Pivoting Toilet Tissue Holder, Polished Chrome
Products
Kohler Purist Tissue holder: By far the most beautiful color of Brass by kohler...its so dark it hovers between brass and gold..bought all the accessories and faucets but huge mistake by kohler...they do not make a matching built in soap dispenser!! I put built in in Bathroom counters so I dont have all that clutter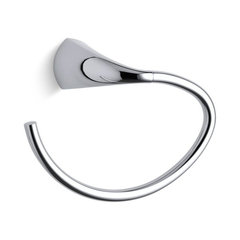 Kohler Alteo Towel Ring, Polished Chrome
Products
Nice Solid Towel Ring: Not much to say about these. They're nice and sturdy. There's no "swing" to them, but they look and feel substantial. I think we'll enjoy these in our newly remodeled master bath.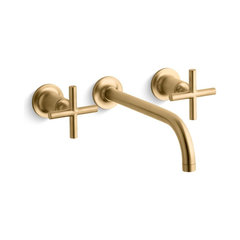 Kohler Purist Wall-Mount Bathroom Sink Faucet Trim, Vibrant Moderne Brushed Gold
Products
Chic faucet: Vibrant brushed nickle is a very chic color for this type of faucet. It goes so well with my half-recessed bathroom sink. The spout in the middle is long enough that water falls right in the middle of the sink. Houzz customer service has always been excellent -- patient and providing relevant information. Shipping was fast -- took only three days.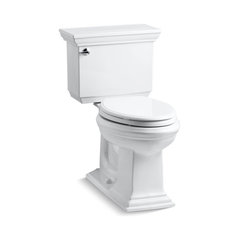 Memoirs Stately Comfort Height 2-Piece Elongated 1.6 GPF Toilet, White
Products
Perfect: I have a mid-century modern home built in 1951 and I broke the vintage toilet tank when I was trying to change the handle... this is a perfect fit... it was easy to fix. I am thoroughly pleased with my purchase.