Sponsored Products
Featured Reviews of Products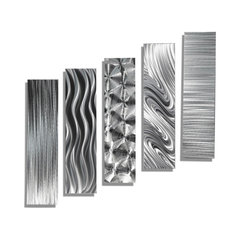 Abstract Handmade Metal Wall Décor - 5 Easy Pieces by Jon Alle
Products
Metal Art: Took a chance on these because I had a lot of wall space to cover. They look great. They are soft at night and bold with lighting. Kinda neat. They change looks during the day. Would rec'd for you modern/contemporary "types" like me.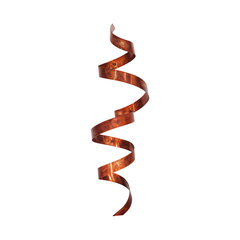 Copper Twist Metal Wall Sculpture By Jon Allen
Products
Absolutely gorgeous: I wanted something to hang from the ceiling in my dining room but not a chandelier and I couldn't find anything I liked so had to get creative. I think it worked out perfectly! It's a high quality, beautiful, versatile, piece!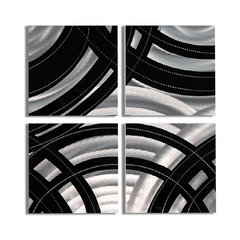 Abstract Silver and Black Metal Wall Accent, Unique 4-Piece Panel Art, "Gridiron
Products
Speedy delivery.: Speedy delivery. Well packaged so metal wasn't scratched. Signed by the artist. Special hangers for easy hanging. My son loves the artwork so much he took it for his room despite having bought it for my office! Very happy with purchase.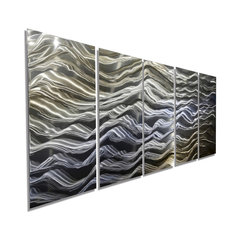 Gold/Blue/Silver Contemporary Metal Wall Sculpture - Modern Metal Wall Artwork
Products
WOW, this was nicer than I could have imagined!!: WOW, this was nicer than I could have imagined!! It is beautiful and pulls the whole room together. Very easy to hang (I just used push pins). I ordered another mwtal wall art for my bedroom.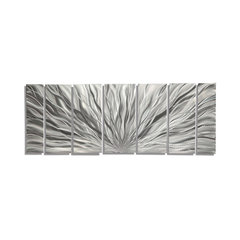 Beautiful Silver Panel Metal Wall Art, Silver Plumage, 68"x24"x2"
Products
Beautiful: Arrived on time...very light material...did not use its hook..I used heavy duty Velcro and stick it on the wall...modern and beautiful wall art...has designers signature on the bottom right corner...u will need help with assembly...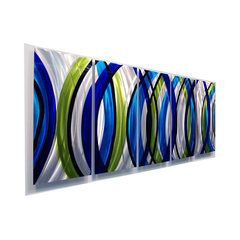 Stunning Modern Silver, Green and Blue Panel Metal Wall Art, Sonic Boom, 64"x24
Products
Just right for the space and colors are vibrant: We bought this to go over our television, and it really pops as we wanted it to. I took off one star because there were a few bubble/blemishes on the piece and a few of the colors were a bit blurry in spots, but that's not really noticeable once it's hung up.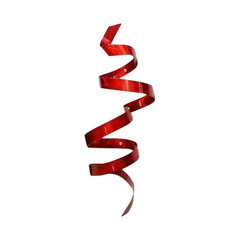 Cardinal Twist Contemporary Metal Wall Sculpture By Jon Allen
Products
Beautiful!: I am very pleased with this sculpture. It would bring any wall to life. The variations in color and texture on the piece are wonderful. The sculpture is a perfect addition to my gallery wall in my downstairs den.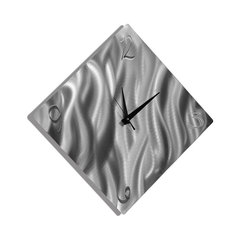 Contemporary Silver Metal Wall Clock, Functional Art, "Final Countdown", 17"
Products
Fabulous Clock: My daughter was thrilled with this clock. She was so surprised, and the fact that Houzz worked with the seller to get this to me in three days in time for Chanukah was simply wonderful.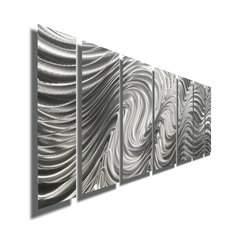 Silver Abstract Metal Wall Art Sculpture by Jon Allen, Hypnotic Sands, 7 Panel:
Products
The picture was well protected in chipping.: The picture was well protected in chipping. each piece ( 6 in total) were individually wrapped in protective wrapping and then stacked on top of each other and put inside a box. I love the innovative way they provide the mounts to make the piece "stand off" from the wall. Just some quick bending of the metal tabs and its super easy to mount. It looks stunning in our office and we get comments on it all the time.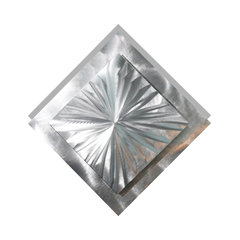 Silver Metal Wall Art Accent by Jon Allen, Prizm 3
Products
Unusual Art Lover: This piece is very unique. I have been looking for pieces to hang that would not be found in my neighbor's house and this is one that fits the bill. Easy to hang, light weight and looks beautiful no matter where you have it hanging.