Media Racks and Towers
With a great movie collection comes great responsibility. We've all experienced that keen need to binge on the couch and watch a great movie or two … or three or four. Unfortunately, our movie marathon session can be cut short as we frantically search for our original 1982 copy of Tron or our other guilty pleasure, The Notebook. Yeah, we said it.

So say, "Hasta la vista, baby!" to that jumbled pile of disorganized cases and "Hello" to a clever way of organizing your collection. A DVD rack is an easy way to achieve film organization nirvana, and these storage kings come in dozens of styles perfect for any film connoisseur's home. A CD rack is a somewhat smaller solution for those of us who just can't bear to ditch our CDs for the intangible cloud music collection. If your floor space is lacking, try wall-mounted racks or shelves. If you do have the space, a revolving DVD storage rack is most excellent, dude. These tall towers can make even Sauron jealous as they rotate, making it supremely easy to find and select your next movie title. Never has finding your copy of Frozen before the kids throw an epic tantrum been so easy.

Other styles of DVD shelves feature individual slots for each case, ensuring that every DVD and Blu-ray disc has its place. Whichever style you choose, grab a measuring tape and map out the area where you want your new media storage unit to go. After all, there's no sense in bringing home a 6-foot DVD shelf only to find you can't squeeze it between your TV and the wall. From small to large, plain to absolutely stunning, we've got dozens of CD and DVD storage options for you to choose from right here on Houzz. That's right, these are the DVD shelves you're looking for.
Sponsored Products
Featured Reviews of Media Racks and Towers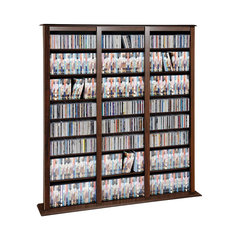 Prepac Triple Width Barrister Storage Tower for Multimedia (Holds 1200 CDs)
Media Racks and Towers
Absolutely Love It!!: Held 99% of my DVD/Blu-Ray collection. Had I bought the 4 section, I would have had extra ultra more space to hold my entire collection with tons & tons of room to spare. Only problem would have been, I didn't have the room for the 4 section. BUT, with some rearranging of furniture, it'll more than likely be my next purchase. Again, I absolutely love this item.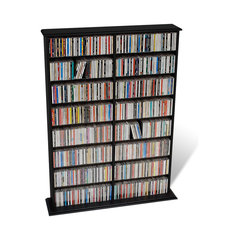 Prepac Double Width CD DVD Wall Media Storage Rack in Black
Media Racks and Towers
Product just like picture: Product was just like it was pictured and described. Easy to put together with simple instructions and tools. A little gritty with sawdust inside packing box. Unable to track product during shipping.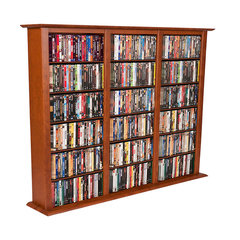 Rhodes Media Storage Tower, Regular Triple, Cherry
Media Racks and Towers
Better than Ikea: Sturdy, Heavy Box- but to be expected. Would like a little more room for the tops of DVD's. You have to leave a bit of space to see the ones on the sides, if you fully pack the thing.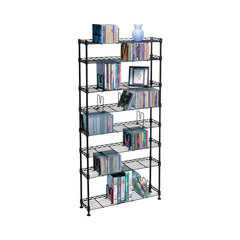 Atlantic Multimedia Storage Rack, 8 Shelves
Media Racks and Towers
I have (always) liked my atlantic Multimedia racks ever since I first bought some from Best Buy years ago. Please, Houzz, come thru for me again!?: I have (always) liked my atlantic Multimedia racks ever since I first bought some from Best Buy years ago. It was Houzz that came thru for me when I needed to purchase some more racks to house my expanding collection. I (actually) bought them out of the stock (I bought 3 more racks) they had! Now I'm thinking that these racks would make great gifts and I can only hope that Houzz can re-stock them so I can buy more for my family member's birthdays and holiday giving! Please, Houzz, come thru for me again!?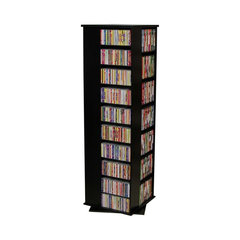 Venture Horizon Revolving Media Tower 1000, Black
Media Racks and Towers
Revolving Media Tower 1000 being used for classical CDs: The Revolving Media Tower 1000 came when promised. Assembly was easy and instructions were clear. If you've assembled any IKEA products this was similar but simpler. It displaced a 3' wide shelf I built of solid oak specifically for CDs and holding about 500 CDs. Those plus 500 more now fit in the same space. I was concerned that the weight of the CDs would cause this to be fragile or not turn easily. Neither is true; it seems quite able to hold 1000s CDs long-term and it does turn easily and smoothly. It does not and should not spin rapidly. It also matches my solid oak furniture beautifully. My wife teases me (she likes it a lot, too) that the room will soon sprout a forest of these CD "trees," She may be right. I would highly recommend it to serious CD or DVD collectors; it is efficient and attractive. Perhaps, it least known attribute is that it presents a huge number of CDs conveniently but in a way that does not cause the visiting viewer to be overwhelmed with CD quantity because only 1/4 are visible at a time, i.e. it deceptively and beautifully hides the CD collector's obsession.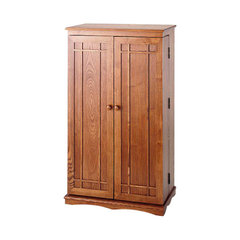 CD-612 Classic Mission Doors, Dark Oak
Media Racks and Towers
Media Storage Cabinet: Arrived assembled except for adjustable shelfs which is always a plus for me. Heavy, solid wood in mission style adds plenty of DVD/CD storage while still appearing to be just another piece of furniture.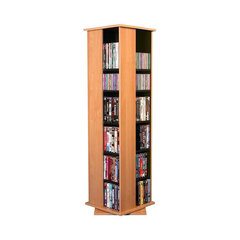 Revolving Media Tower 600, Oak
Media Racks and Towers
Good but can be better: Once assembled (which was fairly easy) bottom ist tier a back hole was too close to the panel to put a peg in. Due to the out of alignment You can still squeeze a partition in it and it will stay in place as cd's a d dvd are not heavy.. Also the holes where the cam's go in I have to router out with a dremel tool as it would not fit plush initially . Other than that its a good value for the money and also looks nice once assembled.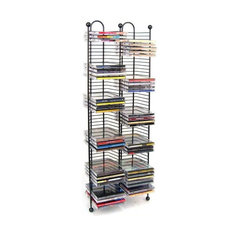 Atlantic Inc 100 Nestable CD Storage Tower, Gunmetal
Media Racks and Towers
well made: This rack was perfect for efficiently storing over a hundred CDs that had accumulated in various locations. Now I know where to find them. It's quite sturdy once you get it assembled properly.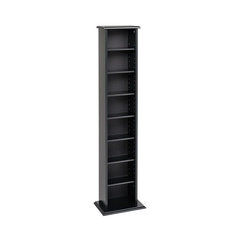 Prepac Furniture Slim Multimedia Storage Tower
Media Racks and Towers
Space Saver: Love it! Cute & compact. Tower 51" tall. Fit in a narrow space in our music room. Shelves 8 7/16" wide, hold 20 regular-size CD's per shelf. Any combination of shelf positions possible--dowel holes run down the whole length of the tower. Easy to put together. You don't really need to use all the tack nails to hold the backing on--we opted to only use half to reduce risk of nailing thru at an angle. Bought the double-wide tower as well, for DVD's, and love it too.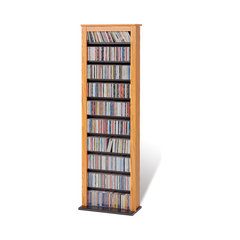 Slim Barrister Tower, Oak/Black
Media Racks and Towers
Review: Like this product a lot. Representative was very helpful with the order, product arrived in timely manner, instructions were explicit and understandable. Great to finally have a good view and easy access to all my media!