Media Racks and Towers
With a great movie collection comes great responsibility. We've all experienced that keen need to binge on the couch and watch a great movie or two … or three or four. Unfortunately, our movie marathon session can be cut short as we frantically search for our original 1982 copy of Tron or our other guilty pleasure, The Notebook. Yeah, we said it.

So say, "Hasta la vista, baby!" to that jumbled pile of disorganized cases and "Hello" to a clever way of organizing your collection. A DVD rack is an easy way to achieve film organization nirvana, and these storage kings come in dozens of styles perfect for any film connoisseur's home. A CD rack is a somewhat smaller solution for those of us who just can't bear to ditch our CDs for the intangible cloud music collection. If your floor space is lacking, try wall-mounted racks or shelves. If you do have the space, a revolving DVD storage rack is most excellent, dude. These tall towers can make even Sauron jealous as they rotate, making it supremely easy to find and select your next movie title. Never has finding your copy of Frozen before the kids throw an epic tantrum been so easy.

Other styles of DVD shelves feature individual slots for each case, ensuring that every DVD and Blu-ray disc has its place. Whichever style you choose, grab a measuring tape and map out the area where you want your new media storage unit to go. After all, there's no sense in bringing home a 6-foot DVD shelf only to find you can't squeeze it between your TV and the wall. From small to large, plain to absolutely stunning, we've got dozens of CD and DVD storage options for you to choose from right here on Houzz. That's right, these are the DVD shelves you're looking for.
Featured Reviews of Media Racks and Towers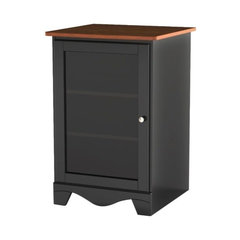 Nexera Pinnacle 1 Door Audio Tower, Cherry and Black
Media Racks and Towers
Great Cabinet!: I had given up finding he perfect cabinet for my tv equipment when I found this one! The cabinet is of good quality, hides the cords, and has plenty of room. It did take my handy husband quite awhile to put together, but it was worth it!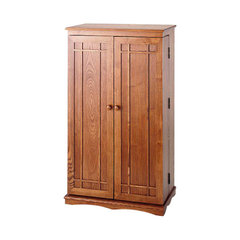 CD-612 Classic Mission Doors, Dark Oak
Media Racks and Towers
Media Storage Cabinet: Arrived assembled except for adjustable shelfs which is always a plus for me. Heavy, solid wood in mission style adds plenty of DVD/CD storage while still appearing to be just another piece of furniture.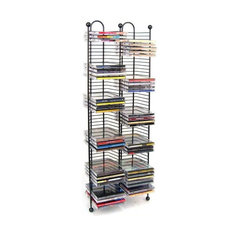 Atlantic Inc 100 Nestable CD Storage Tower, Gunmetal
Media Racks and Towers
well made: This rack was perfect for efficiently storing over a hundred CDs that had accumulated in various locations. Now I know where to find them. It's quite sturdy once you get it assembled properly.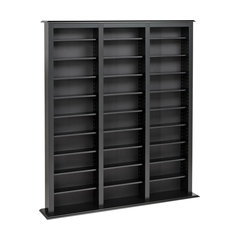 Prepac Triple Width Barrister Storage Tower for Multimedia (Holds 1200 CDs)
Media Racks and Towers
Absolutely Love It!!: Held 99% of my DVD/Blu-Ray collection. Had I bought the 4 section, I would have had extra ultra more space to hold my entire collection with tons & tons of room to spare. Only problem would have been, I didn't have the room for the 4 section. BUT, with some rearranging of furniture, it'll more than likely be my next purchase. Again, I absolutely love this item.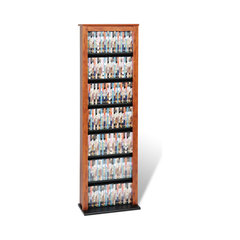 Slim Barrister Tower, Cherry/Black
Media Racks and Towers
Review: Like this product a lot. Representative was very helpful with the order, product arrived in timely manner, instructions were explicit and understandable. Great to finally have a good view and easy access to all my media!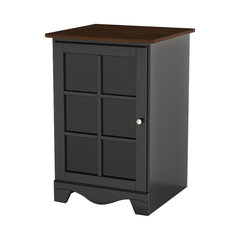 Nexera Pinnacle 1-Door Audio Tower, Cinnamon Cherry & Black
Media Racks and Towers
Good product.: Came as expected. Easy to assemble and decent quality for a piece together stand. Good instructions. Took about 1/2 hour to assemble. Took a few weeks to arrive, this would be the only negative. I would recommend.