Sponsored Products
Featured Reviews of Mediterranean Bath Products
Ithica Cabinet Knob, Vintage Bronze
Mediterranean Bath Products
Nice but...: These are nice but not exactly as shown in the photo. They are much darker & have no copper accept showing like in the photo, which is a big bummer for me because I have a lot of copper pieces in my kitchen & one of the reasons I chose these. The screws also weren't long enough for my doors/cabinets because the backside core of these are not flat! They sink inward so you need a good 1/4+ inch extra to screw these into the knob. They are nice looking, heavy & made nice. Individually packaged.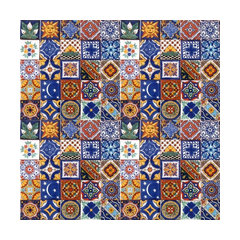 2"x2" Handpainted Talavera Mexican Tiles, 100-Piece Set
Mediterranean Bath Products
Stunning collection: I am a big fan of Mexican tile. I am redoing my kitchen, and these tiles will go above my range. I looked at other collections before buying this one. I love this particular combination. It has all the colors and my favorite, the moon and stars tiles.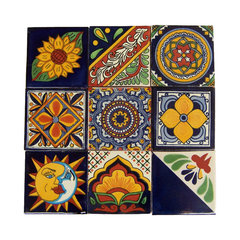 4"x4" Handpainted Mexican Talavera Tiles, 9-Piece Set
Mediterranean Bath Products
Very nice tile set: This was the 2nd order placed to go along with our remodel theme. Again - The only issue we saw was that they were not all perfect 4x4 tiles as they are hand made so we had to adjust a few to fit into the space we had made to place these. I would recommend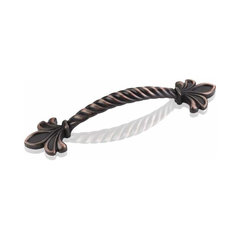 Jeffrey Alexander Evangeline Cabinet Pull 96mm ctc Dark Antique Copper
Mediterranean Bath Products
Love these!: These beautiful handles are also very substantial and well made! I also paired them with the coordinating knobs with a Fleur-de-lis on smaller cabinet doors. They look gorgeous!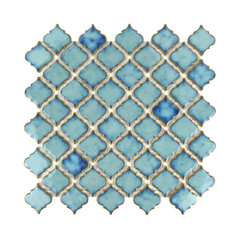 12.38"x12.5" Mykonos Porcelain Mosaic Floor/Wall Tile, Ocean
Mediterranean Bath Products
Beautiful Tile: I was trying to find suitable tile for my shower floor. I ordered two samples. This one was gorgeous, and matched the difficult to coordinate Diva blue design of my shower niche perfectly. The sample arrived three days before I'd expected it to, well packed and in good condition. My only problem with it was that I decided it was too beautiful and a little slick for our floor; however it would be perfect for other uses.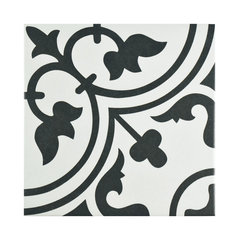 Kaligaris Porcelain Art Tiles, Set of 16, 9.75"x9.75", White
Mediterranean Bath Products
Beautiful: This tile is beautiful! Fast delivery and no issues with breakage. So happy with this purchase. The black in this tile is more of an antique black or charcoal black---not a dark black.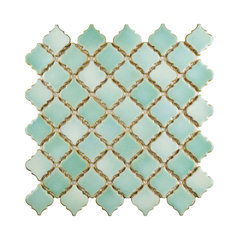 12.38"x12.5" Cordova Arabesque Tiles, Set of 10, Sea Green
Mediterranean Bath Products
Great tiles for a great price: I saw these in a local tile store and loved them. The price was nearly twice what I was looking to spend so I hit the internet. I found them on Houzz for nearly $7 less per sqft. When they're arrived I was pleased to see they where well packed and exactly what I was hoping for.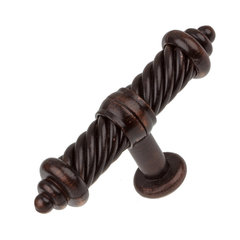 3-1/2" Twisted Steel Dresser T-Knob Pull, Oil Rubbed Bronze
Mediterranean Bath Products
Great assessories for our cabinets!: They say that hardware is the jewelry for your cabinets. These cabinet pulls definitely dress up plain cabinets, yet are very practical with the perfect length that gives more to hang onto vs a standard knob. I ordered on one day and they arrived a quick two days later. The only con is that the ends of the pulls seem loose, but can easily be tightened and does not affect the great look or the durability of the product.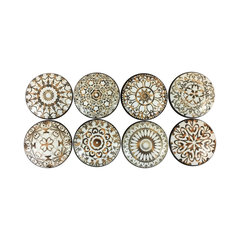 8 Piece Set Gold and White Mandala Cabinet Knobs
Mediterranean Bath Products
Perfect!: These beautifully designed and crafted drawer knobs arrived well packaged and in a timely manner. They are the perfect counterpoint for my vintage 1800's dresser, and bridge the gap between old and new in this transitionally decorated guest room.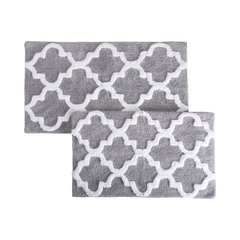 Lavish Home 100% Cotton 2 Piece Trellis Bathroom Mat Set, Silver
Mediterranean Bath Products
Love these RUGS: First set I received the smallest rug had two bad places in it. Houzz replaced the rugs at no cost after receiving pic's from me to prove one was defective. It was a pain trying to get pictures emailed to Houzz but once I did the problem was resolved. After reading some of the reviews about the gray cotton sticking to the diamond raised white pattern after they were washed & dried I decided to laundry them a different way by hanging the rugs up to dry & when they were almost dry I put them into the dryer with a fabric sofener sheet. WALLAH problem solved!!! I just love my new rugs in my new SPA BATHROOM & definitely recommend purchasing them.