Sponsored Products
Featured Reviews of Mediterranean Outdoor Products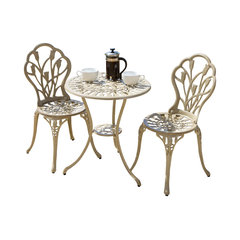 3-Piece Sonoma Sand Bistro Set
Mediterranean Outdoor Products
mostly happy: I think the set is beautiful! The table went together like a breeze. The chairs however are posing some problems. The screws are painted too low and it it very difficult to get the nut high enough to tighten. I have to wait for stronger help to put these together. My husband is going to have to wire brush the screws to get the paint off.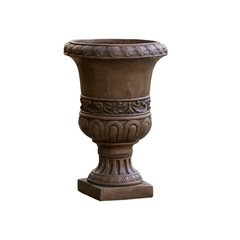 Mediterranean Outdoor Products
Love this planter: Unfortunately, I bought two of these previously and wind blew it over one night with a bad storm and broke the planter. I just bought another and this time put river rocks in bottom to keep more sturdy. Love the look of these!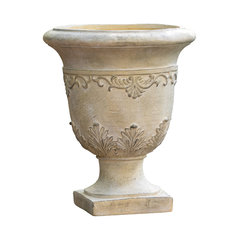 Floriana Antique Green Stone Planter
Mediterranean Outdoor Products
Pleasantly Surprised!: When I received my Floriana Planter I was very pleased with the material and look and size of it. I love the Italian Antique look and I'm very pleased that the material is actually stone and not the plastic that is so prevalent on the market. It looks Great at my front door.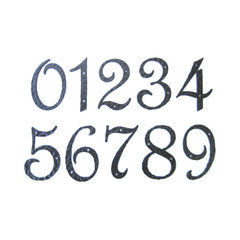 Rustic Spanish Style Hammered Wrought Iron Address Number, Bronze, 6", 2
Mediterranean Outdoor Products
Classy and Beautiful: I ordered house numbers in oiled bronze finish, they just arrived and they are gorgeous! Everything about them says quality... the cut... finish... style. It's not easy to find Spanish revival items like these... they have a customer for life!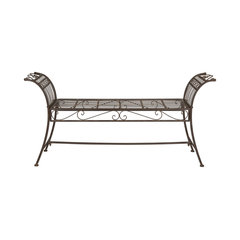 Safavieh Hadley Outdoor Bench, Rustic Brown
Mediterranean Outdoor Products
Thrift shop appeal: The bench is pretty much as advertised, and assembles quickly and easily. The faux antiquing is basically chipped and missing paint, more than in the photo. As it happens, it fits in well with our less-than-pristine wicker, as we'd hoped. The bench will need a cushion, as the metal straps are fairly widely spaced.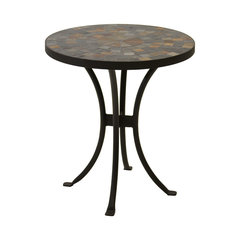 Mojave Outdoor Accent Table
Mediterranean Outdoor Products
GREAT BUY!: I couldn't have picked a more perfect table. I have been looking for months before I came across this one. I ended up with three. Easy to put together, well made, sturdy. Beautiful accessory to my outdoor wicker furniture. Two thumbs up!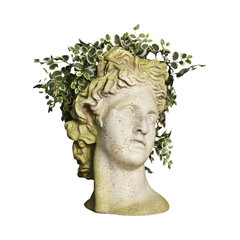 Apollo Head Planter, White Moss
Mediterranean Outdoor Products
Very nice planter!: Ordered this for a birthday gift for a friend who is into succulents this year. The ones at the garden centers were too expensive. The Apollo planter was a very good price and I bought a succulent and potted it in the head. A great birthday present for a fraction of the garden center one!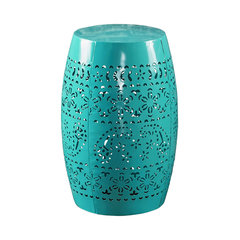 Apple Valley Lace Cut Iron Accent Table, Teal
Mediterranean Outdoor Products
Cute touch of blue: Wanted a little side table for the chair in the bedroom, this was such a nice color and design. Only complaint is that there are too many noticeable seams, although they do try to match up the design as much as possible.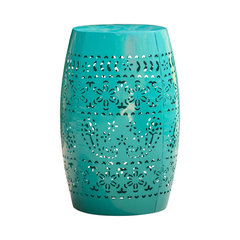 Riley Outdoor 12" Iron Side Table, Teal
Mediterranean Outdoor Products
Cute but not waterproof?: I'm giving it 4 stars because these tables are super cute. But it says on the box that you need to take them inside when it rains. Had I known that when purchasing, I probably wouldn't have bought them. I live in an area with tons of rain. I'm going to keep them out for the summer and hope for the best. But I think outdoor tables should be waterproof.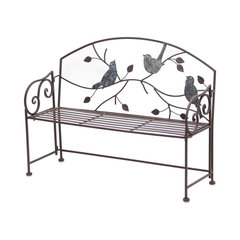 Decorative Folding Metal Bench With Bird and Vines
Mediterranean Outdoor Products
Adorable, small, perfect for my small fairy garden.: Adorable, small, perfect for my small fairy garden. Thinking about getting another one! I originally reviewed this and for some reason it stated a review of 1 star. That was a mistake