Sponsored Products
Featured Reviews of Midcentury Modern Outdoor Products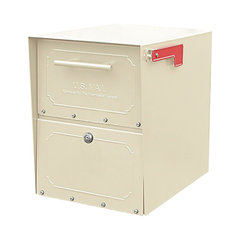 Oasis Classic Post Mount Mailbox, Sand
Midcentury Modern Outdoor Products
Post Mount Mail Box: Really like this mail box. Very sturdy and appears well made. We just now opened it as we have been building our own home. Pretty disappointed there was a dent in it. That's why I gave it 4 stars. Didn't want to go through the hassle of returning. The dent I'll live with.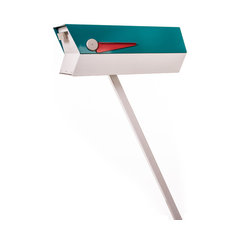 Jetson Mailbox, Turquoise and White
Midcentury Modern Outdoor Products
Beautiful: Beautiful, great size mailbox. No one in our neighborhood will have one like ours. It truly brings a Mid-Century look to the house. Great quality and the price is better here at HOUZZ than other websites. The color hue does not match our exterior painting, its more "taupe" than a grey color so we are exchanging it to plain white.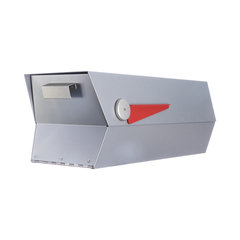 Mid-Century Modern Mailbox, Anodized Aluminum
Midcentury Modern Outdoor Products
Beautiful in front of our MCM house.: Wonderful service! My mailbox and post were shipped the morning I ordered it. We are in the remodeling phase where you're hemorrhaging money for no discernible reward (architects, permits, beams, demolition), and it's nice to have something that looks great.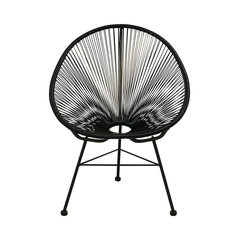 Acapulco Weave Lounge Chair, Black
Midcentury Modern Outdoor Products
Simple Chair: Assembly is easy and straight forward. Looks just as pictured here. It's not as stiff as I imagined it would be. With that said, it takes some getting used to sitting in. It's comfortable but wish it was just a bit deeper. Hoping to add a poof or stool with it to make it a bit more comfortable.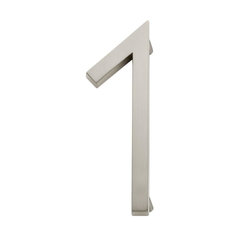 Modern Avalon Collection 4.5" Brushed Nickel Number 1
Midcentury Modern Outdoor Products
Great Quality but be careful on installation: I love my new house numbers, but I installed them vertically on a support post. I assumed the mounting posts were uniformly positioned on backs of the numbers. Incorrect! Don't assume anything. Need to position each number very carefully, the holes you need to drill will not line up. Still happy with the purchase, just did a lot more drilling and caulking/painting than I expected to do.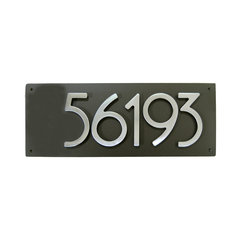 Address Plaque houseArt Modern, Dark Bronze, 7x18, 5 Number
Midcentury Modern Outdoor Products
Product was exactly what I was looking for!: Product was exactly what I was looking for! Paired very well with a mailbox and post that I ordered to go with it. I would include a picture but the house's exterior isn't finished yet.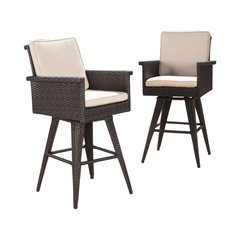 Marbella Outdoor Dark Brown Wicker Barstools With Sunbrella Cushions, Set of 2
Midcentury Modern Outdoor Products
Nice chairs, sturdy, nice price: Nice chairs for our Balcony, easy to assemble, only critical item is the cushions are comfortable enough, but very light weight, so they will be blown over on a small breeze (we are by the ocean), some type of ties would have been a nice thing to be included on the cushions, but I like the stools a lot so top rating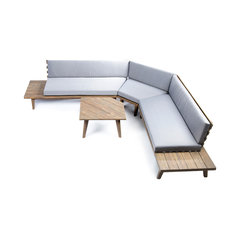 Hillside Outdoor V Shaped 4-Piece Sectional Sofa Set, Gray Finish, Gray
Midcentury Modern Outdoor Products
Beautiful. Clear instructions: I've been looking for a reasonably priced, low-profile, modern outdoor sofa and this is perfect. The order arrived quickly and I assembled the entire set within two hours. I appreciate that all the parts were labeled clearly. The set is beautiful. I'm not sure how well the cushions will stay white over time and I wish there were more color options for the cushions with this color of wood. Another reviewer said that the cushions are thin - they are not thick, but they're comfortable enough for my son to lie down and read. The low profile makes it less comfortable for lounging upright with a book but I think a bunch of throw pillows will do the trick. Overall I'm really happy with this product.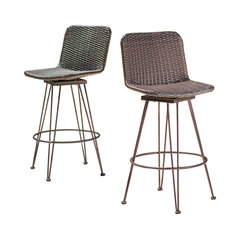 Pines Outdoor Wicker Barstools With Black Brush Copper Iron Frame, Set of 2
Midcentury Modern Outdoor Products
Great chairs!: I ordered 6 chairs, and received them in only 2 days. They were really well packed, which was impressive for the price. Also, very easy assembly - only 4 screws, so took me two hours, including the unpacking. (I'm a 60 year old woman, and could do this myself.) They look great and worked well. Also, it doesn't state in the description, but they also swivel.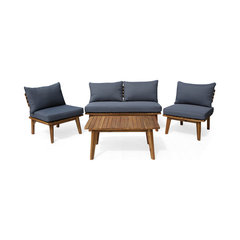 Martha Outdoor 4-Seater Acacia Wood Chat Set, Teak Finish
Midcentury Modern Outdoor Products
Quality product. Easy assembly.: package came with very clearly marked instructions. all parts are individually wrapped, which makes for quick and easy assembly. quality and condition of wood is good. cushions are firm, but comfortable. accurate description, and good deal for the price.