Sponsored Products
Featured Reviews of Modern Club Chairs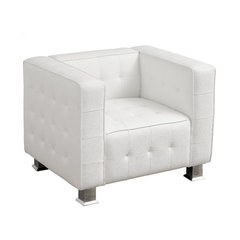 Decco White Modern Club Chair
Modern Club Chairs
Fancy: looks like a rich chair but had to buy big pillows for the back to be more comfortable. if your looking for comfort go elsewhere, but if your looking for looks these are perfect.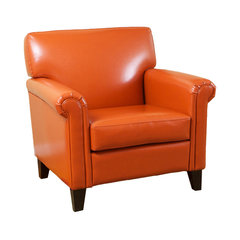 Canton Orange Leather Club Chair
Modern Club Chairs
Good Chairs: Bought two for my office -- match our business logo / color story. The leather is slick and the chairs are moderately comfortable -- you wouldn't be able to fall asleep in them for two reasons (1) you will slide out of the chair if you aren't careful and two they just aren't a cozy chair. That said, I think they are well made and perfect for my office.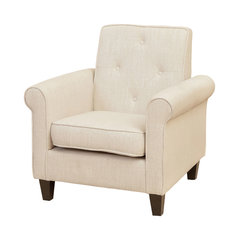 Barzini Fabric Club Chair
Modern Club Chairs
Surprising!: I had never ordered furniture from a website before but I thought I would give it a try. These chairs are surprisingly nice for the price. I ordered two chairs and they are slightly dissimilar in size but other than that we are very pleased with them. They are smaller and fit into our family room perfectly. Thanks for the chairs, Houzz!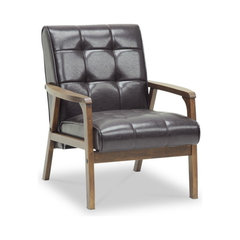 Baxton Studio Mid-Century Masterpieces Club Chair, Brown
Modern Club Chairs
Great Chairs: I love these chairs! They were shipped in lees than a week, they were very easy to put together. They were a fantastic price. I've been telling everyone I know about the website. Thanks much!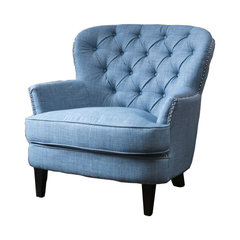 Laxford Light Blue Tufted Fabric Club Chair
Modern Club Chairs
queen for a day: This chair is fabulous. Better than the picture shows. It is wide and comfy. I bought it as a guest chair for my office but may use if for a reading chair by the bay window it was so nice. Only had to put on the legs! Highly recommended!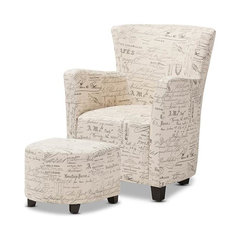 Benson French Script Patterned Fabric Club Chair and Ottoman Set
Modern Club Chairs
Beautiful accent chair: This is the cutest little accent chair, it fits perfect! The dimensions and description of this chair was "spot on" and Comfortable to sit on!! It arrived in days...SO VERY HAPPY. Glad I ordered it. Sue from IOWA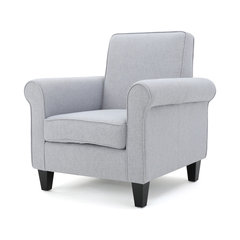 Declan Padded Fabric Club Chair, Light Gray
Modern Club Chairs
Good looking chair: The chair was a snap to put together and looks most striking beside my orange sofa. It's not a cozy chair to sit in but serves well for occasional use it gets. The price was terrific.
Romee Channel Fabric Club Chair, Dark Blue
Modern Club Chairs
Comfortable, attractive and affordable: Great quality for price. I bought two for my reading nook. Deep and wide enough for medium size person to curl up in. Matches perfectly with the Galaxy rug I bought from Houzz.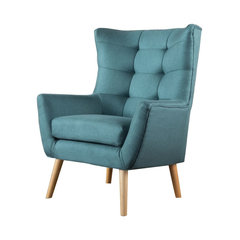 Temescal Mid Century Modern Dark Teal Fabric Club Chair, Dark Teal
Modern Club Chairs
Exceeded expectations.: Outstanding quality for the price, seriously! Bought it for our guest house. The size is perfect. The seat is a bit firm but that is to be expected. The fabric feel and color is very nice. Can't go wrong for under $200. NEVER purchased furniture online before It looked great so I figured I would try with this chair and see what happened.. Really depended on the reviews and they were on the mark. Am even considering another one for the 2nd. bedroom. Well Done.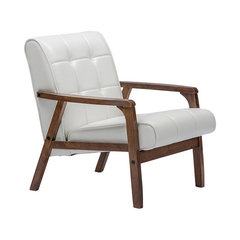 Mid-Century Masterpieces Club Chair - White
Modern Club Chairs
Beautiful looking/High quality: The look of this chair surpassed what I was expecting. It looks timeless/classic and modern all at the same time. People always compliment the 2 I have whenever they walk in the room for the first time. They were easy to assemble and the quality is high. My ONLY negative comment is that the photograph of the chair makes it look larger than it actually is.