Featured Reviews of Modern Beds and Headboards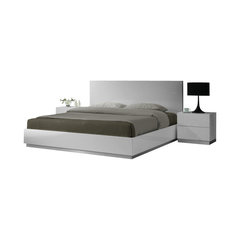 J&M Naples Glossy White Lacquer Finish Queen Size Bedroom Set
Modern Beds and Headboards
So beautiful!: Okay, so I got my bedroom set a week or so ago. The only thing we needed to put together was the bed itself and Attach the mirror on the dresser. Instructions are very straight-forward so that took very little time. The nightstands and dresser itself arrive completely built. They are pretty heavy and the dresser requires two pretty strong people to lift, but I managed the nightstands by myself. the one side is that the drawers are non-removable. Which means you cannot lighten the load and good luck moving anything if it is filled with stuff. Either way, I absolutely love this set. It looks EXACTLY like the pictures. The white is very white. I mean it. I have freshly painted Behr Ultra Pure White walls and they look off-white against the furniture. It is also very glossy and beautiful. Looks modern and sophisticated. It's a huge shipment and arrives on two conjoined pallets. Expect a lot of cardboard and styrofoam. A LOT. Each glossy surface, like the headboard, drawer fronts and tops are wrapped in clear plastic wrap which is a pain to take off, but protects the pieces well. There was no damage on anything. One warning though: when you take off the plastic wrap. Wipe down the surfaces, otherwise it gets staticky and collects every piece of dust ever and becomes super dirty. It does say in the instructions to do that first thing, but I was working so I didn't have time to do it the first couple of days so everything became super dirty. After I wiped it down with Windex though it's kept itself completely clean since. Overall, the purchase was definitely worth it. I love the look, the style, and the quality. Would definitely recommend!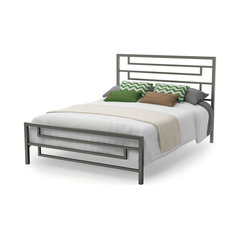 Temple Metal Bed, Magnetite/Glossy Gray, Queen
Modern Beds and Headboards
Love this bed!: I bought 2 of these for my sons' bedroom. Each bed took about an hour to put together (and I had a toddler "helping" me). I'm very pleased with the overall look and quality!!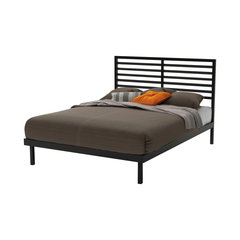 Amisco Theodore Metal Platform Bed, Cobrizo/Textured Dark Brown, Full
Modern Beds and Headboards
Shining Star: Easy to put together, with 2nd person just to hold frame during assembly. Slats work great, no box spring needed; works well with a pillow top medium firm mattress. Finished product is sleek, clean lines, shines like a 5 star. Definitely recommend.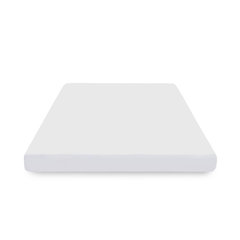 Linenspa 5" Gel Memory Foam Mattress, Full
Modern Beds and Headboards
Wow. The price is right!: Surprisingly, this relatively thin mattress is more comfortable than my $300 one. For everyone wondering how it gets delivered - it comes in a medium sized tube. I was concerned about delivery, because I live in a relatively small apartment complex, but it worked out just fine. It didn't obstruct the walkway for my next door neighbors, so I was happy. This was a prompt, awesome delivery. I am so excited to have guests sleep on this bed!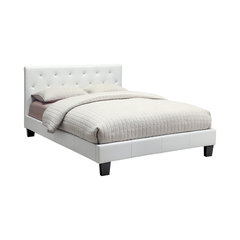 Queen Crystal Tufted Platform Bed, White
Modern Beds and Headboards
Nice bed: This bed was easy to put together and came in 2 boxes-which came at different times, so that was odd. Anyhow, the color is more off-white than white, which I was disappointed since it had to match an ottoman that I had previously purchased at Houzz, but the matching bed got discontinued. This can be used with or without a boxspring. I recommend without since the headboard is not as high as it should be to show off the crystals.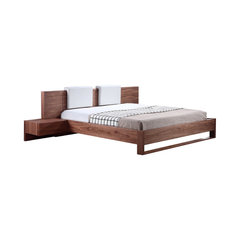 Casabianca Home Bay Collection Bed
Modern Beds and Headboards
Beautiful: This bed is just as it appears in the photo. Clean, simple lines and the wood is beautiful. I have not assembled it yet so I cannot comment on the ease of assembly, but it looks beautiful in the box!