Sponsored Products
Featured Reviews of Modern Coffee Tables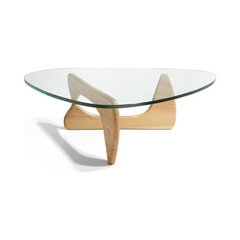 Fine Mod Imports Tribeca Coffee Table, Natural
Modern Coffee Tables
strong color: The table was carefully packed and everything arrived beautifully. The glass top looks great, nice and thick yet it does have a slight green tinge to it. The legs were easy to assemble but the cherry color was so strong that I am now sanding down to re-stain. The sanding has been easy as there isn't any detail or difficult areas. We will see how the wood takes to the new stain tomorrow.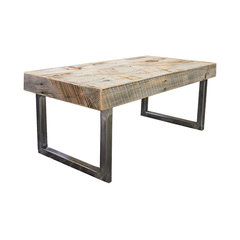 Reclaimed Wood Coffee Table
Modern Coffee Tables
Beautiful: I love my new table. It is a high quality piece. The legs are heavy. I love that the legs have an antiqued look, but still has a very contemporary feel. It is a very unique table!!!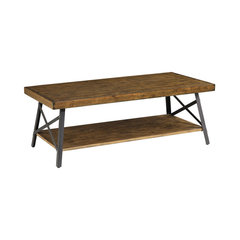 Modern Coffee Tables
Simply beautiful!: This table is absolutely beautiful. Subtle variations in color and texture add to its quality. It was very easy to assemble, although I suggest that you have another person to help you when adding the wood. It is a little awkward to put together by yourself. I have had more compliments on this table than any other piece I put in the room.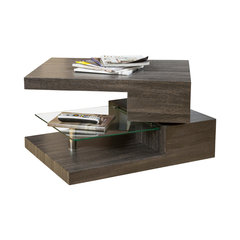 Bushwick Rectangular Rotating Wood Coffee Table
Modern Coffee Tables
Rotating coffee table: We love this! Fun , love that I can change how it looks and it grabs people's attention. A little tricky to put together but that was expected. Note this is a faux wood look but it matched perfectly with other real wood furniture I have.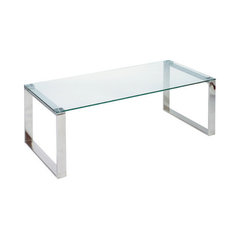 Remi Contemporary Glass Coffee Table with Chrome Finish
Modern Coffee Tables
Great cocktail table!: This cocktail table is a perfect fit for our living room. It was easy to put together. After IKEA furniture, this was a piece of cake. The cocktail table arrived about 2 days after I ordered it. It was packaging was great, no parts missing!! Love it!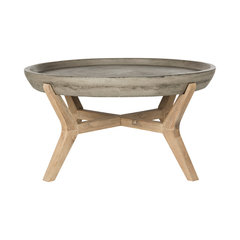 Modern Coffee Tables
easy peasy...: I needed a heavy table as I live on the 28th floor and did not want to worry about the wind blowing my coffee table. I AM NOT HANDY... this table went together in less than 15 minutes and looks fantastic!!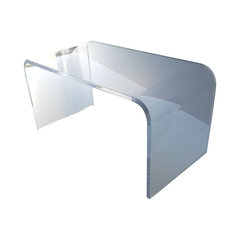 Acrylic Coffee Cocktail Table Lucite, 32"x16"x16", 3/4" Thick
Modern Coffee Tables
Just as was expecting: Table is just as good as more expensive pieces. I ordered two cause was in need of a longer piece and these fit the dimensions I was looking for. They do have a bluish tint around the heated bend but you can hardly notice. 5 stars. Seller was awesome messaging first and keeping status on shipping. Came sooner then expected.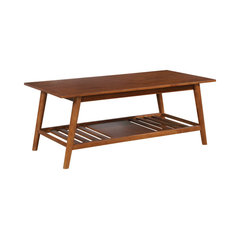 Wood and Veneer Coffee Table, Walnut
Modern Coffee Tables
Mid Century Modern Look reasonably priced: We put our house on the market a few months back and had an outdated coffee table. I was looking for something Mid Century Modern looking, and this was inexpensive but looks like it is much more expensive. I took a chance and just love it, it's a keeper!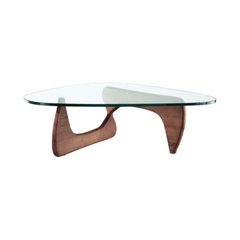 Triangle Coffee Table Modern Glass Top, Walnut
Modern Coffee Tables
Oustanding quality.: The coffee table is of exceptional quality with stylish looks.The glass is top quality and the product best suits our purpose.Our neighbours really impressed with the product and it's a ultra modern coffee table.This is the kind of coffee table we are looking for a long time and we always have a great coffee serving with it.Must buy product for outstanding experience.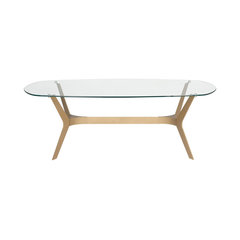 Archtech Modern Metal and Glass Gold Coffee Table 52"
Modern Coffee Tables
Base could fit together a little more perfectly, however, overall the table is great.: Base could fit together a little more perfectly, however, overall the table is great. In product description it might be helpful to some consumers that no more than 40 pounds can be placed on top of the table. For example, no one should sit on it!!