Sponsored Products
Featured Reviews of Modern Outdoor Dining Sets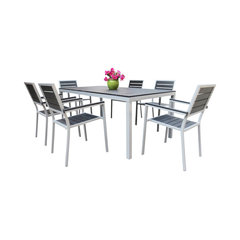 Outdoor Aluminum Resin 7-Piece Square Dining Table and Chairs Set
Modern Outdoor Dining Sets
Attractive deck set: Very easy to attach the table legs. It has held up well with the couple rains we've had. The set looks great on our back deck and we're hoping we will enjoy this for several years.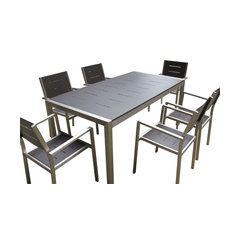 Aluminum 7-Piece Square Dining Table and Chairs Set
Modern Outdoor Dining Sets
Perfect: This was a perfect solution to replace our nearly immovable teak chairs and table. A younger version of our selves did not foresee aging's tolls. Went together easily. Easy to keep clean and to move around. I recommend.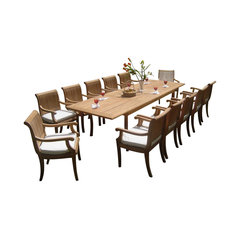 13-Piece Outdoor Teak Dining Set, 117" Rectangle Table, 12 Giva Arm Chairs
Modern Outdoor Dining Sets
Quality: This is a great quality product, the chairs are easy to assemble, love the fact the glue for the mortis joints is included, i used a small paint brush to apply, no squeaks or movement, this set should outlive me and give my children and grandchildren years of enjoyment, I have been all over Europe, this is quality similiar to those used in old world diners all over europe, no knots, no splits, no breaks, just beautiful high grade wood. And the extension of leafs for the table is masterful construction that a child can extend and unextend. Most amazing feature and masterfully constructed. Apologies 5 star appears to be the limit, deserves more. The chairs sit beautiful with cushions, my wife plans on installing cushions, I plan on leaving my chair bare. I have had 3 back surgeries, so I know a bad sitting chair, I can set in these for hours with no discomfort, without a cushion.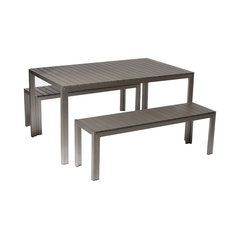 Breeze 3-Piece Dining Set, Gray
Modern Outdoor Dining Sets
Good Looking, Sale Price was Good Value, Went together Smoothly, No Damage.: Good Looking, Sale Price was Good Value, Went together Smoothly, No Damage. All in All, very happy. Thanks Houzz, William of William Roy Designer Kitchens Portland Oregon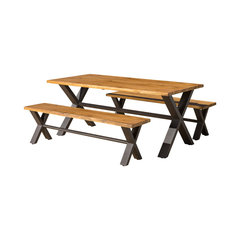 Laurel Outdoor Dining 3-Piece Set
Modern Outdoor Dining Sets
We love this picnic table!: We love this picnic table! We were looking for a classic picnic table with separate benches and this one is beautiful. The photos don't show the grain and rich colors of the wood. It blends beautifully with our deck. I'd say you could seat 6 adults comfortably.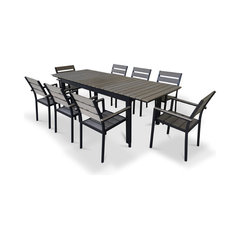 Shirona 9-Piece Dining Set, Rustic Gray
Modern Outdoor Dining Sets
Attractive and Functional: Time will tell how this will hold up, but so far the table and chairs have been excellent. The extendable feature on the table is terrific, and I love that the extension tucks neatly away. I also love that I can just hose it down before company arrives to clean it.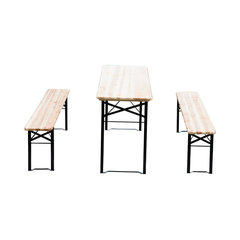 Burgaw 3-Piece Folding Picnic Table Set
Modern Outdoor Dining Sets
Perfect for the grandkids: The product arrive with a crack in the table, but Houzz quickly sent a replacement. I love the size of the table and the benches. The size of the set provides a great area for my grandchildren to play with clay, do arts and crafts, paint, color, etc. I didn't give it 5 stars because both the table and benches wobble. And while this is a great place for the five younger grand daughters, I was worried about the benches holding the weight of my 6' 2" grandson.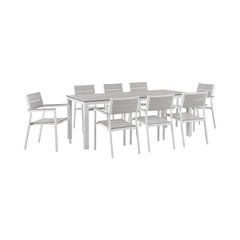 Maine 9-Piece Outdoor Aluminum Dining Set, White Light Gray
Modern Outdoor Dining Sets
Solid table for the price: This table was very well packed -- it took forever to unwrap all the chairs. They all arrived in excellent shape though. The legs were easy to attach to the table top. It took about an hour to assemble and unwrap everything. The table itself was good quality. As others have mentioned, the slats are a composite material and don't look much like real wood. However, they seem to be very easy to clean and have a nice appearance. I would recommend this table.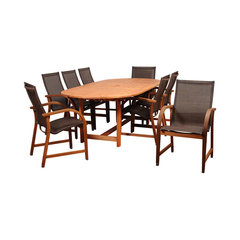 Bahamas Outdoor 9-Piece Dining Set
Modern Outdoor Dining Sets
Happy customers: We just got this set and we are very happy with it. The chairs are comfortable and the table is really easy to extend. The assembly was easy yet time consuming. It's really nice looking too.