1 - 36 of 15,303 products
Sponsored Products
Featured Reviews of Modern Pillows and Throws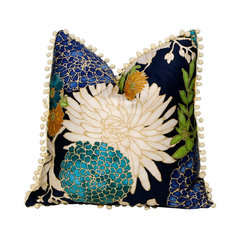 Flower Cotton Pillow Cover
Modern Pillows and Throws
Beautiful pattern: I ordered 2 covers for my gray modern sofa and they look great. The blue is a true navy blue. The fabric doesn't have a sheen like it appears to in photo. Colors are slightly more muted than pictured but still gorgeous. Quality is excellent too. . .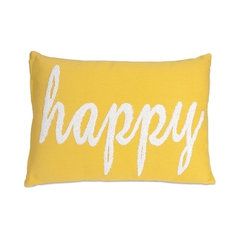 Modern Pillows and Throws
"Happy" with my happy pillow: I love it. I bought it as a throw for my bed. It comes very squashed (air tight) packaging. It was somewhat flat compared to other pillows, but I air fluffed the inside pillow in my dryer and that helped. I do prefer it on the flatter side for the purpose of a bed pillow though.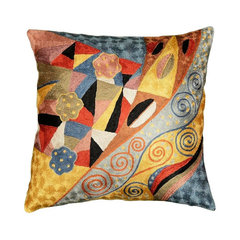 Klimt Cushion Cover Signs of Spring Hand Embroidered 18" x 18"
Modern Pillows and Throws
Worthy of being in a museum: The stitching on this cover is amazing! The colors, dimensions and texture are an explosion of sensation. I am giving these to my daughter who loves Klimt. So glad I found these.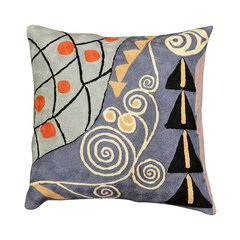 Klimt Cushion Cover Expectation Hand Embroidered 18" x 18"
Modern Pillows and Throws
Klimt cushion cover: What a beautiful and unique cushion cover! And at a very reasonable price. I've never seen anything quite like the design, vibrant colors, and workmanship. At first I was a bit concerned about the dimensions, which measured 18" X 19". However, an 18" X 18" pillow form fits fine and it looks beautiful on my gray, contemporary sofa. I hope to order more cushion covers in this line in the future.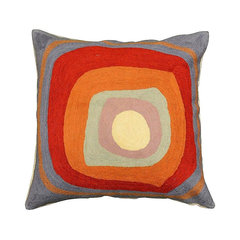 Kandinsky Ruby Square III Cushion Cover Hand Embroidered 18" x 18"
Modern Pillows and Throws
Perfect touch!: I apologize for this very late review. We purchased 2 decorative pillows for our living room - one wool embroidered, the other silk. Both are absolutely beautiful and of excellent quality. The colors of the silk pillow are more vibrant, which creates a more "fun" look; the wool, more muted . Had I paid more attention to that fact I might not have mixed the two in the same room, but they are both stunning all the same. Thank you!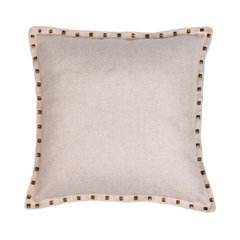 Studded Herringbone Pillow, Natural, 20"x20"
Modern Pillows and Throws
Understated Elegance: Gorgeous sheen, subtle herringbone pattern, studs are not too much bling, just fine details for the eye to take in. Super soft, drapes in a relaxed way in the corner on the couch. Worth every penny.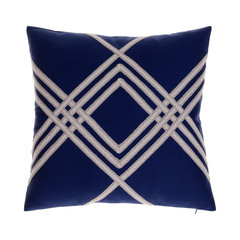 Sandy Throw Pillow, Indigo
Modern Pillows and Throws
Nice Pillows: These are beautiful and well made, but unfortunately they did not match my décor as I though they would so I returned them. Both Houzz and the seller were easy to deal with on the return, especially since it was due to an error on my part. If you need pillows of this style and color, I recommend them. They are really quite nice and I wish I could have kept them.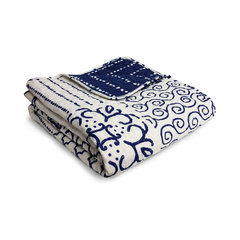 Tunis Cotton Throw Blanket, Blue and White
Modern Pillows and Throws
Pretty & Functional Throw: Gorgeous throw! I have several throws that are fleece or microfiber, but this is my first cotton throw. I love sitting in my recliner with my "blankie" to ward off the chill while I binge on my favorite tv series on Netflix. This one is perfect!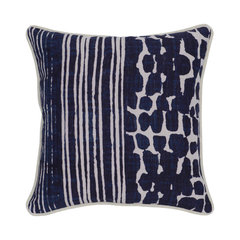 Kosas Home Tanza Linen Pillow, Blue
Modern Pillows and Throws
Delighted!: I didn't want to get my hopes up that what I saw online would be what I expected it to be. So it was a pleasant surprise that the pillows exceeded my expectations! They are the perfect addition to my new sofas.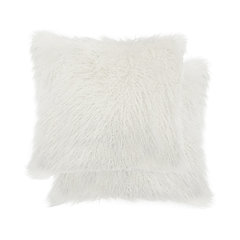 Frisco Mongolian Sheepskin Faux Fur Pillows, Set of 2, Stone White, 20"x20"
Modern Pillows and Throws
Decent Pillows: These are great pillows. The color was what I wanted (off white). and they look nice. They do shed a little but not much. I gave 4 stars because it took 7 days for processing! That's ridiculous. So I had to wait over 2 weeks to get them. Also, they came vacuum sealed and flat as a pancake, which I didn't like. Luckily they fluffed back up. Overall, good pillows. I feel like they are a bit pricey though for the size. I found bigger and more attractive pillows locally at my grocery home store for way less.