MPN: 51030692





Item 1 of 5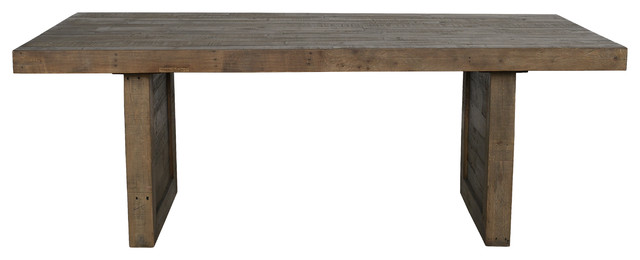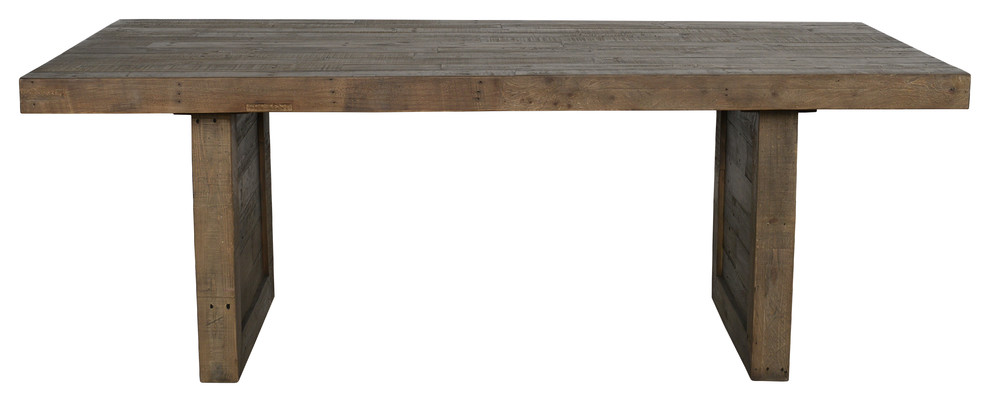 Frequently Bought Together
---
5 Stars

89%
4 Stars

8%
3 Stars

3%
2 Stars

0%
1 Star

0%















Item 1 of 15
Relevant
Newest
Oldest
Most Helpful
Highest Rated
Lowest Rated
The perfect imperfect dining table!

This table is absolutely gorgeous! If you are expecting perfection in a scuff, bump scratch free sort of way or a specific color this is not the table for you! But if you are looking for a classic rustic look that you can dress up or down, this table is perfectly imperfect for you. Please know that online photos vary in color, and so does wood, so don't expect your table to look exactly like the online photo. The design however is exactly like the photo. I am waiting on two additional chairs and ordering the bench soon to complete my set. So happy with my purchase but disgusted with my shipping experience. CEVA was suppose to deliver on Friday between 10-2 then 10-6 after I had to call them and ask what was going on. They never called to tell me that they would be delayed. I had to call them. Then at 7:54pm I get a call from the delivery guy saying that he would not be able deliver it that day after I had taken off from work and waited ALL day, had to have someone pick up my children and wasted my cousin's day as well because he had come over to take the table upstairs and put it together for me. What a waste of valuable time and a huge disappointment for my first experience and purchase from houzz. The driver was really nice the next day so that was a pleasure. So 4 stars due to the poor delivery service. Otherwise 5.

Absolutely Love!

I was very nervous about making a dining room table purchase online, but I am so glad I went with my gut! This table is great quality, very sturdy, and does not seem "Cheap". Its the perfect mix of browns, tans, and greys. If you are on the fence, I would say go for it! You will be happy you did!

Great quality Easy to assemble Solid wood and Reclaimed Environment Friendly

I love it ! The picture may not show its beauty, but if accessorized well, it is a lovely, rustic table. Very stable and great for a family dinner table. It seats 6 but with guests, 2 more chairs can be squeezed in. The legs may be boxy but they don't show with the chairs or with a long runner. The price is unbeatable for a solid wood table like this.

Awesome!

Really love the size and weight. Finish is rough but beautiful and practical. We can fit 10 around this table with the matching bench and white shell chairs we purchased to go with the table.

You know that feeling you get when what you purchase is so much better than you'd imagined?? It's a stunning table. Very sturdy.

You know that feeling you get when what you purchase is so much better than you'd imagined?? It's a stunning table. It's exactly what I was looking for to fit my eclectic style. Very sturdy. Beautiful colors. Great price!

GORGEOUS TABLE!

I've always wanted a reclaimed wood dining table and this did not disappoint. It's GORGEOUS! Super easy to put together but was a bit tricky flipping the table over since I'm barely 5'2". Now I'm saving up to buy the matching bench!

Very Rustic

I like the table. Only complain is that the color of the table. We choose to take this table because of the color in the picture. But we received very dark color than this light color photo.

Love It!

It is built very well, very sturdy. True restored wood. Makes our dining room look sleek. I love that the table has adjustable pads on the bottom of each leg. Our flooring is an uneven stone, so we were able to adjust the padding to make it completely level. The only thing I could do without is the somewhat rough surface, but not a biggie in my opinion. Thanks, Houzz!

Solid chunk of wood

Exactly what I wanted, should last through the next world war. Also bought the bench same sturdiness and quality.

I LOVE this table w/matching chairs

Perfect!
This product has no questions
What Houzzers are commenting on: