Sponsored Products
Featured Reviews of Rustic Outdoor Products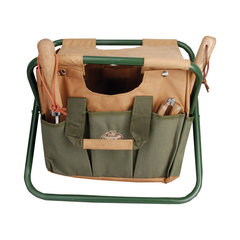 Rustic Outdoor Products
Step Saver: This handy stool is light weight, holds all the tools I need for a task and is easy to move from space to space in the garden. It "saves" the lower back and knees. This is my second one. The first lasted 8 years with no special care.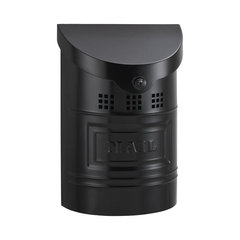 Rustic Outdoor Products
So great: I couldn't be more pleased with this purchase!! The mailbox looks the same as is pictures but is also of a very excellent quality/solid construction. The pod opens and closes so smoothly and quietly. Love it!!!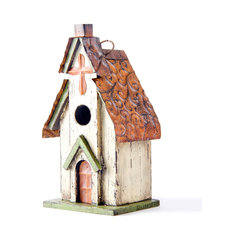 Rustic Garden Distressed Wooden Church Birdhouse, Cross
Rustic Outdoor Products
Highly recommend Glitzhome Birdhouses: I ordered four of the Glitzhome birdhouses and was very pleased with all of them. They arrived promptly and were very well packaged. If you like a country or cottage garden look to your garden, these fit in perfectly. They would also work well for interior use as decorative collectible items. I think you'd be very happy with them.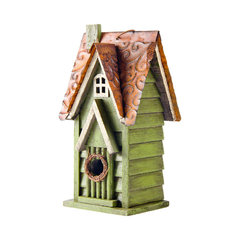 Rustic Garden Distressed Wooden Birdhouse, Window
Rustic Outdoor Products
Super sweet, bird retreat!: I bought this to hang outside but like it's so cute I'm tempted to keep it indoors and buy another one for the birdies! The real deal is even better than the picture! Adorable, and well made!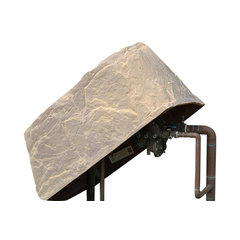 Artificial Rock Enclosure, Model 117, Sandstone
Rustic Outdoor Products
Love my rock: I have been wanting to find something to cover our irrigation system in our yard and finely ordered the rock. I was worried about it fitting in to the landscape, but it is not unattractive, and it keeps all the plumbing and wiring under cover and protected from lawn equipment and exposure to weather. It was just the right color & blends in well. The rock seems to be sturdy and it is not too heavy to remove, if necessary. I would recommend this product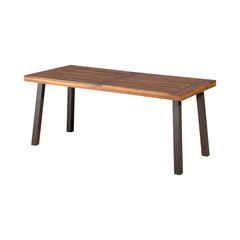 Daria Natural Stained Acacia Wood Dining Table
Rustic Outdoor Products
Great for a Desk as well.: I bought this outside table, but when I opened it up and put it together, I thought it would look great in my office. Nice smooth surface and easy to assemble. I would recommend for an outside table or a nice office desk.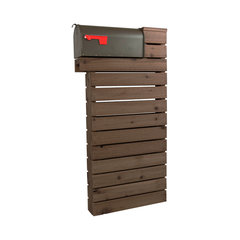 Modern Mailbox - Dark Walnut, Dark Bronze Numbers, Dark Bronze Mailbox
Rustic Outdoor Products
Best looking, best quality: I fell in love with this mailbox the moment I saw it. Not only does it look good, but it is quality built. I know that it will withstand our harsh winter weather. The mailbox was safely packaged and arrived in pristine condition. Inside the box was the mailbox base and the mailbox itself with our house numbers inside of it. Screwing on the mailbox and the house numbers were so easy. The house numbers packaging can be used as a template to ensure it is aligned properly. Be sure not to use a regular steel hammer as it will dent the posts and prevent the base from fitting on. I am so happy every time that I walk out to get the mail because I get to look at the best looking mailbox in the neighborhood at the end of my driveway.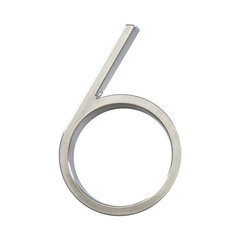 Floating House Number, Brushed Nickel, Number 6
Rustic Outdoor Products
Wonderful Modern House Numbers - Our "Go to"s: This company makes a great, affordable, chic product. We've used them in a few duplex projects and the floating dark bronze looks fantastic. Only wish they made "A"s and "B"s. Product arrived quickly and when I ordered two wrong numbers, the manufacturer was really great about the return.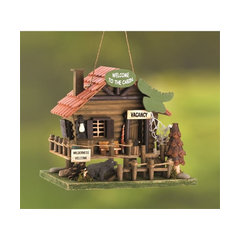 Rustic Outdoor Products
Love it : Very happy with this birdhouse. Very detailed!! I purchased to use on a screened in porch. I don't think it would hold up for many seasons if used as by our feathered friends. Since that wasn't my intention I'm pleased with my purchase.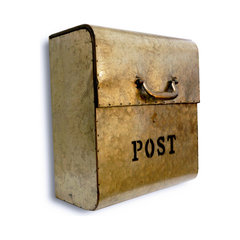 NACH CJ Metal Mailbox, Metallic Gold
Rustic Outdoor Products
LOVE IT!: We remodeled the office and did a rustic/vintage theme. In the entry way we had a box for our in/out going mail. I found this and had to have it. The Post Box just tied it all together. Every single person that walks in comments on it. The box is large and fits all of our in/out going mail. Its very sturdy and solid when hung on the wall. Very easy to hang with the holes inside the box. Great quality and would highly recommend!