Sponsored Products
Featured Reviews of Rustic Pillows and Throws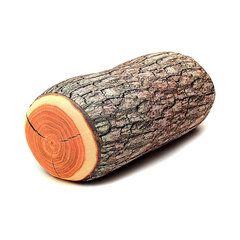 Rustic Pillows and Throws
Mellow: I have personal reasons to buy this pillow... I can resume... I am a Surfer in Miami Beach, FL and between hours I take a break under the trees behind the beach... so well... bringing that home... but more than what I expected... the filling of this pillow... Wow just blew me... it´s like a pillow full of grains of sand... exciting! I am getting attach to it...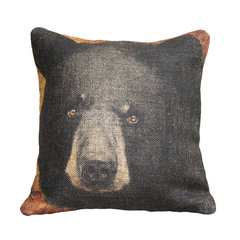 Rustic Pillows and Throws
A keeper...: At first, when I opened the box and saw this guy I was disappointed because the image is not nearly as defined as the photo on the website. The bear's face is much more subtle than pictured. Even thought about returning it. But first, since I bought it for my bear-loving mate and his go-to leather chair, I thought I'd let him review it for me. He loved the surprise and he loves the pillow! And now, so do I.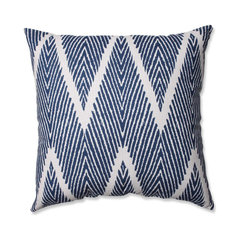 Bali Mandarin 16.5" Throw Pillow, Navy
Rustic Pillows and Throws
Great throw pillow!: the material is a little thicker than expected. It seems like it would be an outdoor pillow material although the tag says not to put it outside. Otherwise, I love the pattern and the actual color in person looks just like the picture.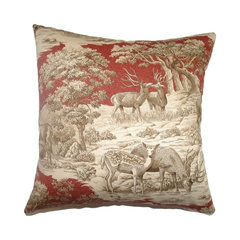 Feramin Toile Pillow, Redwood Front, 18"x18"
Rustic Pillows and Throws
Absolutely gorgeous and good quality: Finally received these and all in good order. I was anxious to get these. They are beautiful and I love the quality. I ordered 2 "front" pillows and was sent 1 front and 1 back pillow. The difference is the placement of the scene of the animals on each pillow. But, I think they look better together like this and I'm very happy. Many thanks! Would highly recommend.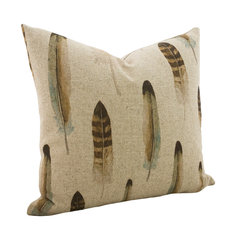 Linen Feather Throw Pillow
Rustic Pillows and Throws
Lovely decor pillow.: Fluffy feather-filled pillow goes well with neutral pallet. Feathers have a bit more yellow than my computer monitor showed, but not so much yellow as to detract from the overall neutral pallet. Lovely linen, One side of pillow shows feathers, other side is plain linen.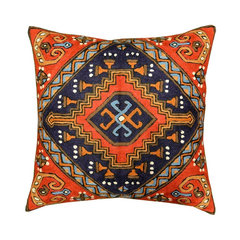 Tribal Kilim Aztec Pillow Red Navy Hand Embroidered Wool, 18"x18"
Rustic Pillows and Throws
beautiful pillows: These are great. They are RED and not orange as they appear in the photo. Placed 20x20 feather/down inserts + these pillows are plump. I love the woven details. I received a lovely personalized, hand-written note from the owner and happy to support the people of the small village from which they are hand embroidered. They really "pop" in the room.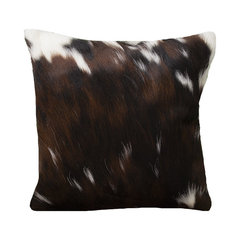 Tri-Colored Cowhide Pillow Case
Rustic Pillows and Throws
Not to 'Hide': This cow hide pillow is beautiful and adds spunk to an assortment of pillows on my couch. The texture and color variations add interest. This purchase was definitely a good choice.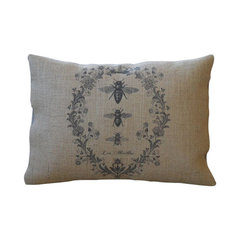 French Bee Burlap Pillow, 12"x16"
Rustic Pillows and Throws
Beautiful little pillow: Love this! True burlap with well inked, beautiful design. Very well made, seams solid with nice 'pocket' opening. Comes with the pillow insert, already assembled. So glad I ordered this. Looks great in either of my guest bedrooms!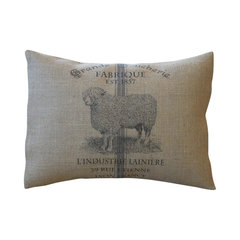 French Sheep Burlap Pillow, 12"x16"
Rustic Pillows and Throws
Unique and charming: When I started browsing Houzz for my new home, I was delighted. Look how cute this pillow is and it's even cuter on my love seat! It's rustic, yet looks perfect in the living room. The entire experience at Houzz from browsing to purchasing to receiving merchandise is fun and easy!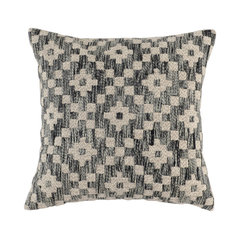 Ziggy Embroidered 22" Throw Pillow by Kosas Home, Black
Rustic Pillows and Throws
Beautiful Pillows: These pillows are very high quality and are beautiful. Price is very reasonable for the product you get, sells for much higher price in decorating retail stores. Would highly recommend.