Featured Reviews of Saunas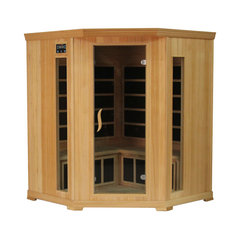 Kericko 4 Person Corner Hemlock Indoor Infrared Sauna Carbon Heater FAR
Saunas
What a great buy!: We are absolutely thrilled with this sauna. The quality is awesome, It was so easy to assemble and the surprise was that it came with a stereo system (Radio/CD) and 2 built-in speakers. We were not aware of that feature and now it's even nicer. The delivery though was very much delayed. I guess the company Roadrunner that you are using here in Michigan is not very reliable. I was supposed to receive the sauna between Jan. 24th and 27th and I finally got it on Feb. 22.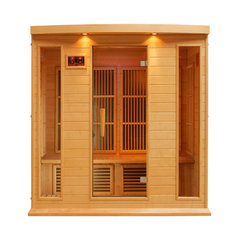 Maxxus 4 Person Low EMF Far Infrared Carbon Heater Sauna
Saunas
Awesome Product: I cant say enough good things about this sauna! starting with the purchase, it was smoother and email contact from Houzz was great. Delivery company was outstanding from start to finish. They contacted me within days and worked with me on a convenient delivery time. Sauna comes on a pallet with boxes about 6 to 7 ft tall. they fit in my garage with about 1/2 inch to spare. Packaging was some if the best I've seen. Every piece had plenty of cushion and edge protection. No damage to any pieces. Assembly was a breeze. definately a 2 person job. My wife and I had it together and running in about 3 hours. Operation is very simple heated up to 150 in 20 minutes. We were concerned about if it would get hot enough well no worries there at all. this thing gets HOT! We did 30 minutes and and we were both soaked! Sound system and speakers worked great. Sound was better then expected. I used a bluetooth adapter I bought on line plugs in to the RCA jack in front so you can stream from your phone and not have it in the sauna. Light therapy worked great. very relaxing. this sauna is listed as 4 person. you could get 4 people in it but you better be very close friends! This is perfect for 2 people with plenty of room! Overall this was one of the best purchases we have ever made! Golden Designs put a lot of thought in to engineering this unit to be easy to assemble while operating like a commercial sauna.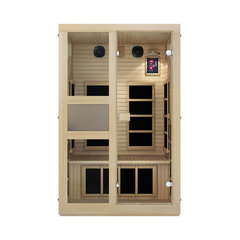 Ensi 2 Person Zero-EMF Far Infrared Sauna
Saunas
Personal sauna: Purchased the two person and put it in our garage. It heats up in 15 minutes and we also purchased the light which does not cone with it. It assembled easily and we are loving it!